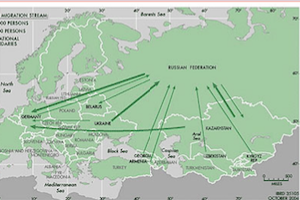 The genesis of this agreement goes back to a meeting between Russian Federation Council Speaker Valentina Matviyenko and President Islam Karimov in November 2013. Karimov then supposedly complained about the humiliating conditions that migrants from Uzbekistan find themselves in, and as a solution proposed an organized recruitment program that would improve the situation.
So far, there are no details on what exactly this agreement will contain, but given the excess labor force in Uzbekistan and a high demand for low-paid jobs in Russia, such a top-down agreement is unlikely to satisfy both employees and employers. Besides, employers in Russia prefer to hire migrants without formal agreements in order to circumvent local taxes and such migrants usually work for a cheaper rate. It is easier and cheaper for employers to hire someone who comes to their doors looking for a job than to go through a governmental recruitment process. Therefore, most employers in Russia that hire migrant workers do so based on verbal agreements rather than contracts. Potential migrants travel to Russia without a visa and apply for a work permit in Russia. Given that governmental recruitment programs usually involve a lengthy paper collection process, upfront fees, and even backdoor deals to expedite the application process, most migrants prefer searching for jobs independently or through information that they receive from friends, family, and acquaintances.
It is not clear how many migrants enter Russia annually through organized employment, but according to Vyacheslav Postavnin, Head of the Russian civil society organization Migration 21st Century, organized recruitment resulted in only 64 employments in 2014. Evidently, the practice of organized recruitment is not that popular even though Russia receives millions of migrants annually. With the number of labor migrants from Uzbekistan estimated at around two million, it is unlikely that the new migration agreement will be able to cover even a fraction of the potential migrants and consequently the majority will travel and find employment outside the agreement.
Such an agreement also cannot solve the most important issue migrants are currently facing: the devalued ruble. By the end of the third quarter of 2015, the decrease in remittances amounted to 60 percent for Uzbekistan, 65 percent for Tajikistan, and 46 percent for Kyrgyzstan compared to the same period in 2014, according to estimates from Central Bank of Russia. The drop in remittances is dramatic and is endangering the safety net that migrant remittances provides for millions of families in those countries, preventing them from sliding into extreme poverty. The devaluation of the ruble that took place in December 2014, along with the stagnation of the Russian economy due to low oil prices and sanctions, resulted in less employment for migrants with the devaluation halving the earnings for those who were employed.
Decreased remittances have already sent shock waves through the migrant-sending countries, where local currencies have also devalued and exchange rates with the dollar are causing uncertainties for millions of people, along with a quickly rising inflation. In some extreme cases like Tajikistan, currency exchange offices closed for several weeks, supposedly to stop further devaluation of the local currency.
The upcoming migration agreement between Russia and Uzbekistan is not a sign of improving relations between these countries and certainly not a sign that the conditions of migrants will improve, but rather a gesture resulting from a meeting between high-level officials. Uzbekistan does not have bad relations with Russia in the first place, although Uzbekistan attempts to stay outside Russia's sphere of influence and is reluctant to ask Russia for "help." Russia is and will remain one of Uzbekistan's largest trade partners and investors. The migration agreement, however, is unlikely to affect the number of migrants going to Russia or significantly change the conditions of migrants. Similar organized recruitment programs that Tajikistan and Kyrgyzstan have implemented in the past displayed considerable gaps and further legislative work is required for these kinds of programs to have their intended effect.
Uzbekistan, in its attempt to control its own destiny, will not agree to something that would allow Russia to impose its power or have control over it, at least regarding a low-priority issue like migration. So far, the only tool for protecting migrants and easing their lives in Russia is the Eurasian Economic Union, which representatives of Uzbekistan consider a Russian political project for controlling its members, and therefore do not plan to join it. In return, migrants from Uzbekistan will unlikely see better treatment.
Image attribution: www.worldbank.org, accessed on Feb 10, 2016