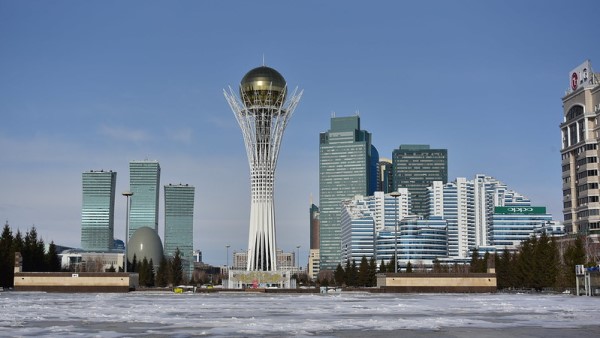 BACKGROUND: History is continually present in Kazakhstan's political context. In the beginning of the post-Soviet era, Kazakhstan's uncertainty regarding its ability to survive as an independent nation motivated a drive to forge strong ties with Russia and Eurasianism emerged as an appropriate ideological foundation for this effort. Proponents of Eurasianism saw the Russian empire, or the USSR, as the legitimate successor to the Mongol empire and its legacy of positive "symbiosis" between Slavic and Turkic peoples. Yet, while Turkic peoples have an important place in Eurasianist thinking, it remains a largely Russocentric ideology.
As time progressed, Kazakhstan's political elite increasingly prioritized sovereignty and independence from Russia. While the country continued to maintain an externally friendly relationship with Russia, and even became a member of the Russia-led Eurasian Union, the political undercurrent moved in the opposite direction. Kazakhstan actively collaborated with the West, sent their brightest youth to Western universities, and planned a switch from the Cyrillic to the Latin alphabet. Kazakhstan's desire to distance itself from Russia was also fueled by the actions of Russian politicians or quasi-politicians such as the late Eduard Limonov and Alexander Potkin (Belov).
While these individuals can be regarded as marginal actors, the Kazakh elite consider their actions, aimed at detaching Northern Kazakhstan with its large presence of ethnic Russians from the country, to enjoy the Kremlin's ear, as well as the support of a visible segment of the general Russian population, who regard Kazakhstan as an artificial state. At the same time, Kazakhstan's elite has continually emphasized the importance of interethnic peace and promoted a peaceful and gradual assimilation of the country's ethnic Russians. The old Eurasianism is considered insufficient for this purpose, and new historical paradigms have emerged. In particular, these draw on the history of the Bronze and early Iron Age, in pursuit of two goals. First, to demonstrate the deep historical roots of Kazakhs and their statehood and second, to demonstrate to ethnic Russians that they are not an ethnically alien body in Kazakhstan.
IMPLICATIONS: The history of the Bronze and early Iron Age has become an important subject in the country's intellectual discourse. Kazakhstan's President Kassym-Jomart Tokayev published an article in the newspaper Egemen Qazaqstan, dedicated to the 30-year anniversary of Kazakhstan's independence. He stated that "our people" lived in the territory of Kazakhstan as early as the time of Sakka, or the early Iron Age. The president's pronouncement was elaborated further by several Kazakh publicists, some of whom openly proclaimed that Kazakhs trace their heritage to Indo-European "Aryans" as well as to the Mongol empire, which they consider to be a mostly Turkic state.
The argument that Turks emerged a thousand years ago – and physically appeared to be Indo-European – was articulated in the 2019 movie Tomiris, a great success that was introduced to a U.S. audience in 2020. Here, Tomiris, the queen of the Massagetae, speaks the "ancient Turkic" language. At the same time, she has blond hair, which is usually attributed to Caucasians, and does not have the clearly Asiatic features of today's Kazakhs. Moreover, during one of her interviews, the actress who played the queen noted that she does not care about her bloodline, and stated that her ancestors comprise people of different ethnicities. She also added that many Kazakhs have a variety of ancestors, among them Caucasians. The young Tomiris was played by a Russian girl, implying that Turks could look like Caucasians, and that Caucasians or Indo-Europeans are actually the same as Turks, simply called something else.
There are several implications of this equation of ancient Turks and even Kazakhs themselves with ancient "Indo-Europeans." It demonstrates that Kazakhs are not newcomers and that their ancestors lived in the territory of present-day Kazakhstan for thousands of years, that Kazakhstan's statehood has a thousand-year history, and that the borders of ancient empires in the area have neatly coincided with the territory of present-day Kazakhstan since the Bronze Age. Moreover, the message is that Indo-European or "Aryan" Kazakhs are ethnically (and implicitly culturally) related to advanced Western or European civilizations, which provides an additional justification for cultural and to some extent geopolitical approaches to the West.
Moreover, the detachment of the notion of Kazakh from a specific ethnic lineage implies that anyone, even Caucasian-looking, could be considered Turkic or Kazakh if he or she knows the Kazakh language. This vision of Kazakhs as a cultural or linguistic category, as members of a "Kazakh world," is structurally quite similar to the definition of the "Russian world" elaborated by the Kremlin. The point of the doctrine is that "Russian-ness" is not defined by ethnicity, and no difference exists between ethnic Russians and Russian-speaking minorities – a difference that is quite important for racially-focused Russian nationalists. Instead, culture and language play paramount roles. Russia's Defense Minister Sergey Shoigu (whose father is of Tuvan origin) is in this reading as Russian as any Slavic-looking person despite Shoigu's Asiatic features.
Those who embrace this philosophy underscore that it was an essential ideological framework for imperial expansion. This thinking has clear foreign policy implications – for example, it was the principal political argument for the annexation of Crimea and support for separatists in eastern Ukraine. Yet the doctrine also encourages the assimilation of ethnic minorities and implicitly promotes peace and stability within the community that it encompasses. Kazakhstan, with its own variation of a "Kazakh world," encourages assimilation of ethnic Russians and, implicitly, seeks to minimize the negative implications of increasing tension with Russia. The Kazakh elite's appeal to, and interpretation of, Bronze and early Iron Age history serve a similar function.
CONCLUSIONS: While Kazakhstan's political elite is increasingly moving away from Russia, it simultaneously seeks to avoid antagonizing the remaining Russians. Thus, a historical mythos has been created, which emphasizes that Indo-Europeans and Turks are actually the same people, or that Indo-Europeans who speak non-Turkic languages are really Turks who have forsaken their true ancient Turkic roots. By studying Turkic language, Kazakh in this particular case, they can become accepted as Kazakhs, and become fully integrated into Kazakh society.
AUTHOR'S BIO:
Dmitry Shlapentokh is Associate Professor of History, Indiana University at South Bend.
Image Source: Public Domain