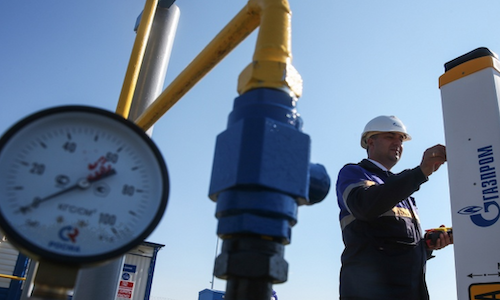 BACKGROUND: After the decision by Grozny city court that Gazprom should write off the republic's gas debt of 9.353 billion rubles, Chechen authorities explained that the debt has long expired and that it was based on faulty calculations, which included Chechen residents who no longer lived in the republic or who were deceased. According to Chechnya's minister for national policy and communication, Dzhambulat Umarov, the republic accumulated most of its gas debts during the two Chechen Wars in the 1990s and early 2000s, when the republic lacked consistent energy supply due to the war.
Russia's political opposition described the verdict of Grozny city court as yet another effort by Kadyrov to manipulate the Kremlin. Yet also pro-regime politicians expressed fears that the debt write-off will set a dangerous precedent for other Russian regions, particularly in the restive North Caucasus federal district, which both have high gas debts and a high potential for political unrest. For example Dagestan, neighboring Chechnya, is lagging in payments on over 40 percent of its energy bills and is notorious for its high level of insecurity due to the ongoing Islamist insurgency. Another North Caucasus republic with exceptionally high energy debts is Ingushetia, which has not paid over 60 percent of its energy debts.
In the immediate aftermath of the Grozny court decision on Chechen debts, regional government representatives of Astrakhansk and Smolensk regions filed similar appeals to their Prosecutor Offices, demanding to write off their respective regions' outstanding energy debts. MPs from Chuvashia and Bashkiria autonomous regions soon launched similar appeals.
The Chechen gas debt scandal has clearly caught found Kremlin unprepared. It took Moscow almost a month to issue an official statement, in which the president's press-secretary simply described the issue of regional energy debts as "a complex one." Under Gazprom's pressure, the Kremlin ordered the Federal Attorney General Office to force the Chechen prosecutor's office to launch an investigation into the verdict. After Gazprom's complaint about the verdict's illegality, Chechnya's Supreme Court agreed to consider the disputed decision by Grozny city court at a court hearing postponed until March 21.
IMPLICATIONS: To many in Chechnya, the announcement that the republic has over 9 billion rubles in gas debt came as a shock. Interviews conducted by the Caucasian Knot with members of the general public in Grozny reveal that most Chechens are regularly forced to pay for utilities through frequent inspections and threats to cut their salaries. Local media have reported that inspectors cut off debtor's access to utilities on a regular basis, inducing the public to carefully avoid any delays with bill payments. The republic's vast energy debt is explained to the public as due to the work of numerous underground mini-factories producing bricks and other construction materials. According to Chechen lawyers, underground factories can avoid paying for their utilities because most of them enjoy patronage from the government. Interviews carried out by the Caucasian Knot with gas inspectors in Grozny disclosed that many high-ranking state officials, who own large private estates, refuse paying for utilities using their positions and influence as a pretext.
However, the row over Chechnya's gas debt write-off is not only an effect of Chechnya's domestic problems and Kadyrov's patronage over illegal businesses operating in the republic. In mid-February, a series of arrests of high-ranking Gazprom employees resulted in the dismissal and detention of Raul Arashukov, the chief adviser to the director general of Gazprom's regional branch Mezhregiongaz. His nephew, Ruslan Arashukov, who served as Gazprom's director general in the Astrakhan region is also under investigation, along with Raul Arashukov's son, senator Rauf Arashukov. All three are accused of stealing natural gas worth 30 billion rubles. The Arashukov family was allegedly in control of all gas supplies in southern Russia, including Chechnya. Kadyrov's attempt to write off Chechnya's gas debt also aimed to undermine Arashukov's influence over the gas market in the North Caucasus region, which Kadyrov considers to be his own area of influence. The crackdown on the powerful Arashukov family also appears related to the internal power struggle in Arashukov's native republic Karachay-Cherkessia, where Raul Arashukov's son Rauf served as senator representing the Khabezsk region. Due to their role in Gazprom, the Arashukov family retained firm control over Karachay-Cherkessian politics and their removal was followed by the appointment of officials directly accountable and loyal to the Kremlin.
The Arashukov affair indicates that Gazprom is riddled by internal problems related to corruption and embezzlement. This clearly benefits Kadyrov who continues to insist that his republic's debt is due to Gazprom's inefficient management. While Kadyrov's move to write off most of Chechnya's gas debts was unexpected in Moscow, the Chechen leader most likely calculated that the Kremlin would turn a blind eye to the write-off. However, Kadyrov also seemingly expected that the scandal would unearth fundamental problems with Gazprom's regional branch, which would undermine Arashukov's influence in the company and enable Kadyrov to assume leverage over Gazprom in the North Caucasus.
CONCLUSIONS: While legal procedures unfold, the Kremlin continues to take a "wait-and-see" approach to the issue. Since neither Kadyrov, nor the central office of Gazprom are willing to compromise, it will be up to President Putin to make a final decision on the issue. The key challenge for the Russian president is to choose between his most loyal regional ally, Kadyrov, and the most influential energy giant in the country, Gazprom. For Kadyrov, a victory over Gazprom would serve both to boost his popularity at home in Chechnya and to grant him informal control over natural gas market in the region. For the Kremlin, allowing Kadyrov to write off his republic's gas debts would set a dangerous precedent for other regions, serving as proof that blackmail works. However, much to the benefit of both Kadyrov and Putin, the Arashukov affair allows Moscow to present the Chechen gas debt as the outcome of Arashukovs' persistent theft of gas, in which case the debt write-off can be portrayed as nothing more than an act of justice on Moscow's part towards the unfairly indebted Chechnya.
AUTHOR'S BIOS:
Huseyn Aliyev is a LKAS Research Fellow at the School of Social and Political Sciences, University of Glasgow. He specializes in armed conflicts, non-state armed groups, and informal practices. Huseyn is the author of "When informal institutions change. Institutional reforms and informal practices in the former Soviet Union" (University of Michigan Press, 2017). Huseyn's most recent publications appeared in Comparative Political Studies (2019), Cooperation & Conflict (2018), Security Dialogue (2016), and International Security (2015).
Image Source: accessed on 4.3.2019