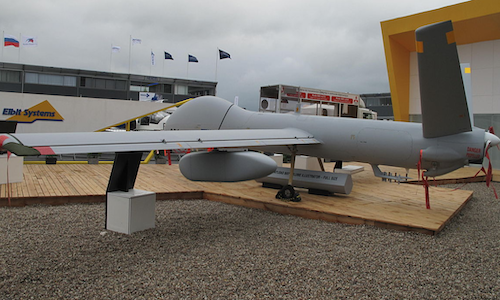 BACKGROUND: Azerbaijan has recently procured a series of assets from traditional suppliers, including LORA ballistic missiles, Spear-Mk.2 mortars, Spike-ER anti-tank rockets, Hermes-900 surveillance drones, Sky-Striker autonomous long-range loitering munitions, and Sky-Capture advanced radars (EL/M-2106-ATAR) from Israel; the Polonez tactical missile complex, 2A36-Giatsint-B howitzers, and the Groza-S electronic-warfare (EW) system from Belarus; İHTAR anti-drone system and SOM-B1 cruise missiles from Turkey; NTW-20 anti-materiel sniper rifles from South Africa; and BTR-82A modernized combat vehicles from Russia.
Aside from investing in its domestic military industry, Azerbaijan is also diversifying its heavy-armament deals from dominant suppliers to European and Asian countries. Azerbaijani President Ilham Aliyev said "the number of countries interested in selling us [modern weaponry] is growing" and "compared to previous years, we [...] are not bound to any one supplier." Materiel from new suppliers include Czech-produced DANA self-propelled howitzers and RM-70 multiple-rocket-launchers as well as U.S.-branded Bell-412 and MD-530F helicopters. In 2018, Azerbaijan signed an agreement with Belarus to purchase air-defense weapons and with Turkey's ASELSAN on joint production of communication facilities.
In June 2018, Germany's Rheinmetall signed a letter of intent with Azerbaijan on military cooperation. Azerbaijan also cooperates with Italy's Leonardo to receive civilian helicopters. It has been reported that Azerbaijan could buy ASTER-30-SAMP/T and Vertical Launch-MICA air-defense missile systems and Adroit-OPV-90 patrol vessels from France. In April 2018, Azerbaijan's Defense Minister Zakir Hasanov visited China's CETC International and Poly Technologies companies to assess their high-tech army gears and advanced communication/aircraft equipment. For aviation purposes, Azerbaijan could receive Pakistan's JF-17-Thunder combat aircraft (jointly developed with China).
Armenia recently signed a contract with Russia, its main arms supplier, to acquire four SU-30SM fighter jets within the framework of Russia's US$ 100 million credit, and AK-12 automatic rifles. Russia is expected to extend its credit to Armenia, in addition to previous credits utilized for purchasing Smerch MLRS, TOS-1A flamethrower systems, Igla-S air-defense and Cornet-E anti-tank missile systems, the Avtobaza-M EW complex, small arms, grenade launchers, and engineering equipment. In parallel with Azerbaijan, Armenia seeks to cultivate defense cooperation with China, notably with the Norinko and Poly Group companies.
IMPLICATIONS: In general, weapons made in or licensed by Israel constituted the key element of Azerbaijan's victories during the April 2016 fights with Armenian forces. Sky-Striker, which Israel has used to hit Syrian air-defense systems, can provide a critical advantage for the Azerbaijani Army in the battlefield given its capacity for silent, invisible, and surprise attack. Moreover, the installation of Israeli Rafael's modernized Spike-NLOS rockets onto Azerbaijan's combat helicopters will allow for striking ground targets at 10–50 kilometers, without entering the battlefield, to avoid being detected by Armenia's air-defense systems. Israeli weapons advance both Azerbaijan's defensive posture and offensive capability to a qualitatively new level compared to Soviet technologies. It was recently announced that Israel's Aeronautics will sign a new contract for maintenance work on the "Orbiter" drones that Azerbaijan purchased earlier. This news followed the reinstatement of Aeronautics' export license to Azerbaijan, which was briefly postponed due to protests from Armenia.
In order to develop new tactical advantages for the Armed Forces during military operations, Azerbaijan can utilize ASELSAN's communication devices within its Satellite Communications Control Center. Moreover, by mounting Turkey's SOM air-to-surface missiles with high-explosive fragmentation warheads on MiG-29/Su-25 or Italian Aermacchi-M-346 aircraft, the pilots can target any heavily-defended strategic ground targets at a range of 250 kilometers, which will be difficult for enemy radars to detect. According to the recent contract with Belarus, Azerbaijan's combat aircraft were equipped with the Talisman airborne-defense complex, which is designed to protect aircraft from aviation/anti-aircraft missiles and air-defense systems by distorting the radar waves of enemy missiles through false targets. Additionally, Belarus' Groza-S EW system will be a key element in conducting a new type of wars and information operations, including capacity for combating drones.
If acquired, French air-defense systems can operate even in complex electromagnetic environments to neutralize Armenia's Iskander missiles. Italian [civilian] and U.S. [military] helicopters can either be used in wartime to ease the mobility of Special Forces in the complex terrain of Azerbaijan's occupied territories, or upgraded to military-combat format.
U.S.-Azerbaijani military cooperation was long halted due to Section-907 of the Freedom Support Act, adopted by Congress in 1992 and waived from 2002, blocking Washington's assistance to Baku. The military dialogue has gained momentum after the visit of U.S. national security adviser John Bolton to the South Caucasus, where he did not exclude U.S. weapons sales to Armenia or Azerbaijan. Subsequently, U.S. Deputy Assistant Secretary of Defense Laura Cooper visited Azerbaijan to discuss military-technical cooperation.
Since Armenia currently lacks the financial means to purchase western weapons, Russia will retain its dominant role as the country's main arms supplier, regarding its existing arsenal as well as new arms acquired with the latest military credits. Yerevan, however, has also sought to diversify its military procurement. Reportedly, Armenia has shown an interest in purchasing India's Pinaka rocket system. Moreover, Armenian media have suggested that Sweden has offered to sell Armenia JAS-39 Gripen fighter jets; which are nevertheless more expensive than Russian Su-30SM. These unconfirmed news, however, accelerated Armenia's signing of an agreement with Russia on the delivery of Su-30SM fighters. In anticipation of Armenia's acquisition of new jets, Pakistani JF-17-Thunder aircraft could give Azerbaijan's Air Force the upper hand if purchased. Equipped with Chinese-made radar systems with sophisticated radio-wave emission/re-direction capability, the aircraft can remain invisible to air-defense radars during air-assault operations to provide full target execution.
Chinese EW systems could be a good option for the Azerbaijani army, since Armenia has the advantage of Russian EW devices. Moreover, Azerbaijan's engineering troops already employ some Chinese SD16 bulldozers and SG21-3 motor graders. Armenia will reportedly receive non-lethal technologies such as observation instruments, communications equipment and other devices from China, under Beijing's US$ 1.5 million financial assistance.
Armenia's approaches to China regarding military diversification have been subjected to harsh criticism in Russian media, which claim that Yerevan seeks to blackmail Russia to reduce the cost of armaments, although Russia already supplies Armenia with large quantities of new weapons under preferential military credits. While Azerbaijan's previous arms contracts with Russia are still under implementation, President Aliyev recently declared (to RIA Novosti) that Baku is interested in new contracts for Russian weapons.
CONCLUSIONS: Azerbaijan's defense procurement strategy is reaching a new qualitative level when it comes to both the types of weapons being acquired and their sources. Azerbaijan pursues strategic independence by boosting its domestic defense industry. Baku also seeks to replenish its military arsenal with high-tech weaponry needed for contemporary battlefield and terrain-specific warfare conditions, including direct-aerial-fire precision capabilities; capacity to strike ground targets while remaining outside the enemy's detection/targeting range; reduced radar visibility; and improved reconnaissance skills. Azerbaijan's foreign military deals demonstrate Baku's strategy of seeking diverse defense partners among NATO, CIS and Asian states – something Armenia has been less successful at achieving. Azerbaijan makes deals with suppliers that apply flexible customer policies, rather than ones who stick to the conflict-related embargoes.
Azerbaijan's increasing military relations with diversified partners could incentivize Russia to offer Baku more arms in order not to lose this lucrative client. Alternatively, Russia could in response deepen military-technical cooperation with Armenia, aiming to simultaneously sell Russia-made counter-weapons to Azerbaijan. Thus, Russia can compensate for the financial losses incurred from subsidized (at domestic market prices) weapons sales to Armenia through sales to Azerbaijan at export prices. Previously, in the absence of guaranteed suppliers to provide equivalent weaponry to Azerbaijan, Russia has remained a flexible and key provider.
Azerbaijan's plans to boost its military capability stem from skepticism that diplomatic negotiations will induce Armenia to voluntary withdraw from Azerbaijan's occupied territories. Therefore, Azerbaijan constantly consolidates its military positions and retains a high level of combat capability of its Armed Forces, whereas Armenia's arms procurement strategy seeks to retain the current status quo.
AUTHOR'S BIOS:
Ilgar Gurbanov is an Independent Researcher on Security and Defense Affairs (based in Azerbaijan).
Image Source: public domain via Wikimedia accessed on 3.27.2019