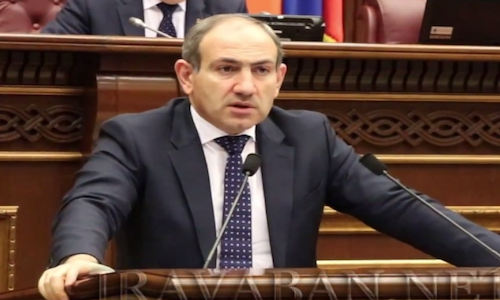 BACKGROUND: The bloc led by Pashinyan, who was the front figure of the "Velvet Revolution" in April 2018 and became Armenia's Prime Minister, quite predictably won the snap parliamentary elections on December 9. In the first national election in 20 years conducted without widespread fraud such as vote buying, ballot-box stuffing, or intimidation of opposition proxies and observers, the winners received 70.42 percent of the votes and secured 88 of 132 seats in the National Assembly. Only two other parties passed the threshold: Prosperous Armenia, which received 8.26 percent of the votes and 26 seats; and Bright Armenia party with 6.37 percent of the votes and 18 seats. The formerly ruling Republican Party of Armenia (RPA), which in October refused to lower the threshold from five to four percent (see the 11/07/18 Issue of the CACI Analyst), received 4.7 percent of the votes and is hence not represented in the newly elected National Assembly.
The new National Assembly first gathered on January 14, and within a month performed the required initial set of actions, including the formation of standing committees, the appointment of a new cabinet, and approving the government's program. The number of ministries comprising the cabinet were reduced, and in addition to members of Pashinyan's Civil Contract party, some technocrats who served in the first post-revolution cabinet, including the ministers of foreign affairs and defense, were reappointed. The government's program provides for de-bureaucratization, although on a really modest scale compared to probably the most profound reform in that area performed during Mikheil Saakashvili's presidency in neighboring Georgia. The program also suggests reducing state regulation of the economy, albeit carefully, and states an expectation of five percent annual growth. Although Prime Minister Pashinyan proclaimed an "economic revolution" in the making, the parliamentary opposition and some observers consider the government's program to lack ambition. The program became the first subject of heated dispute between the majority and the opposition, which ultimately voted against.
IMPLICATIONS: A comfortable parliamentary majority and a quite stable high level of public approval allow Pashinyan to proceed with governance and judicial reforms, further anti-corruption measures, education reform, and other much needed reforms. Meanwhile, Pashinyan's approach to negotiations on the Nagorno-Karabakh issue has become a target for criticism from representatives of the former regime and numerous media under their control. The recent meetings between Pashinyan and Azerbaijan's President Ilham Aliyev, as well as meetings of the two countries' foreign ministers (see the 02/14/19 Issue of the CACI Analyst) have been interpreted in the already familiar context of allegations about the government plans to "sell Karabakh," i.e. make unilateral concessions.
Media owned by the proxies of former Presidents Robert Kocharyan and Serzh Sargsyan have also spread conspiracy theories regarding the government's alleged links to George Soros, the education reform plans, and other issues; attempting to use character killing techniques against the cabinet members and to provoke conflicts between Pashinyan and his supporters outside his party.
Kocharyan is under investigation for his role during the events of March 1, 2008, when police and army units attacked demonstrators after 12 days of mass protests in Yerevan following a contested presidential election, killing 10 people (see the 11/07/18 Issue of the CACI Analyst), whereas Sargsyan was ousted by the "Velvet Revolution." Quite significantly, in recent months Kocharyan's and Sargsyan's proxies have acquired more media outlets, including television companies.
Russian media have also intensified their campaign against Pashinyan's government. The investigation involving Kocharyan and other former officials has been a constant target of Russian media reporting, despite Pashinyan's statements and actions in favor of even deepening cooperation with Russia. However, in February Komsomolskaya Pravda, a daily notorious for its practice of publishing materials that are paid for, started calling Kocharyan "a political prisoner." Within days, Russian state-run RT news accused a prominent member of the Armenian parliament of attempts to "export revolution." In general, similar coverage targeting "pro-Western" persons in the parliament and government has become widespread. In addition, several Russian analysts, particularly those appearing on Russian TV, have also started promoting allegations about imminent unilateral concessions on the Nagorno-Karabakh issue.
Against this backdrop, even Armenia's deployment of an 83-man mission to Syria on February 8, including demining specialists and medical personnel, have not changed the mode of coverage in Russian media. The deployment was agreed in September as an attempt to reduce tensions in Armenia's relations with Moscow and Russian Defense Minister Sergei Shoigu publicly thanked his Armenian counterpart for the contribution. At the same time, the U.S. strongly criticized Armenia's involvement in Syria. A statement issued by the embassy in Yerevan said the U.S. "do not support any engagement with Syrian military forces … nor any cooperation between Armenia and Russia for this mission."
CONCLUSIONS: In addition to constituting an attempt to damage Pashinyan's public approval, the allegations about unilateral concessions on Nagorno-Karabakh may be intended to provoke him into making some hardliner statements on the issue in order to undermine his international image as well. It should be recalled that Kocharyan and Sargsyan utilized similar propaganda to organize their power grab in 1998. However, this is not the only issue requiring careful consideration by Pashinyan's team.
Pashinyan can be expected to continue his attempts to avoid antagonizing the Kremlin. However, his team needs to be aware that further concessions to Russia may actually be counterproductive. As Kocharyan's trial is approaching and further investigations concerning other former officials are imminent, representatives of the former regime will keep using their considerable financial and media resources, as well as their strong connections in Russia, in order to destabilize the government. Concessions will hardly persuade Russian political circles and the media to remain neutral. As a "revolutionary" leader, Pashinyan cannot expect to join the "close circle" of Vladimir Putin's friends. Also, if the deepening economic hardship in Russia results in protests, "revolution exporters" will become an easy target to be placed on the list of "Russophobes" for the purposes of Russia's domestically-oriented propaganda, their attitudes towards cooperation with Russia notwithstanding. At the same time, deepened ties with Russia will likely slow down the reforms and at some point become a considerable obstacle to overcoming path dependence.
AUTHOR'S BIOS:
Armen Grigoryan is an Armenian political scientist, and the author of several book chapters and journal articles. His research interests include post-communist transition, EU relations with Eastern Partnership countries, transatlantic relations, energy security, and conflict transformation.
Image Source: public domain via Wikimedia Commons accessed on 3.20.2019