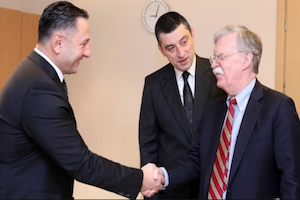 BACKGROUND: Reaching Baku on October 24, the delegation stressed Azerbaijan's conspicuous role in diversifying Europe's energy supplies. This gesture clearly indicated that the Southern Gas Corridor will receive a full waiver from U.S. sanctions against Iranian energy supplies, even though an Iranian oil company owns 10 percent of the shares in the Shah Deniz consortium. Highlighting the critical role of the U.S. in the OSCE Minsk Group and negotiations between Armenia and Azerbaijan, Bolton noted that it is of mutual interest to find a speedy resolution to this conflict, which prevents the Caucasus from fulfilling its strategic potential.
Commending Azerbaijan's importance to the U.S. in terms of providing logistics to Afghanistan as part of the Northern Distribution Network, Bolton signaled a prospective role for Azerbaijan in the evolving U.S. sanctions policy towards Iran. U.S.-Azerbaijan bilateral relations have intensified over the last two years, aiming to establish a "strategic partnership." This implies that the U.S. Administration seeks to enlist Azerbaijani support against Iran, opening for security-related support to Baku in return. Azerbaijani interlocutors reportedly raised Section 907 of the U.S. Freedom Support Act, which the U.S. Congress applied to Azerbaijan in 1992, a formal restriction banning direct military aid to the country. Bolton referred to this issue later while visiting Yerevan, although in the context of potential U.S. defense-related assistance to Armenia.
U.S.-Azerbaijan negotiations focused on the spectrum of risks stemming from Iran, such as Islamic radicalism and the occasional unrest in Ganja. For Baku, the tense situation in Ganja constitutes an argument for requesting U.S. assistance in the form of intelligence and data-sharing arrangement in order to enhance Azerbaijan's internal security.
The next day, the delegation visited Yerevan for meetings with the interim Armenian government formed in the aftermath of the "Velvet Revolution." The agenda included the U.S.-imposed sanctions against Iran and their prospective impact on Armenia, as well as the influence of Russia and Iran in the country. The Armenian side made clear that it is in no position to revise its close ties with Iran or to irritate Russia by pursuing alternative directions in its foreign policy, especially without proper alternative options.
Some of Bolton's remarks in Yerevan triggered an immediate and angry reaction from Moscow. In particular, Bolton argued that "it is fundamental to Armenia to exercise its full sovereignty and not being dependent on or subject to excessive foreign influence. It is not to be constrained by historical patterns." Referring to the narrative of Russia's "indispensability" to Armenia's security, Bolton argued that there is "a lot of alternatives" for Armenia to diversify its security policy in order not to depend entirely on Moscow. Moscow interpreted the statement as a signal to Prime Minister Nikol Pashinyan to modify Armenia's "traditional" foreign-political alignment into a more proactively balanced diplomacy. In order to "increase Armenia's options," Bolton asserted that he had discussed the question of arms sales with Pashinyan, hinting that U.S. "equipment is better than the Russians'." This indicates that U.S. interest in Armenia has less to do with Iran than diminishing Russia's overwhelming influence in the country. In return, Russia's Ministry of Foreign Affairs released a statement on October 29, accusing Bolton of interfering in Armenia's affairs, "attempting to drive wedge between the cordial allies."
IMPLICATIONS: After ascending to power amid the crisis in Ukraine, the Trump administration has identified a need to reinforce its standing in the contested Caucasus to counter challenges from Russia and Iran. The administration firstly reassured its traditional regional ally Georgia of its backing, underlined by Vice President Mike Pence's visit to Tbilisi in August 2017 and the introduction of the Georgia Support Act to Congress in June 2018. U.S. support further included Georgia's procurement of sophisticated Javelin anti-tank hardware, aiming to improve the country's defensive capabilities – something almost inconceivable during Barack Obama's Presidency. Moreover, according to Georgian Defense Minister Levan Izoria, the country is consulting with U.S. partners to obtain more U.S.-produced defensive equipment in 2019. In this light, Bolton's three-country tour to the region is a significant political signal of proactive U.S. involvement in the Caucasus, with a distinctively new image and strategic behavior prioritizing political pragmatism over the normative approach related to the declining influence of the previous Administration.
Squeezed between Russia and Iran, the Caucasus is a vital region for European energy security and an important logistics hub for U.S. access to Central Asia and Afghanistan. In Washington's evolving grand strategy, the independent states of the Caucasus can potentially fulfill the function of "Threefold Containment" simultaneously towards a revisionist Russia, a destructive Iran and an increasingly unreliable Turkey. Thus, the Bolton-led delegation's visit to the region signified the Trump Administration's increasing attention to regional dynamics and its intention to further cultivate security-related strategic ties in the context of an increasingly competitive world order.
As was anticipated, the U.S. side expressed its disagreement with Armenia's bid to deploy a military-humanitarian mission to Syria under Russia's auspices, an initiative aiming to appease Russia after its increasingly critical stance against Pashinyan's post-revolutionary regime. Moreover, it is hardly imaginable that Armenia, having proclaimed itself a true Western-style democracy after the power shift, could retain the uni-vectoral foreign policy of its authoritarian predecessors, aligning with the belligerent policies of autocratic regimes such as Russia and Iran.
Iranian influence in Armenia receives little attention from the country's public and authorities. However, it certainly exists, not least in the form of a tendency towards religious conversion. A case in point is the murder of a Russian soldier of the 102nd Military Base in April 2017 by an Armenian national who converted to Islam and later radicalized. Bolton acknowledged that Armenia faces two security issues – the unbalanced dependence on Russia as well as the disparity in military power with Azerbaijan – and his statements indicated that the issue of Iran, albeit important, was not the main topic of his discussions in Yerevan. Armenia's dependence on Russia is considerable and systemic, to the extent that even its state borders are under the control of Russian FSB-affiliated border guards. Russia's reaction to U.S. overtures toward Armenia is therefore unsurprising.
Russia's policy vis-à-vis Armenia stands out in comparison with virtually all other CIS members. It views Armenia as a critical pivot in its pursuit of regional hegemony and an integral part of its Caucasian security architecture. Without its footprint in Armenia, Russia would cease to be a dominant power in the Caucasus and its ability to project power in the Black Sea region would face additional constraints if Yerevan would opt a more balanced foreign policy. Therefore, Moscow views the arms race between Armenia and Azerbaijan as a tool for consolidating its dominance over them, and Bolton's remarks posed a challenge to its utilization of this tool.
CONCLUSIONS: Amid the growing pressure on Iran and the standoff between Russia and the West, the Caucasus is regaining its strategic importance to the United States. Bolton virtually categorized the South Caucasian states in accordance with the U.S. strategic approach, acknowledging that Georgia is "of great strategic importance"; Azerbaijan of "strategic importance" and Armenia among the U.S. "top priorities." While the tensions between the U.S. and Turkey have boosted Georgia's strategic value, this has also paved the way for a more active role of Azerbaijani diplomacy in mediating between Washington and Ankara.
The Trump Administration could fruitfully initiate a new cooperative framework in the form of a U.S. + Caucasus platform, in order to jointly address common security challenges such as cyber and hybrid threats. Also, Bolton challenged Russia by questioning its privileged position as an arms supplier to both Azerbaijan and Armenia. Yet, the solution to this problem is hardly to substitute Russian arms with U.S. sales, but rather to impose an arms embargo on both sides. For this purpose, imposing the 1992 OSCE arms embargo on Nagorno-Karabakh as mandatory to all OSCE members would not only serve as stabilizing factor but would also limit Moscow ability to manipulate the conflicting sides.
AUTHOR'S BIO:
Eduard Abrahamyan is a regional security analyst with emphasis on the Black Sea, Caucasus and Central Asia. He is a CACI 2017 Rumsfeld Fellow and a PhD Candidate at University of Leicester, UK.