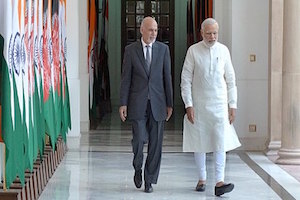 BACKGROUND: In the recently held Senate Armed Services Committee hearing regarding Washington's Afghanistan policy and options, National Intelligence Director Dan Coats informed the members that "Islama­bad does not want heavy Indian influence in Afghanistan and will likely turn to China to offset New Delhi's sway on its western borders." This view is linked with India's rising international status and ever deepening ties to the United States. Defense Intelligence Director Lt. General Vincent Stewart stated: "Pakistan … desires for Afghanistan some of the same things we want: a safe, secure, stable Afghanistan … that does not have heavy Indian influence." Stewart added, "… they hold in reserve terrorist organizations … so that — if Afghanistan leans towards India, they will no longer be supportive of the idea of a stable and secure Afghanistan that could undermine Pakistan's interests."
A closer look at the Islamabad-Kabul-New Delhi trilateral relations indicates that contrary to the generally held view, Afghanistan is among the oldest factors in the India-Pakistan rivalry. At the time of partition in 1947, Kabul demanded that Pakistan's Pashtun belt should be given the choice to opt for independence, stay with Pakistan or join Afghanistan. Kabul's was the only vote against Pakistan's admission to the United Nations in September 1947. Islamabad believed that the leadership in Kabul was in fact puppets of New Delhi. When Sardar Daud became Afghanistan's Prime Minister in 1953 and later President in the 1970s, he intensified the Kabul-Islamabad rivalry by arming and providing sanctuaries to Baloch insurgents. Reciprocally, with support from Washington, Islamabad provided support to Afghanistan's anti-communist opposition. After the Soviet withdrawal, Islamabad was hoping for a cooperative government in Kabul as a stable Afghanistan would become a gateway to the newly independent Central Asian states for economic benefits of trade as well as gas and oil pipelines emanating from Central Asia. This did not materialize due to the subsequent Afghan civil war, in which regional countries supported their favorite Mujahedeen factions.
By the mid-1990s, Islamabad switched its support from Gulbuddin Hekmatyar to the Taliban, which formed the first-ever Pakistan-friendly Afghan government with no links with India. After the tragic 9/11 attacks, Islamabad had very limited options, especially because New Delhi was quick to offer full support for U.S. operations in Afghanistan. Islamabad decided to join the U.S.-led global war on terror, factoring in the eventuality of Washington accepting New Delhi's offer. Alarm bells rang in Islamabad in November 2001 when despite Washington's assurances, the Northern Alliance (supported by New Delhi during the civil war), triumphantly moved into Kabul. In the 2001 Bonn Agreement, it further consolidated its role in Afghanistan's future.
For Islamabad, this was back to square one: a hostile and pro-India Kabul. Since then, Kabul has accused Islamabad of supporting the Taliban insurgency, whereas Islamabad accuses Kabul of providing India with a playing field for conducting anti-Pakistan activities, especially in Baluchistan through the Indian consulates in Jalalabad, Kandahar, Mazar-e-Sharif and Herat.
The election of Narendra Modi as India's Prime Minister added to this animosity. Soon after taking office, Modi embarked upon a policy to isolate Pakistan and showcase it as the troublemaker in the region. Reacting to the terrorist attack on the Uri camp in Indian-controlled Kashmir, Modi boycotted the 19th SAARC summit to be held in November 2016 in Islamabad, which eventually killed the summit. In the wake of all this, the annual Heart of Asia (Istanbul Process) summit took place in Amritsar, and was overshadowed by the increasing enmity between India and Pakistan.
IMPLICATIONS: Afghanistan continues to pose a serious security threat to the region. Yet a number of problems that Kabul faces are due to its neighbors. It could be argued that the solution to these problems lie not inside Afghanistan alone but also in the capitals of the regional states. All states in the region have their own interests and pockets of influences in Afghanistan, often at odds with other players. This is true for Iran, Uzbekistan, Russia, Turkey and Pakistan, which all have their own objectives in Afghanistan. The presence of the U.S., NATO and the EU further complicates the situation. Yet, the Indo-Pakistani rivalry appears to be a major destabilizing factor for Afghanistan. Recently, several reports and analysts have pointed out that the Islamabad-New Delhi rivalry has spilled over into Afghanistan, further worsening the already deteriorating security situation in the country.
Relations between Islamabad and New Delhi have remained tense despite several attempts to improve them, and have recently deteriorated further. New Delhi's, and especially Modi's, attitude towards Islamabad during the recently held Heart of Asia summit illustrates this problem. Since assuming office, Modi has denounced Islamabad as the "host of the Ivy League of terrorism" and the "mothership of terrorism." At the Amritsar summit, diplomatic protocol was ignored. The advisor to Pakistan's Prime Minister on foreign affairs, Sartaj Aziz, was virtually made a hostage in his hotel and was not allowed to go for a planned visit to the Golden Temple or interact with media. Indian security officials attempted to prevent the Pakistani High Commissioner (ambassador) from talking to visiting Pakistani journalists. Modi found an ally in Afghanistan's President Ghani, who lashed out at Islamabad and rejected a US$ 500 million aid package that Islamabad had offered Afghanistan, stating that this money would be better used to stop terrorism in Pakistan. He appeared no to consider the fact that he was speaking at a regional forum, rather than a bilateral meeting.
Prior to the summit, one view in Islamabad was that in keeping with the recent development between India and Pakistan, and especially Modi's continuous pugnaciousness and attempts to isolate Pakistan, Islamabad should be represented by a lower level officer from the Ministry of Foreign Affairs instead of the advisor to Prime Minister Aziz. Further complicating the problem, Islamabad is conducting its foreign relations without a foreign minister since Nawaz Sharif became Prime Minister in 2013, which contributes to a lack of clarity regarding its foreign policy making. There is reportedly an ongoing struggle between the Prime Minister's office, the Foreign Ministry and the Pakistan Army regarding the country's foreign policy. Islamabad therefore needs to develop a consensus regarding its foreign policy objectives.
Islamabad and New Delhi cannot afford to further expand this rivalry. Both can contribute positively to stabilizing Afghanistan and must develop their policies towards the country in accordance with their national interests; not the zero-sum prism of Indo-Pak rivalry.
CONCLUSIONS: Contrary to the generally held view, Islamabad is not the sole reason for Afghanistan's miseries. Afghanistan's unity government has failed to perform as differences between President Ghani and Chief Executive Dr. Abdullah Abdullah are escalating, corruption is rising, governance is non-existing and confrontation is brewing between the Afghan government and the Wolesi Jirga (the lower house of parliament). The First Vice President, General Abdul Rashid Dostum, openly accused Ghani and Abdullah of supporting their own ethnic groups and has revived his Uzbek militia, reportedly responsible for recent kidnappings and torture of Dostum's political rivals. In the wake of all this, pointing to Islamabad as the sole factor behind Afghanistan's ills is ignoring realities on the ground. Kabul should not become a party to the enduring Indo-Pak rivalry. What happened during the heart of Asia Summit and the way New Delhi and Kabul singled out Islamabad clearly indicates the contrary. Islamabad and Kabul must work on improving their relations, whereas New Delhi must realize that its road to Kabul goes through Pakistan. Together, all countries should take into account what an Indian wise man once said: "You can't change your neighbor."
AUTHOR'S BIO: Rizwan Zeb, Ph.D., is associate editor of the Journal of Asian Security and International Affairs (Sage). He is a former Benjamin Meaker professor, University of Bristol, UK; visiting scholar at the India-South Asia Project at the Brookings Institution. He is also consulting editor of soon to be launched weekly e-paper Pakistan Review. He tweets at @SRizwanZeb.
Image source:https://commons.wikimedia.org/wiki/File:Prime_Minister_Narendra_Modi_with_Afghan_President_Ashraf_Ghani.jpg accessed on 02.08. 2017