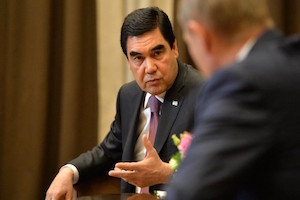 BACKGROUND: On August 8-9, Turkmenistan's President Gurbanguly Berdimuhamedow made an official visit to Azerbaijan's capital Baku to meet his counterpart, President Ilham Aliyev. This was a rare event in bilateral relations: the last such visit took place in 2008. Turkmenistan's President has shown a preference to visit Baku on the occasion of multilateral events, such as the European Games or summits of heads of states around the Caspian Sea. This visit, which included a broad delegation of high-ranking officials, aimed to boost bilateral relations as well as regional trade and development.
The Azerbaijani and Turkmen leaders and their government officials signed several agreements, indicating the start of a new phase in the relations of these two Caspian neighbors. The agreements covered a broad range of areas, such as agriculture, tourism, emergency operations, economic issues, port development, trade, energy and transport. A declaration on strategic partnership was the most important part of the signed documents.
Commenting on the visit during the press conference, President Aliyev noted: "This visit plays a very important role in Turkmen-Azerbaijani relations and the signed documents show that the relations are at the highest level. The basis for such strong relations is the historic friendship and brotherhood that exists between our nations. The signed declaration on strategic partnership outlines major directions for bilateral cooperation and covers all important sectors."
Specifically, President Aliyev pointed out the construction of sea ports on both sides of the Caspian, which will significantly increase regional trade and commerce via transport corridors. He also indicated that the completion of the Baku-Kars railway would open new opportunities for both Azerbaijan and Turkmenistan.
Turkmenistan and Azerbaijan have enjoyed relatively positive relations for the past 25 years, although during the presidency of Saparmurat Niyazov Turkmenistan challenged Azerbaijan's activities in the Caspian Sea regarding oil and gas fields. Turkmenistan contested some of the oil fields, most notably the Kapaz (Sardar) field, and disagreed with Azerbaijan regarding the legal status of the Caspian Sea and the delimitation of borders. At the same time, the military build-up in the Caspian caused concerns over the possible escalation of tensions into a hot conflict. The late Niyazov never visited Baku and maintained cold relations with Azerbaijan's then-President Heydar Aliyev. Berdimuhamedow's visit to Baku in 2008 and Aliyev's subsequent visit to Ashgabat broke the ice and turned a new page in bilateral relations.
IMPLICATIONS: Both Azerbaijan and Turkmenistan have gone through economic turmoil in the last few years due to the decrease in oil and gas revenues. While both governments enjoyed huge incomes from energy exports in the last decade, resulting in rapid infrastructure development, little has been done to develop the non-oil sector. Thus, facing a severe drop in budgetary revenues, Azerbaijan and Turkmenistan are eager to put aside old disagreements and focus on the development of mutually beneficial economic linkages and investment opportunities.
For decades, Azerbaijan and Turkmenistan have discussed the possibility of building a Trans-Caspian pipeline to export Turkmen gas to European markets. This project is supported both by the EU and the U.S. and is disputed by Russia and Iran. The latter two nations cite ecological reasons to prevent this pipeline from materializing. Although Berdimuhamedow's visit did not aim to find an immediate solution to the pipeline issue, it could pave the way for more pragmatic dialogue between the two countries in the field of energy. Azerbaijan and Turkmenistan could trade in energy products, consider joint exploration of the previously contested fields and even ship Turkmen gas via the Southern corridor (from Azerbaijan and on to Europe via the TANAP and TAP pipelines) via Iran or with the help of LNG terminals. Azerbaijan is already buying certain oil and gas products from Turkmenistan, such as airplane fuel.
Transport and logistics could become an even bigger pillar of bilateral economic relations than oil and gas. Both nations are actively investing in sea ports and railway systems. Baku International Port is even building a Dubai-style Free Economic Zone, which will serve not only to facilitate trade and logistical support but also a site for value-added production of goods and services. The vision of both countries match the Chinese government-led One Belt, One Road initiative to redevelop the transport linkages in Central Asia and revive the ancient Silk Road. One of the signed documents during the Turkmen President's visit to Baku was the agreement on common work on unified tariffs, custom duties and other trans-border operations.
Both shores of the Caspian Sea enjoy warm climatic conditions. Turkmenistan and Azerbaijan also have huge potential in the development of tourism. The Turkmen seaside resort of Avaza already boasts modern tourism infrastructure. Should both countries develop passenger cruises and eliminate visa barriers, regional tourism could skyrocket. Azerbaijan and Turkmenistan can also significantly improve cooperation in the social and humanitarian fields, education, culture and sports.
Changed and improved relations between Azerbaijan and Turkmenistan can significantly alter the regional political and geopolitical map. Both countries proudly enjoy their Turkic heritage. Strong relations between Azerbaijan and Turkmenistan can increase Turkey's influence in the region and strengthen pan-Turkic unity between these states. The foreign ministers of the three countries regularly meet in a trilateral format and most recently discussed cooperation in Baku in July, just days before Berdimuhammedov's visit. Turkmen-Azerbaijani cooperation can also create more diversified energy policies in the region, with multiple stakeholders aside from Russia and Iran. Eventually such close cooperation can also reconcile the differences over the legal status of the Caspian Sea and solve the delimitation problem, in a process similar to that between Azerbaijan and Kazakhstan.
CONCLUSIONS: A decade ago, Azerbaijan and Turkmenistan were locked in cold relations and legal disputes. Rich oil and gas revenues encouraged both countries to take an uncompromising stance on these issues. Today, the decreasing revenues have changed the attitude of both nations, pushing them closer in an effort to seek political and economic support from each other, develop creative solutions to regional problems, and to jointly come up with economic investment and trade projects, transport and logistics opportunities. This, in turn, affects the political language between the two capitals.
Aliyev cited strong political support from Turkmenistan on the issue of Azerbaijan's territorial integrity and sovereignty. Azerbaijan similarly provides strong support to Turkmenistan in various international forums, such as OSCE, OIC and UN. This visit will likely open new opportunities for Azerbaijan and Turkmenistan to further cement their mutual political support.
AUTHOR'S BIO: Fariz Ismailzade is a frequent commentator on regional affairs, based in Baku.
Image source:kremlin.ru accessed on 02.06. 2017