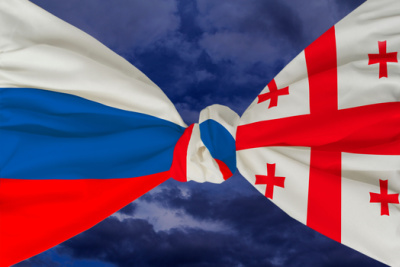 BACKGROUND: As trade relations between Russia and Georgia were restored during the 15 years following the 2008 war, Russia emerged as the overwhelmingly dominant source of imported wheat for Georgia because of the considerably cheaper price of Russian wheat. By 2021, Georgia imported 338,000 tons from Russia, comprising 92 percent of Georgia's wheat imports. Likewise, Russia accounted for 97 percent of the 37,500 tons of Georgia's 2021 flour imports. Aside from pricing, transportation costs can make non-Russian wheat prohibitively expensive. The shipping cost from Russia adds US$ 25 per ton of wheat, whereas wheat transportation costs from relatively nearby Black Sea producers Romania and Bulgaria add US$ 40-50.
Georgia was forced to grapple with its wheat vulnerability starting in 2021, prior to the Kremlin's February 2022 invasion of Ukraine. As Russia attempted to cope with the devastating economic impact of COVID-19 in 2021, Moscow imposed quota limitations on wheat exports as well as pegging export taxes to price fluctuations. To get around the taxes, which in 2022 added about US$ 120 to the cost of every ton of Russian wheat, Georgia compensated for decreasing wheat imports by increasing its Russian flour imports, which were not subject to import taxes. From January to July 2022, Georgia imported a record-breaking 132,240 tons of flour, a 704.8 percent increase year-on-year. While Georgia succeeded in avoiding the export taxes, the tactic worsened its wheat dependence on Russia. Georgia simply became even more dependent on imports of Russian flour, which accounted for 98.9 percent of Georgia's flour imports during the period.
The switch to flour imports also made Georgia even less resilient against a future supply shock, as it significantly shortened the timeframe Tbilisi would have to avert catastrophe if Russia suddenly halted its exports. By switching to flour, Tbilisi allowed its wheat reserves to dwindle to slightly more than one month's supply. Even if Georgia could secure wheat consignments from sympathetic major suppliers such as the U.S. or Canada, the shipping time from distant North America is about 30 days under the best of circumstances. In the event of a cessation of Russian exports, Georgia would likely run out of bread before new wheat supplies could arrive.
The reliance on flour instead of bulk wheat has made the fragility of Georgia's wheat supply even more acute, since flour has a significantly shorter storage time compared to bulk wheat. While wheat can be stored at Georgia's Poti grain terminal for years, flour can only be stored for one to three months. Depending on the timing of a Russian supply cut, Tbilisi may not be able to use Georgia's small domestic wheat production to buy time until wheat or flour from alternative suppliers could arrive. A glimpse of the potential catastrophe was witnessed in 2022. With Georgia's domestic wheat harvest occurring only in July and August, most of Georgia's flour mills ran out flour in the spring. In April 2022, the price of bread increased 28.8 percent compared to April 2021. By May 2022, 67 of Georgia's 70 flour mills had halted production due the lack of flour.
IMPLICATIONS: Reducing Georgia's dangerous dependency on Russian wheat imports requires finding alternative foreign suppliers and increasing domestic production. Due to their geographic proximity, Kazakhstan and Turkey are Georgia's best alternative supply sources. In 2022, Kazakhstan ranked as the world's 11th largest wheat exporter, experiencing a 34.7 percent increase in its exports as countries sought Kazakh wheat to fill the shortfall in supplies from Russia and Ukraine. Kazakhstan's Marketing Year (MY) 2021-2022 wheat and flour exports to Georgia totaled 4,811 tons, a 69.5 percent increase over the previous year. However, when overheating export markets led to rising consumer prices within Kazakhstan itself, Astana imposed export restrictions on wheat from mid-April to mid-September 2022. Kazakh wheat shipped to Georgia via the Trans-Caspian International Transport Route (TITR) could also be vulnerable to Russian interference during its transit across the Caspian Sea.
Turkey, which shares a land border with Georgia and a commercial rail link, is the world's largest exporter of flour. Wheat flour is Turkey's second most valuable food export, garnering US$ 1.15 billion in export revenues. During the Georgia's 2022 rush to purchase flour, Turkey was Georgia's second largest supplier, accounting for over half of Georgia's non-Russian imports. Turkey's ability to supply Georgia also faces constraints. Although Turkey is the world's 10th largest producer of wheat, government regulation requires Turkey's flour exports to be made from imported wheat to ensure Turkey's ability to meet its own domestic demand at affordable prices. To maintain its lucrative flour and pasta exports, Turkey is customarily among the world's top 5 wheat importers – close to 70 percent of Turkey's imported wheat is processed and re-exported as flour and pasta. Turkey is subject to supply pressures from decreased wheat imports from Russia and Ukraine. While Turkey has maintained relatively constant levels of flour exportsglobally during the first six months of 2023, Turkey's food inflation rate is running about 400 percent higher than the average among OECD nations. Nonetheless, Georgia is a transit state for Kazakhstan's wheat exports to Turkey via the TITR, opening the possibility of swap arrangements whereby Georgia could receive Kazakh wheat exports to Turkey in exchange for wheat consignments supplied by more distant providers in Europe or North America that can access Turkey's Mediterranean ports.
Georgia is also making great efforts to boost its own domestic wheat production. Amidst the spring 2022 wheat crisis, Georgia's Agriculture Minister Otar Shamugia asserted that Georgia could reach 50 percent wheat self-sufficiency and that the government was readying its plans for projects that would stimulate domestic wheat production. Georgia's domestic wheat output increased by 60 percent from 2021 to 2023, according to a May 2023 statement by the minister. However, increased domestic production has not automatically translated into a reduction in Georgia's dependence on Russian wheat flour imports, as consumers continue to buy cheaper Russian flour over the more expensive Georgian counterpart. Although Georgia produced 157,000 tons of wheat in MY 2022/23, the country's farmers found it difficult to compete with their more efficient foreign competitors. The market price for wheat is 28-32 percent lower than the cost for Georgia's farmers to produce it. At the start of Georgia's 2023 wheat harvest in early July, only 10 percent of the previous year's harvest had been sold, according to Nikoloz Beniaidze, the head of Georgia's Grain Producer's Association. On June 10, 2023, Tbilisi imposed a temporary customs duty on imported wheat flour to promote domestic wheat and flour production to address the problem. Expected to be in force for five months, Beniaidze explained that the customs duty will help farmers sell "both old and new crops."
While the best long-term solution is to increase local wheat production, Georgia does not possess large areas of land where the topography and soil conditions are conducive for wheat cultivation. In addition to the fact that Georgia has only 50,000-plus hectares under wheat cultivation, the country's level of wheat output is hampered by its lack of modern agricultural methods and technology. While the wheat yield across the 27 members of the EU averages 6 tons per hectare, Georgia's wheat yield is 2-3 tons. By reaching EU-level production rates, Georgia could satisfy up to two-thirds of its wheat needs with only the land currently under wheat cultivation.
Georgia's domestic wheat production also faces challenges from climate change. The Kakheti region is home to 40.1 percent of Georgia's farmland and is its leading wheat-producing region. Portions of eastern Kakheti already suffer from salinized soil, a condition that is likely to worsen as climate change-driven drought becomes more frequent. Increased drought is expected to reduce water levels in the region's Alazani River and the neighboring Khrami-Debeda river system, potentially reducing the amount of water available for irrigating wheat crops.
Using drip irrigation instead of conventional flood irrigation can increase water-use efficiency by up to 60 percent, boosting crop yields from 30 percent to 90 percent. Ranging in cost from US$ 1,200 to 3,000 per hectare, even basic drip irrigation systems are beyond the means of Georgia's financially overburdened wheat farmers. The effort to develop more resilient seeds through breeding with native varieties of wheat could produce similarly positive results, as has occurred with a new variety of Middle Eastern wheat.
CONCLUSIONS: In its 2022 Strategic Concept, NATO gave a commitment to Georgia "to build their integrity and resilience, develop capabilities, and uphold their political independence." The fulfillment of NATO's pledge requires ending Russia's stranglehold over Georgia's wheat supply through a coordinated strategic effort to develop alternative sources of import supplies while assisting Georgia to enhance the productivity of its land already under wheat cultivation. NATO members should coordinate ensuring steady wheat supplies to Georgia, which may include swap arrangements between wheat-producing NATO members and Turkey in which consignments of Kazakh wheat diverted to Georgia would be replaced by wheat shipments sent to Turkey from Europe or North America.
By providing technical and financial assistance for Georgia's wheat yield to reach EU productivity levels, Georgia would be able to satisfy two-thirds of its wheat demand with the area that is currently under wheat cultivation. The use of modern drip irrigation, better adapted seeds, and other agri-tech could also enable Georgia to expand the area in which wheat is grown. By helping Georgia approach European and North American levels of efficiency, domestically produced wheat would also become more cost-competitive with its Russian counterpart.
The implementation of these relatively inexpensive measures could occur through an ad hoc coordinating platform among the major agricultural nations in NATO. By assisting Georgia to end Russia's stranglehold over its wheat supply, NATO would reap strategic benefits from having a more resilient partner in the South Caucasus.
AUTHOR'S BIO: Prof. Michaël Tanchum teaches international relations of the Middle East and North Africa at the University of Navarra, Spain and is a non-resident fellow in the Economics and Energy Program at the Middle East Institute in Washington, D.C. He is also a Senior Associate Fellow at the Austrian Institute for European and Security Studies (AIES) and an affiliated scholar of the Centre for Strategic Policy Implementation at Başkent University in Ankara, Turkey (Başkent-SAM). Prof. Tanchum would like to thank Vicky Andarcia for her research assistance. @michaeltanchum