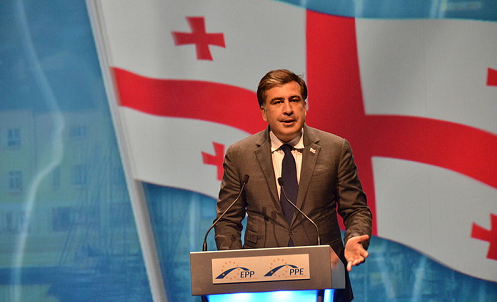 BACKGROUND: After the UNM's electoral failure, intense infighting ensued in the party ranks. Particularly fierce contestation concerned the party's leadership, which was set to be elected at the party congress on January 20. A number of senior party members, including former national security advisor Giga Bokeria, former Tbilisi mayor Giorgi Ugulava, diplomat and former National Security Council secretary Alexander Lomaia, regarded Saakashvili as a liability rather than an asset. Saakashvili, who is managing the party from abroad and recently became an opposition leader in Ukraine, has been stripped of his Georgian citizenship and therefore cannot be registered as an official party leader in Georgia. He also faces criminal charges upon return to his home country. Moreover, several prominent figures in the party contested Saakashvili's vision of the UNM's role in Georgian politics as a party of mass protest ready to take power even by means of revolution. Other party leaders have long urged Saakashvili not to overtly interfere in Georgia's domestic politics, because his radical rhetoric was noticeably putting off voters. Also, Saakashvili was criticized for calling on UNM members to boycott the results of the allegedly falsified elections and give up their mandates in parliament.
Saakashvili's main opponents clearly were not only concerned over the UNM's future but wanted to take over the steering wheel of the party. Bokeria favored the UNM's chairman Davit Bakradze as a new party leader. According to Bokeria, the party needs a leader permanently located in Georgia, who can develop a strategy adjusted to the new political reality. Ugulava, who has in recent years frequently criticized Saakashvili, openly called for electing a new leader and stated that he is ready to join the competition.
Nevertheless, Saakashvili's supporters advocated for his reelection as honorable party leader because they were convinced that UNM will inevitably disintegrate without the former president. The pro-Saakashvili faction had already been able to prepare the ground for a favorable outcome for the former president. In late November, the party committee decided that 7,000 members would attend the congress, so that Saakashvili's supporters could mobilize these local activists to vote for his reelection during the January party convention. Opponents favored downsizing the congress, which would allow them the opportunity to vote Saakashvili out of leadership, and questioned the legality of the party committee's decision.
Shortly after the UNM's defeat in the parliamentary ballot, on November 7 Saakashvili announced his resignation from the post of Odessa governor. Saakashvili cited entrenched corruption and a lack of political will to conduct necessary reforms in Ukraine as the main reasons for his resignation. Saakashvili's decision to prematurely end his term in office was abrupt, but no coincidence. Ukraine's President Petro Poroshenko appointed him as Odessa governor hoping to neutralize the influence of his enemies in the local administration and to conduct a successful battle against corruption. It soon appeared that Saakashvili was not able to introduce many of the planned reforms, because they were blocked by local political and business elites backed by officials in Kiev. Some of the new ideas could not be realized due to complicated legal issues. As a result, Saakashvili criticized president Poroshenko and his close allies for impeding necessary reforms and cementing the old oligarchic system. Furthermore, Saakashvili became publicly engaged in a conflict with Interior Minister Arsen Avakov and later called other cabinet members "mediocre."
IMPLICATIONS: The deep rift between the two UNM factions could not be mitigated and the party eventually split. On January 12, a group of 50 party members led by Saakashvili's most vocal adversaries including Bokeria, Bakradze and Ugulava announced their decision to leave the UNM. They blamed Saakashvili for the split, citing his loss of leadership qualities and fueling of intra-party conflicts. The former UNM members decided to join the Movement for Freedom-European Georgia, which reaffirms Georgia's pro-Western course and plans to constructively challenge the Georgian Dream-Democratic Georgia (GDDG) government. As a result of the split, the UNM lost many of its most prominent members, who had been central to the party's administration and ideological orientation. The UNM's parliamentary representation was reduced to only 7 deputies out of the 27 mandates that the party gathered in the October elections. Furthermore, the UNM's local representation was diminished because the party lost 35 out of 276 members of local governments. The departure of Saakashvili's main adversaries allowed him to mobilize loyal grassroots and retain his position at the January 20 party convention. The congress decided not to elect a new party chairman after Bakradze's resignation until Saakashvili is able to return to Georgia to resume official leadership of the party.
Shortly after the parliamentary elections, Saakashvili begun to build his oppositional political career in Ukraine. After his resignation as Odessa governor, Saakashvili announced that he would launch a new oppositional initiative, intended to be a "wide political force" aiming to remove the current ruling elite in early parliamentary elections. A new oppositional platform could gather considerable public support, since three years after the Euromaidan a majority of Ukrainians are disappointed with the authorities, which are considered corrupt and inept, and report rapidly worsening socio-economic conditions. At this point, however, the initiative still has no detailed program and it remains unclear who will join Saakashvili in building a new party. Saakashvili has refused to say whether members of his "young reformers team" that accompanied him in Ukraine, such as Ukraine's former deputy attorney general David Sakvarelidze, will join forces with him.
The new party will apparently refuse membership to people who were deputies in the Ukrainian parliament for more than one term and will not seek support from big business. Moreover, it is yet unknown how the new party will fund its activities and whether it will join forces with other Ukrainian anti-establishment groupings. At this point, Saakashvili's new political initiative remains too elusive to determine whether it will transform into a serious political force capable of challenging the post-Euromaidan political establishment, even though it could seemingly gather substantial support.
Retaining honorary leadership in the party means that Saakashvili will have to manage two opposition parties in Ukraine and Georgia, including one that he will build from scratch. This would be an unprecedented and hardly manageable task. Thus, the conflict between Saakashvili and his former political patrons in Ukraine was most likely not the only reason for his resignation from the post of Odessa governor. It appears that Saakashvili, whose party in Georgia will inevitably become marginalized, wants to reinvent himself and build an alternative political career in Ukraine. All the more so since staying in office while being unable to introduce reforms could seriously have damaged Saakashvili's reputation as an uncompromising reformer, which is currently his main political asset.
CONCLUSIONS: The electoral failure and the subsequent split in party ranks, resulting in the departure of several popular party members, appears set to further marginalize the UNM. Saakashvili, who continues to manage the party from afar, is steadily losing popularity in Georgia. The party still seems to lack a strategic vision for how to successfully challenge GDDG's dominance in in Georgian politics and attracting voters. On the other hand, it is unclear whether the figures departing from the UNM's leadership will be able to attract enough support to clear the threshold in the upcoming municipal elections. These prominent personalities will probably be able to capture a share of the UNM's electorate but at a first glance the Movement for Freedom-European Georgia could face the problem of distinguishing itself from other liberal pro-Western groupings, which were unsuccessful in the parliamentary elections. In sum, the split in UNM ranks only contributes to the weakness of the already fragmented Georgian opposition and reinforces GDDG's hegemonic position.
AUTHOR'S BIO: Natalia Konarzewska is a graduate of University of Warsaw and a freelance expert and analyst with a focus on political and economic developments in the post-Soviet space.
Image source: wikimedia.org , accessed on March 15, 2017