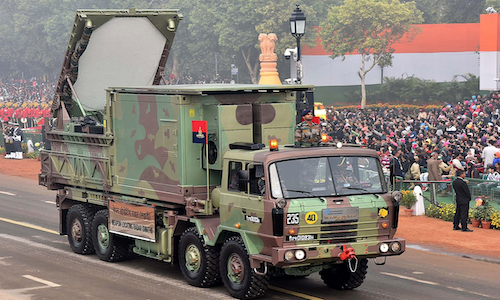 BACKGROUND: In recent years, Indian-Armenian bilateral cooperation saw rapid growth, culminating with a high-level Indian delegation visiting Yerevan in 2017, led by then Vice-President Hamid Ansari. For Armenia, close relations with India are vitally important as the latter provides a counter balance to the rival strategic axis between Azerbaijan, Pakistan and Turkey. After the 2016 four-day war in Nagorno-Karabakh, resulting in some Azerbaijani territorial gains, Armenia has sought to boost its military capabilities.
In this regard, Armenia largely relies on its long-time security partner Russia, which annually provides a tremendous amount of military aid to Yerevan. Armenia received its first Russia-made Iskander-M short-range ballistic missiles in 2016. In addition to the missile system, Armenia received four new SU-30SM fighter jets in late 2019. While these military supplies to Armenia underline Russia's continued influence in the region, they have also intensified the military arms race between Baku and Yerevan.
Nevertheless, Armenia seeks alternative security partners in order to diversify its military procurements. Therefore, Armenia has long sought to deepen bilateral cooperation, particularly in the military sector, with regional power India. This effort has been ongoing for several years, for example, in 2018 an Armenian delegation visited India and negotiated possible import of the indigenously built Pinaka multiple-launch rocket system with a maximum range of 75 kilometers.
IMPLICATIONS: With the new defense deal, Armenia chose the SWATHI military radar system over the Russian-made Zoopark-1 and the Polish-made Liwiec counter-battery radar systems, becoming the first foreign importer of Indian weaponry. The choice raised some eyebrows in Russian media, considering the fact that Yerevan has over the last three years received around US$ 300 million in military loans from Russia. Therefore, it would be naïve to believe that the new US$ 40 million defense deal and the import of Indian-made weaponry will not affect Moscow-Yerevan bilateral relations.
The SWATHI radar system can simultaneously handle multiple projectiles fired from different weapons at different locations. The Indian Army is using the same radars in its operations along the Line of Control in Jammu and Kashmir, in order to trace the source of attack from Pakistani positions. The Indian Army started using the system on a trial basis in 2018. The radar system is relatively new, which means it has a number of disadvantages compared to the Chinese SLC-2 counter-battery system and the Russian Repellent (deployed in the Armenian Armed Forces since 2018), as well as the Turkish and Israeli-made radar systems deployed in the Azerbaijani Armed Forces, which have been effectively used in local conflicts.
For Armenia, an additional disadvantage of the SWATHI radars is that they are based on different technology than other, Russian made weaponry in Armenia's Armed Forces and therefore difficult to integrate. It also raises the question whether Moscow will turn a blind eye to the growing Indian footprint in its geopolitical backyard, despite the announcement by Armenia's Defence Ministry in December that Yerevan will sign a new deal with Russian ORSIS (Promtexnologiya) company, Armenia's largest supplier of military ammunition, in 2020 to purchase more Russian weaponry. Following a corruption scandal involving the Russian company and Armenia's Defence Ministry in August 2019, the Ministry banned the company from participation in a new military tender. However, the scandal was rapidly overcome and cooperation restored.
The Indian-Armenian tandem is indeed a reaction to the Azerbaijan-Pakistan-Turkey strategic triangle. For several years, Azerbaijan, Pakistan and Turkey have coordinated their positions on a number of vitally important issues like economic cooperation and supporting each other's territorial integrity. While Turkey openly raises the Kashmir issue at the behest of Pakistan, Azerbaijan prefers to refer to "international law principles" in resolving the territorial conflict in order not to anger India. However, this did not prevent Baku from developing military cooperation with Islamabad. In this context, the two countries signed a military cooperation agreement in February 2014 in Islamabad. The agreement was updated in 2015 and 2016, during meetings of the Azerbaijan-Pakistan Working Group in Baku and Islamabad, respectively.
In 2018, Pakistan signed a contract for the construction of four Milgem/Ada-class corvettes with the Turkish state-controlled shipyard ASFAT A.S. The deal is part of Pakistan's efforts to replace aged warships featuring systems nearing the end of manufacturer support, boost its conventional deterrent vis-a-vis India, and better safeguard its maritime economy and trade links. Moreover, Azerbaijan eyes the JF-17 Thunder (also known as the FC-1 Xiaolong), a multi-functional aircraft that was jointly developed by Pakistan and China. Although Azerbaijan has expressed interest in importing the JF-17, no formal deal has yet been reached.
Although Armenia is highly dependent on Russian military supplies and loans, it simultaneously seeks to diversify its own partnership portfolio in response to the varied military arsenal of its archrival Azerbaijan. India's efforts to step up cooperation with Armenia, on the other hand, is a response against strategic cooperation between Azerbaijan and Pakistan, and Turkey's vocal stance on the disputed Kashmir issue.
CONCLUSIONS: The recent defense deal between India and Armenia means more for India than Armenia, in terms of boosting its defense industry and military exporter role. However, the decision to import Indian weaponry risks damaging Armenia's relations its natural ally Russia. Russia maintains a huge security presence in the country with a significant military contingent on its soil. Some observers claim that Armenia's geopolitical alignment with Russia has damaged the country's position in the international arena and undermined its sovereignty. Therefore, attempts to develop closer relations with the rising economic power India seems a rational choice for Armenia even at the expense of tensions with Moscow.
From India's point of view, the military deal with Armenia can be seen as an ideal tool for deepening strategic ties with Turkey's and Azerbaijan's adversarial neighbor, in retaliation for Ankara's and Baku's strategic and military cooperation with Pakistan. India could take further steps such as supporting separatist movements in Anatolia or other regions in order to mitigate the impact of Azerbaijan-Turkey-Pakistan cooperation.
AUTHOR'S BIO:
Fuad Shahbazov (@fuadshahbazov) is a Baku based Senior Research Analyst. He has been a Research Fellow (2016-2018) at the former Center for Strategic Studies of Azerbaijan. In 2018, he has been a Visiting Research Fellow at the Washington D.C based Center for National Security and Intelligence Studies. He covers regional security and defense industry issues.
Image Source: Indian Ministry trhough Wikimedia Commons accessed on 5/29/20