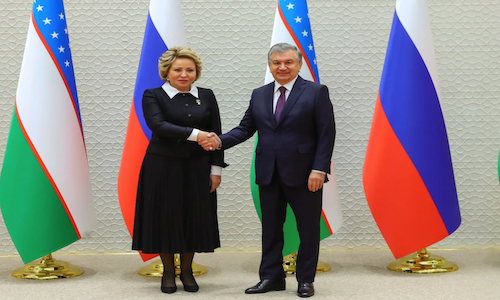 BACKGROUND: Since gaining independence in 1991, Uzbekistan's attitude towards the Eurasian ideology and political model has been critical and distant; Tashkent has largely refrained from membership in the Eurasian Economic Community (EurAsEC) which existed in 2001-2014. EurAsEC was a structure designed to create a Customs Union and Common Economic Space among five countries – Russia, Belarus, Kazakhstan, Kyrgyzstan and Tajikistan. Uzbekistan's first President Islam Karimov was a convinced opponent of any new form of integration of the former Soviet republics, since he believed that such integration would result in a grouping of unequal members and unavoidably be politicized due to Russia's would-be hegemony.
Meanwhile, the reality of Russia-led Eurasian geopolitics has been present throughout the turbulent transformation of the post-Soviet space. EurAsEC and EEU have evolved hand in hand with the Russia-led Collective Security Treaty Organization (CSTO) and with almost the same membership list. Uzbek authorities were inclined to assess the May 2005 terrorist attack in Andijan – a provincial city of Uzbekistan – as an attempted "color revolution" instigated by the U.S., and sought protection from Russia by entering the EurAsEC in 2006 and simultaneously the CSTO.
From 2007-2008, relations between Uzbekistan and the West began to improve. Indeed, rapprochement with the U.S. and EU at that time contributed substantially to Uzbekistan's decisions to suspend its memberships in EurAsEC and CSTO, respectively in 2007 and 2012. EurAsEC ceased to exist in 2014 and was replaced in 2015 by the EEU – including the above mentioned four states plus Armenia. Many experts claim that this five-lateral structure functions, in fact, as a framework for bilateral interactions between these states and Russia, whose supremacy in the EEU is obvious.
Interestingly, during her visit to Tashkent, Matvienko said that Uzbekistan would soon join the EEU and that its membership would open new opportunities for bilateral cooperation and remove barriers existing between the two countries. This assertion highlights once more that the EEU is not a genuine international union of equal members, but a Russia-centric and Russia-led undertaking.
The high-ranking Russian official's statement gave rise to numerous speculations as to whether Uzbekistan will really join the EEU and if so, what its membership will imply.
IMPLICATIONS: The prospect of a new Eurasian vector in Tashkent's foreign policy reminds of the old proverb that "history repeats itself." Uzbekistan's membership in the former EurAsEC lasted only one year. The unexpected announcement of Tashkent's approximation towards EEU and the fact that it was first made by a Russian politician appear to signify a new gambit unfolding between Tashkent and Moscow.
Despite the rapidly changing political atmosphere surrounding EEU-related speculations, it remains unclear why Uzbekistan should become a member of this organization. Some observers point to the bright perspectives that EEU membership would provide for Uzbekistan in its cooperation with Russia. Others argue that joining the EEU would resolve the problems of more than 2.6 million Uzbek labor migrants working in Russia. Still others believe that integration with Russia is predetermined by a common historical destiny of the former Soviet republics and peoples and that the time has allegedly come to fulfill this destiny. According to one school of thought, in the context of global rivalry with the West, Moscow will take all possible measures to create a buffer zone on its perimeter and persuade Central Asian states to comply.
Russia accounts for 17 percent of Uzbekistan's foreign trade, making it the second largest trade partner after China. Bilateral economic and investment cooperation between the two countries is developing at a high pace. Yet Moscow and Tashkent signed a Treaty on strategic partnership in 2004, and a Treaty on alliance relationship in 2005. The labor migration issue is well regulated on the bilateral level with a set of relevant agreements between the two states. Thus, cooperation between Uzbekistan and Russia do not urgently require the EEU platform.
Proponents of Uzbekistan's EEU membership frequently portray it as a question of bilateral relations between Uzbekistan and Russia, whereas the EEU should ideally be a structure for multilateral cooperation. However, neither Russia, nor Uzbekistan or other member states have in their perceptions of and dealings with the EEU gone beyond a very simplistic vision of it as a tool for arranging their bilateral relations with Russia.
It is symptomatic that ongoing debates on the EEU contrast with the relative political silence concerning perspectives of integration in the Central Asian region. This is perhaps the reason why the second Consultative Meeting of Central Asian presidents, scheduled for this year in Tashkent, was postponed until the end of the year (see CACI Analyst 07/02/19). If it indeed takes place, it cannot but address EEU-related perspectives and somehow manifest an attempt at correlating Central Asia with Eurasia, since the dichotomy of choosing between the two has now become obvious.
It is also symptomatic that speculations about Uzbekistan's possible return to the CSTO have reemerged in connection with discussions on EEU membership. Although Uzbek officials have rejected CSTO membership in the near-term perspective, the very fact that they see a need for addressing this issue signifies the EEU's hidden geopolitical dimension.
Finally, Matvienko argued that Uzbekistan's joining the EEU would correspond with worldwide practice and globalization processes. This a controversial and unconvincing statement. First, the modern term "glocalization" reflects the ambivalent reaction of many states to the outcomes of globalization, which therefore does not necessarily mean unification. Second, in order to correspond with worldwide practices of integration, the EEU should primarily manifest itself as an organization for regional integration, in correspondence with conceptual and theoretical principles in this regard, which is so far not the case.
If Uzbekistan is seriously considering the question of EEU membership, the process should be conducted according to three important principles. First, it should be transparent since it is not exclusively a task for the Ministry of Foreign Affairs; it should involve competent people outside government including experts, civil society representatives and think-tanks. Second, such a fateful and strategically important decision must be put to a referendum, as has been the case in Europe concerning the Maastricht agreements. This should not be an elite decision adopted privately or secretly. Third, it is important to allow political parties to express clear positions on this issue since pre-election campaigns for the upcoming parliamentary elections in December 2019 are underway. Given their past poor political record and their seemingly new activism as elections are approaching, including the issue of Uzbekistan's would-be EEU membership in political programs and debates will be a Litmus test for their real political capacity. Moreover, expressing political standpoints on this issue would help bring it to the wider public.
This is, indeed, a moment of truth for Uzbekistan and its foreign policy since it will require public support and a clear explanation of the country's national interests on the international arena and on regional level.
CONCLUSIONS: Positive relations with the Russian Federation should not be confused with the economically more complex, strategically more complicated, geopolitically overburdened and historically challenging issue of re-integrating the former Soviet republics. Even if the EEU is solely an economic union, as its member states constantly assert, a political dimension as well as geopolitical reactions naturally follow in the wake of economic integration.
If Uzbekistan would become an EEU member, this would certainly raise other questions related to its real independence, the geopolitics of great powers, and non-economic driving forces of genuine integration such as democratic values and common security interests. In the former Soviet space, the Commonwealth of Independent States (CIS) already established a free trade zone in 2011. The coexistence and unavoidable duplication of the CIS and EEU reminds of the co-existence and duplication of EurAsEC and Central Asian Cooperation Organization (CACO). Uzbekistan joined EurAsEC, which was merged with CACO in 2006, but left it after only two years.
This history should not be repeated; instead, restoring CACO in one way or another should be made a priority. The EEU and CACO do not duplicate each other at all and Uzbekistan should above all pursue Central Asian integration, as Uzbekistan's leadership proclaimed three years ago. So far, according to some reports and speculations, Uzbekistan can apply for observer status in the EEU for five years. If it chooses to do so, this would indicate a policy of "buying time" in order to work out more prudent decision.
AUTHOR'S BIO:
Dr. Farkhod Tolipov holds a PhD in Political Science and is Director of the Research Institution "Knowledge Caravan", Tashkent, Uzbekistan.
Image Accessed via facebook on 11/22/19.