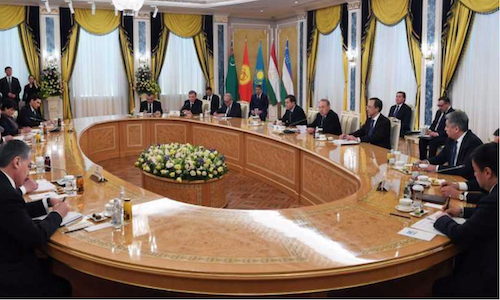 BACKGROUND: Regionalism in Central Asia, starting in 1991 with the independence of the five Central Asian states, developed and strengthened quite successfully during the initial "transition" period of these states, proceeding through several stages of institutionalization. The five states even took steps toward political unification, a process that was nevertheless interrupted in 2005 (see CACI Analyst 04/10/18).
Since then, regional integration has been frozen and regional problems and interstate tensions have grown. Indeed, this was a sudden and strange reversal of the 15-year-long, relatively successful development of relations between and among Kazakhstan, Kyrgyzstan, Tajikistan, Turkmenistan and Uzbekistan. Strange because there were no serious indicators to suggest an imminent worsening of regional relations in their entirety, which had a sustainable unifying structure – Central Asian Cooperation Organization (CACO). While CACO itself was not a thorough structure for addressing all regional issues effectively, it remained highly relevant for two main reasons: it provided a much needed platform (or framework) for keeping these issues in check; and CACO itself was a dialectical and consequential stage in the overall process of institutionalizing regional cooperation and integration – from Central Asian Commonwealth (CAC) through Central Asian Economic Community (CAEC) to CACO.
When CACO was merged with the then Eurasian Economic Community (EEC) in 2005, this was a shortsighted decision and a strategic failure on the part of Astana and Tashkent; indeed, Uzbekistan surprisingly withdrew from EEC a year after entering. As was clear a priori, EEC did not and could not by design be directly involved in Central Asian affairs and solve regional problems. Moreover, EEC itself ceased to exist in 2014. This illustrates the inadequacy of the justifications given at the time for the merger of CACO and EEC – in particular that the two organizations duplicated each other. This was not the case, since they were created with different agendas and targeted different regions. That Eurasia and Central Asia do not constitute the same region was clear from the inception of the two regional organizations.
This reality was again confirmed in March 2018 when the leaders of the five Central Asian states finally met in Astana to re-launch their group activity. They labeled the event a "consultative meeting" and announced that a second meeting would take place in March 2019 in Tashkent. Moreover, Uzbekistan's President Shavkat Mirziyoev proposed to hold regular meetings every year in March on the eve of the Navruz celebration as a symbolic sign of a new era of regional cooperation.
IMPLICATIONS: However, the five leaders did not celebrate Navruz together this year, nor did they attend the rescheduled meeting in April. By the end of June, there was still no signal that a meeting was imminent. Several hypotheses can be considered as to the reasons for the delay.
First, Kazakhstan's President Nursultan Nazarbaev suddenly abdicated from the presidential post in March and Kassym-Jomart Tokayev was appointed Interim President until the elections scheduled for June 2019, in which he was duly elected. This emerging uncertainty may have altered the agenda of the upcoming consultative meeting. However, despite the power transfer in Kazakhstan, Tokayev did make a state visit to Tashkent in April 2019. If a state visit was possible, then a meeting of the five Central Asian leaders should have been possible in April as well. Moreover, this would have provided Tokayev with an opportunity to demonstrate his intention to secure continuity for Kazakhstan's role in the region right before the upcoming presidential elections.
Second, and related to the previous hypothesis, Astana, now renamed Nursultan, is tightly bound to the Euro-Asian Economic Union (EAEU), signifying the multivectorism that has been a permanent factor in Kazakhstan's bifurcation between Eurasia and Central Asia. Thus, the "Central Asia versus Eurasia" dilemma continues to be a source of ambiguity in Kazakhstan's approach to regional cooperation.
Third, consultative meetings are less significant than full-fledged summits, and can thus be delayed without major consequences. Yet diminishing the importance of meetings at the highest level between Central Asian governments in any format cannot but undermine regionalism per se. After a long break in regional group activity, any modest meeting will have its own value and inevitably contribute to a stronger process of regional cooperation. Therefore, it is of strategic importance to maintain a long-awaited regional rapprochement.
Fourth, Uzbekistan's President Mirziyoev has proclaimed that Central Asia is a priority in Uzbekistan's foreign policy and Tashkent's new proactive approach to regional affairs obviously lifts it to the status of a leader in Central Asia.
This trend is seemingly confusing to neighbors, particularly Kazakh politicians. Some Kazakh experts have warned of Uzbekistan's possible domination in Central Asia. However, such suspicions only divert the involved parties from real regional problems that require regional unity. In 2013 the presidents of Kazakhstan and Uzbekistan signed a treaty "On Strategic Partnership" and thereby put an end to the myth of competition between these two countries for leadership in the region. Indeed, states aspiring to be strategic partners essentially need common international and regional positions (see CACI Analyst 08/07/13).
Fifth, geopolitical winds have again started to blow in the region. Actually, the very designation of the meeting as "consultative" was a kind of geopolitical message saying, as Nazarbaev stated right after the meeting, that integration is not on the agenda and that the meeting was not directed against any third party. This cautiousness revealed the presence of geopolitics – the participants' intention to safeguard against the geopolitical consequences of their undertaking. The delay of the Tashkent Consultative Meeting could be related to geopolitical reasoning. Some argue, for instance, that pressure to join EAEU will increase in the near future. Kazakhstan and Kyrgyzstan are already EAEU members while Russia has made efforts to pull Tajikistan into this organization, a prospect that Dushanbe has so far shunned. Tashkent has rejected membership but proposed a Free Trade Zone between EAEU and Uzbekistan. This backdrop further complicates the prospects for a regional format.
The relevance of these hypotheses will be tested in the nearest future. Meanwhile, the continuing uncertainty regarding the regional format of relations between and among Central Asian countries has caused some debates in analytical circles about which format is more expedient – regional cooperation or regional integration. Proponents of the former support a non-institutionalized format without strong supra-national institutions which would allegedly reduce the sovereignty of the states concerned. Proponents of the latter argue that integration is nothing new and that Central Asian countries proclaimed it already in 1991 and then proceeded through a period of institutionalization.
This situation reminds us of the competition between Euro-sceptics and Euro-optimists. A similar phenomenon came into being as a side effect of delayed summits and suspended integration in the Central Asian region. The cooperation versus integration dichotomy, which is dubious as such, can distort the regional agenda from strategic goals to tactical objectives.
CONCLUSIONS: The suspension of even modest, non-institutionalized integration in the form of consultative meetings will inevitably give rise to suspicions regarding the reluctance of Central Asian leaders or, worse, their geopolitical inhibitions, whereas it would be very timely and expedient to adopt a decision on restoration, as soon as possible, of CACO. Surprisingly, aspiring to carefully avoid the geopolitical implications of their revitalized regional grouping, Central Asian leaders can again fall into a geopolitical trap.
Central Asian countries have already lost more than a decade of frozen integration and need to speed up the process of region-building since delayed consultations risk turning into protracted consultations, which over time cannot but turn into an ineffective talking shop. Such a trend will in the end suspend the ultimate goal – regional integration – for the foreseeable future. If once the membership of great powers in CACO became an unbearable burden which crushed this structure, this time the Central Asian leaders could produce a similar outcome themselves, even without the burden of great powers.
AUTHOR'S BIOS:
Dr. Farkhod Tolipov holds a PhD in Political Science and is Director of the Research Institution "Knowledge Caravan", Tashkent, Uzbekistan.
Image Source: Embassy of Kazakhshtan accessed on 7.2.2019