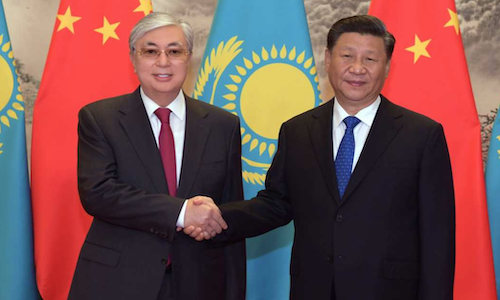 BACKGROUND: On September 3 and 4, residents of six major Kazakh cities organized public rallies against the construction of 55 Chinese industrial plants. The demonstrators highlighted the possible environmental impact of these facilities, which are said to be technologically outdated and argued that, contrary to claims by the Kazakh government, local people will not benefit from the investment since the factories will be staffed by Chinese guest workers. They also voiced concerns that cooperation with China will leave Kazakhstan financially dependent on its powerful eastern neighbor and called on President Tokayev to cancel his upcoming visit to Beijing.
Despite the restive atmosphere at home, Tokayev did not cancel his trip to China and even announced that economic cooperation with Beijing will be strengthened. This was Tokayev's first visit to Beijing after assuming the presidential post earlier this year. The official agenda of the visit included a meeting with China's President Xi Jinping and representatives of China's political, business and academic spheres. During the meeting, both leaders pledged to upgrade bilateral ties to the rather elusive level of "permanent comprehensive strategic partnership" and signed a number of agreements to regulate bilateral economic cooperation in a wide range of fields such as transportation, logistics, finance, information technology, trade, border control and customs. In agricultural cooperation, Tokayev announced that his country is ready to triple the volume of wheat exported to the Chinese market to reach 2 million tons annually. He also encouraged Chinese businessmen to invest in locating processing industry facilities to Kazakhstan in order to lower costs.
IMPLICATIONS: Kazakhstan views cooperation with China as highly beneficial for a number of reasons. In geopolitical terms, it serves as a balance to Russia's relatively strong influence in Central Asia, which Moscow still considers its own backyard. Cooperation with China in transport and logistics provides landlocked Kazakhstan with an opportunity to connect with Eurasian markets it would not otherwise be able to reach. China is one of Kazakhstan's largest trading partners and a key investor in Kazakhstan's economy. According to data recently revealed by Kazakhstan's government under public pressure, China has already invested US$ 27.6 billion in the country to develop 55 projects, half of which are in the oil and gas industry. Other projects concern infrastructure, agriculture, mining and petrochemicals. China is also a large player in Kazakhstan's financial sector, being an important source of loans and development funding.
Chinese-Kazakh economic ties have grown considerably with the implementation of China's Belt and Road Initiative (BRI). Indeed, Xi Jinping announced BRI in a speech at Nazarbayev University in 2013 in order to stress the strategic importance of the role Kazakhstan plays in the project. Kazakh officials view Chinese investments as helpful in developing the country's infrastructure and diversifying its economy away from hydrocarbon exports. Chinese capital is particularly important as Kazakhstan is recovering from the plunge in oil prices, which decreased its budget revenues and along with the weakening Russian ruble put pressure on the Kazakh currency, the tenge. From China's perspective, Kazakhstan is a key land bridge allowing for transport of Chinese goods to European markets. It also has vast reserves of oil and gas needed by China's hydrocarbon-hungry economy.
Despite mutual economic benefits, Kazakh-Chinese relations are clouded by the growing Sinophobia in large swathes of Kazakh society. The economic asymmetry in Kazakh-Chinese relations contributes to the public perception that Kazakhstan, despite its large energy resources, will be economically overwhelmed by its powerful eastern neighbor. Many critics point out that due to the high levels of corruption and nepotism in Kazakhstan, Chinese investments tend to benefit kleptocratic local elites rather than ordinary citizens. Illicit local practices are exacerbated by the Chinese model of foreign investment, which is neither constrained by law, nor adheres to good practices. Another aspect of Chinese engagement that antagonizes local communities is the practices of Chinese companies operating in Kazakhstan, which favor Chinese contractors and guest workers over locals and often neglect the environmental impact of their investments.
The growing anti-Chinese sentiment in Kazakhstan is also caused by the state-sponsored repression of ethnic Kazakhs and other Muslim minorities in China's Xinjiang. In the last few years, Chinese authorities have developed extensive surveillance and built a large system of internment camps for Muslims inhabiting Xinjiang, including Uyghurs, Kazakhs and other Muslim groups. U.S. and UK officials estimate that, under the guise of anti-extremism and anti-terrorist policies, Chinese authorities have detained around one million Muslims in these camps. (See October 31, 2019, CACI Analyst) http://cacianalyst.org/publications/analytical-articles/item/13593-kazakh-anti-chinese-protests-and-the-issue-of-xinjiang-detention-camps.html
Kazakhstan is currently undergoing a politically sensitive period, which could affect its relations with China. The recent presidential transition has taken a rather unexpected turn, as President Tokayev's predecessor, Nursultan Nazarbayev, not only maintains strong influence but noticeably seeks more influence over current political affairs than was arranged before the succession. On October 21, Tokayev published a decree allowing former president Nursultan Nazarbayev to influence appointments to most decision-making positions in the country by handing him the right to veto nominations. The decree requires Tokayev to consult his predecessor when appointing a majority of his government members, except for the ministers of internal and external affairs and defense, as well as key positions in the security forces and regional governance. This new development is surprising, since the transition of power in Kazakhstan was very carefully planned and executed.
The apparent friction within the Kazakh political elite could have an impact on Kazakh-Chinese relations. In early October, Tokayev ordered anti-corruption investigations into former Kazakh officials engaged in a planned China-led light railway project in the country's capital Astana (now Nur-Sultan), publicly criticizing the project as "economically incomprehensible." The project was put on hold since its construction had been significantly delayed and a substantial portion of the funds allocated for it embezzled. The investigation is directed against top officials who are close associates of former president Nazarbayev. According to experts on Kazakh politics, Tokayev's recent actions suggest that the president seeks to deflect accusations of being Nazarbayev's political puppet. In turn, Nazarbayev has stepped in to minimize the risk that members of his inner circle are targeted and to avoid elite infighting.
CONCLUSIONS: The recent anti-Chinese rallies are an expression of a broader social dissent evolving in Kazakhstan for some time, which has been exacerbated by the political transition and the socioeconomic hardship experienced by many Kazakhs. In this sensitive period, Kazakhstan's government should ideally strike a balance between maintaining good relations with its eastern neighbor and meeting public demands. However, for the time being Kazakh authorities seemingly seek to weather the social discontent in favor of economic benefits, which are expected to make up for the falling oil revenues. To make matters worse, Kazakhstan's recent transition of power has apparently caused frictions within the power elite, which already reverberate in Kazakh-Chinese relations. While this is unlikely to seriously damage bilateral economic or political relations, which are highly beneficial for both China and Kazakhstan, such internal problems can weaken Kazakhstan's position vis-a-vis Beijing, adding to the already significant imbalance of power between them.
AUTHOR'S BIO:
Natalia Konarzewska is a graduate of University of Warsaw and a freelance expert and analyst with a focus on political and economic developments in the post-Soviet space.
Image Accessed via mfa.gov.kaz on 11/12/19.