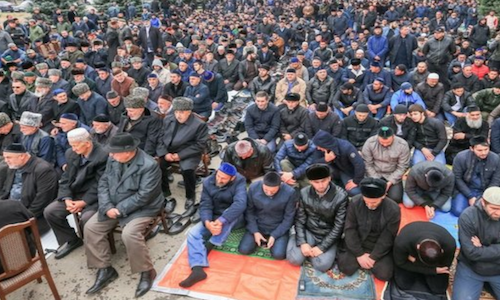 BACKGROUND: This summer was a fairly hot one in the North Caucasus, but not in traditional terms. Instead of violent conflict, regional authorities targeted civic activists. The first wave came in late March, when protesters in Ingushetia again gathered to condemn the land transfer deal with Chechnya. These demonstrations, a follow-up to mass protests in October when the transfer was originally announced, were spurred by a new law signed by Ingushetia's leader Yunus-Bek Yevkurov that would definitely rule out a referendum on the land deal, a key opposition demand. On March 27, the second day of demonstrations, security forces violently dispersed protesters for the first time in the six-month period of on-off protests.
Having quashed the immediate threat, Ingush authorities spent the rest of the spring and summer surgically targeting leading activists. On April 3, Akhmed Barakhoyev, Musa Malsagov, and Barakh Chemurziev, three leaders of the movement, were arrested. Activist Ismail Nalgiev was detained at the airport in Minsk, Belarus, on an official request, while several civil society organizations and media outlets had their websites blocked and offices ransacked. Many of the detainees were transferred to prisons in the neighboring republics of North Ossetia and Kabardino-Balkaria, likely in an attempt to further disperse the energies of the civil opposition. The crackdown reached new heights on July 12, when protest leader Zarifa Sautieva became the first woman detained – a culturally sensitive matter in Ingushetia where such treatment of women is considered unacceptable. Over 30 Ingush activists remain behind bars, most of them in Nalchik and Vladikavkaz.
Elsewhere in the region, other regional authorities carried out their own arrests of civil society activists. In Dagestan, the editor of leading local daily Chernovik, Abdulmumin Hadjiyev, was arrested on June 14 on charges of "financing terrorism." The formal charges accuse Hadjiyev of funding a charity that was used to funnel money to militants in Syria; human rights organization Memorial terms him a political prisoner. In Kabardino-Balkaria, Martin Kochesoko, leader of the Circassian activist group Khabze, was arrested on June 7 on drug possession charges, a now-familiar tactic of law enforcement in the region. His arrest sparked solidarity demonstrations in Maykop and Cherkessk, the capitals of the two other North Caucasian republics (Adygea and Karachaevo-Cherkessia) with a large Circassian population.
IMPLICATIONS: North Caucasian civil society has developed at a remarkable rate in the past half-decade. With the exception of Chechnya, where extremely repressive practices have prevented any activist movements from emerging, most republics now display sizable independent political or socio-cultural movements. This has occurred in parallel with the crushing of the region's Islamist insurgency, opening the space for these movements to coalesce.
The development of civil society has come about in various ways in different parts of the region. Dagestan, being the most multiethnic republic of the North Caucasus, has a strong tradition of ethnically-based organizations (although these have frequently tended to be only superficially national in outlook and more oriented towards securing local economic transactions from taxation and corruption). In recent years, however, Dagestan has seen the growth of municipal activism and protest movements, with civil society groups mobilizing to oppose unwanted construction projects and the demolition of public buildings in Makhachkala, Kaspiysk and elsewhere. This has placed them in conflict with powerful groups such as the republic's security services, which are used to a free hand in carrying out abuses including arbitrary extrajudicial executions of young men later labeled "terrorists" as a justification for demanding increased federal funding.
Meanwhile, Ingushetia has seen a year of protests lead to the emergence of a wide range of public councils and coordination groups. While organizations like Ezdel predate October 2018, the sudden need for a common front to organize tens of thousands of demonstrators led to the creation of groups such as the Civil Forum of Ingushetia and World Congress of Ingush People, as well as opposition media outlet Fortanga, whose Telegram channel has proven very influential. The continued pressure organized by these groups led to the resignation of Ingush president Yevkurov's (likely encouraged by the Kremlin) in June.
In Kabardino-Balkaria, civil society development has come in the form of ethnically-oriented Circassian groups. Kochesoko heads the movement Khabze (whose name derives from the traditional Circassian code of behavior), which seeks additional minority rights for Circassians, including native language education. This has become a hot topic in the region lately, with a new 2018 federal law further limiting opportunities for education in local languages. The issue has further invigorated growing Circassian nationalism in the North Caucasus, which has come to encompass calls for a single, united Circassian republic (including the Circassian-inhabited parts of Adygea, Karachaevo-Cherkessia, and Kabardino-Balkaria) with a common alphabet for the presently disparate Circassian dialects.
While the specifics of these three related phenomena are thus very different, one factor is common to all: the harsh response of unprepared authorities. Regional governments in the North Caucasus are used to dealing with Islamist militants, which involves, at least in their methods, relatively straightforward means of "hard power." Moscow has tended to manage the region through a common approach, by applying military force where it sees fit and then funding republican authorities to handle the rest. The emergence of a strong civil society does not fit this established paradigm, leading to haphazard and ineffective methods of addressing it.
CONCLUSIONS: The continued growth of civil society in the North Caucasus poses an unfamiliar challenge to both local and federal governments. Moscow's only response so far has been to relieve several republican leaders of their positions and dispatch new ones, in Ingushetia and Kabardino-Balkaria during 2019 and in Dagestan shortly before that. Regional leaders do not seem to have a better answer: Yevkurov's various responses over the course of eight months wholly failed to mollify his civilian opponents and even suggest he was constrained by various external factors (such as the ambitions of the far more powerful Ramzan Kadyrov), while untangling the vast web of corruption and dysfunctionality in the governance of Dagestan may be beyond any individual. The development of peaceful civic resistance is perhaps even more dangerous to local authorities than the previous insurgency, given the array of literature demonstrating the greater effectiveness of nonviolent methods in toppling rulers. With large civic protest movements emerging in Moscow and elsewhere in the past few months, which have been met with similarly forceful methods, the Kremlin's effectiveness in dealing with civil dissent throughout the country appears to be increasingly in doubt.
AUTHOR'S BIO:
Neil Hauer is an independent security analyst and journalist based in Tbilisi, Georgia. His work focuses on the Syrian conflict, particularly Russia's role, politics and minorities in the South Caucasus, and violence and politics in the North Caucasus, particularly Chechnya and Ingushetia, where he conducts regular fieldwork. He holds an MA in post-Soviet studies from Carleton University and previously served as senior intelligence analyst at The SecDev Group in Ottawa, Canada for three years.
Image Accessed 11/8/19.