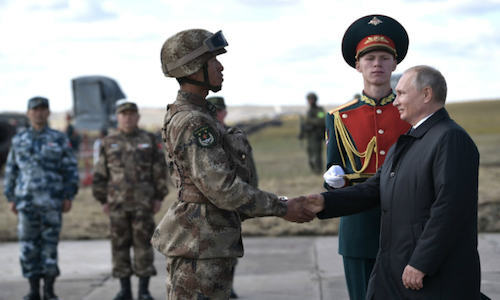 BACKGROUND: Russia has been involved in Chinese-Central Asian military cooperation since its very beginning. In 1996, Russia, Kazakhstan, Kyrgyzstan, Tajikistan and China signed an agreement on Confidence Building in the Military Field in the Border Area. The signatories of this agreement were part of the "Shanghai Five" platform, the predecessor to the Shanghai Cooperation Organization (SCO). This agreement provides for border security and confidence building between the five parties, calling for military disclosure when the parties undertake border and naval exercises and for reducing troop levels in the border areas. It also allows the parties to observe and inspect troop movements in each other's territory upon invitation. According to the agreement, "the border military forces should not attack each other or carry out drills targeting one another, and they should exchange information regarding military forces in the border areas." Moreover, according to Chinese sources, the sides have kept each other updated in case of major military activities or emergent situations regarding the movement of troops.
"Cooperation-2019" is the latest in a series of joint anti-terrorism military exercises held in Tajikistan, preceded by "Cooperation" exercises and training in 2006, 2015 and 2016 respectively. This year, a similar joint drill was conducted by China's People's Armed Police (PAP) and the National Guard of Kyrgyzstan, in which 150 Kyrgyz military personnel attended a counter-terrorism exercise in suburban Urumqi, capital of Xinjiang Uygur Autonomous Region in northwest China. In 2018, the vice chairman of China's Central Military Commission, Xu Qiliang, stated that the two countries have expanded their military exchanges, enriched cooperation, and improved their military mutual trust, adding that the cooperation has been fruitful within the framework of the SCO and has played an important role in safeguarding security and stability of the two countries and Central Asia. China is also improving its security cooperation with Uzbekistan. In May 2019, the Uzbek National Guard and the PAP conducted a two-week joint anti-terror exercise at the Forish field training base in the Jizzakh region. China similarly cooperates with the border forces of Kazakhstan.
IMPLICATIONS: All current developments in military interaction between China and Russia point towards reinforced security cooperation between the two. A perceived necessity to cooperate in order to counter the U.S. has been a driver of several joint military exercises in recent years and joint air patrols in the Asia-Pacific region. In August, Russia's Defense minister noted that the actions of the U.S. and its allies aim for expanded influence in the Asia-Pacific region, weakening the positions of Russia and China in Southeast Asia. Moreover, Russia's Prime Minister recently signed a decree authorizing the Ministries of Defense and Foreign Affairs to commence negotiations with China's Defense Ministry on a military cooperation agreement. While few details are available, military cooperation between the two states may be in the process of deepening beyond traditional military-industrial cooperation.
These developments signal the start of a new phase of Russia-China security cooperation, potentially with far-reaching implications for Central Asia.
Three of the regional states (Kazakhstan, Kyrgyzstan and Tajikistan) are members of the Russia-led military bloc, the Collective Security Treaty Organization (CSTO) and their militaries regularly partake in the organization's activities. They also attend drills organized by Russia, with Chinese participation. Russia's MoD announced the participation of about 128,000 military personnel from China, Pakistan, Kyrgyzstan, India, Kazakhstan, Tajikistan and Uzbekistan in the Center2019 exercises in September.
The Kremlin has most likely evaluated all implications of China's military presence in Central Asia, as it did before increasing economic relations and allowing China to invest even more in Russia's and Central Asia's economies after the introduction of Western sanctions in 2014. According to Russian expert Alexander Gabuev, Moscow came to believe that China's growing economic footprint in Central Asia is inevitable. Deeper Chinese penetration into the region actually reduces the incentives for these countries to seek export routes to Europe that might bypass Russia and create additional pressure on Russian exporters in its core market. Moscow therefore accepts Beijing's presence in the Central Asian economies as long as it formally respects the Eurasian Economic Union and does not challenge Russia's self-proclaimed role as the region's main security provider. As put by Marcin Kaczmarski of the University of Glasgow, Russian and Chinese regional and global visions have proven compatible in Central Asia: "In the Russian vision, China has found a toehold; in the Chinese vision, Russia retains its legacy."
It currently seems that the process of equalizing Russian and Chinese security presence in the region has started, but only in Tajikistan. Although economic relations with China are crucial for all regional countries, Russia remains the main political-security guarantor in the region. Moreover, the region's political elites prefer to balance between several powers rather than to be client states of a single power. Moreover, unlike in Tajikistan, strong sinophobic sentiments are prevalent among the ethnically Turkic populations of the other four countries; in recent years, several anti-Chinese protests have taken place in Kyrgyzstan and Kazakhstan. This provides additional advantages for Moscow.
Naturally, this consideration is also a factor in China's security relations with the regional states. Chinese analyst Sheng Siyu terms Tajikistan a key state in Beijing's national security thinking in relation to the Belt and Road Initiative. Chinese authorities are concerned with the activities along the Afghan border of the Islamic Movement of East Turkestan, an organization with relations to the Uyghur diaspora in Tajikistan. In a recently published White Paper, China considers separatism as one of the main national security threats.
Despite the current trend towards stronger and deeper relations between China and Russia, in a longer-term perspective China's growing interests in Central Asia and the South Caucasus could pose a challenge. However, China's foreign policy self-restraint, the increasing fragility of Russia's economy and its perceived need to balance or resist the West will likely push Moscow to find common ground with Beijing rather than confrontation. At present, for Russia to openly resist the strengthening relations between China and Central Asia would imply shooting itself in the foot.
CONCLUSIONS: In light of these developments and despite Moscow's suspicions of China's activities in the former soviet republics, it is clear that Beijing's military cooperation with these states are agreed with Russia with the aim of preventing infiltration of terrorists and radical groups into Central Asia, which is a threat for Russia as well. Given its economic shortcomings, Moscow has seemingly agreed to share the military burden with Beijing. Obviously, safeguarding the southern borders of Central Asian states from possible threats and infiltrations of radical groups is a common interest of Russia, China and the regional states. The extent to which this military partnership will continue to thrive in the future will to a large extent depend on Russia's and China's respective relations with the U.S., and on China's utilization of its growing global power.
AUTHOR'S BIOS:
Nurlan Aliyev is a PhD Candidate and Researcher at the Faculty of Political Science and International Studies of the University of Warsaw. He received the Visegrad Fund Scholarship for 2018-2020. From 2000 to 2017, he worked as an expert at various government, non-government and international institutions. His research focuses on political and security processes in Russia, post-soviet countries and asymmetric warfare threats.
Image Source: kremlin.ru via wikimedia accessed 10/22/19