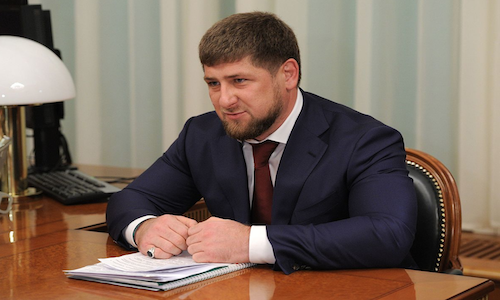 BACKGROUND: Kadyrov's territorial expansion in the region began with a land swap deal with Ingushetia, signed in September 2018. In accordance with the agreement, signed by Kadyrov and Ingushetia's head Yunus-Bek Yevkurov behind closed doors, Ingushetia ceded 26,000 hectares of its territory to Chechnya (see CACI Analyst December 20, 2018). In return, Ingushetia received a much smaller area in Chechnya's borderlands. Thousands of protesters flooded the streets of the Ingush capital Magas as soon as the details of the land swap deal were made public.
Notwithstanding a few fiery statements by Kadyrov, accusing Ingush activists of inciting inter-ethnic hatred, as well as provocative cross-border trips conducted by the Chechen leader and his associates to meet with protest leaders, the November-December street protests were largely peaceful. Following the wave of protests, which were acknowledged as the largest display of civil discontent in the North Caucasus in years, Ingushetia's Constitutional Court appealed to the Constitutional Court of the Russian Federation, questioning the legality of the land exchange deal. Russia's Constitutional Court was swift to reject the Ingush appeal, which sparked a fresh wave of popular protests, some resulting in violence.
Kadyrov's efforts to repopulate the newly acquired Ingush lands with over 6,500 Chechens sparked further discontent among the Ingush public. The early initiatives to relocate Chechens to the underdeveloped rural areas that Kadyrov secured during the land swap were unsuccessful. Relocation only acquired popularity among potential settlers after the Chechen government offered extra financial support. Whereas the land deal has alienated Yevkurov from the Ingush public, clergy and elites, Kadyrov has managed to solidify his position both within Chechnya and vis-à-vis the Kremlin. Employing his influence, the Chechen leader has successfully persecuted Ingush activists not only in Ingushetia, but also in other Russian regions.
Chechnya's territorial expansion into Dagestan initially took a far more cautious approach than the controversial land swap with Ingushetia. Earlier in 2019, the two autonomous republics entered talks on border demarcation, however, no large-scale land exchanges were planned. The talks evolved around the transfer to Chechnya of approximately 18 hectares of Dagestan's Kizlyar district. In February, the speaker of Dagestan's parliament, Khizri Shikhsaidov, publicly announced that Dagestan's government had no intention of transferring any of its lands to Chechnya and that the border demarcation process could take as long as two years.
Yet since Dagestan had provided no official response on the issue of lands in the Kizlyar district by the end of February, the Chechen side unilaterally started to expedite the land transfer and on March 16 announced that the disputed territory was to be registered as part of Chechen republic. Although Makhachkala has not yet formally issued any complaints about the unexpected transfer of its territory to Chechnya, Dagestani civil society has vocally called for legal action and the immediate return of Dagestani lands. According to the Dagestani Union of land lawyers, Dagestan can challenge Chechnya's actions in court, since according to federal law no subject of the Russian Federation has the right to unilaterally change its borders.
IMPLICATIONS: Kadyrov's recent efforts to expand Chechnya eastward and westward – or, as Grozny officials have claimed, to adjust the administrative borders of the republic with its neighbors – have united both Kadyrov's supporters and enemies inside and outside Chechnya. Intriguingly, while Kadyrov's sympathizers have univocally backed his badly camouflaged territorial allegations, even those who consider themselves Kadyrov's personal enemies have supported these efforts.
Within the Chechen diaspora communities in Western Europe, comprising tens of thousands of relatively recent refugees who escaped the violence in their homeland at the hands of the Russian military and their kadyrovtsy allies, many appear to be siding with Grozny's plans. A tentative analysis of the social media accounts of leading personalities in the Chechen diaspora, many of whom are among Kadyrov's fiercest opponents, shows that they tend to depersonalize Grozny's territorial claims and consider them a step toward enforcing historical justice.
While the support for these efforts demonstrate the strength of ethnic nationalism in both Chechen society and the Chechen diaspora in the West, it also highlights Kadyrov's ability to play with sensitive topics capable of rallying popular support in Chechnya and among Chechens abroad.
Kadyrov may well be guided by an institutional logic, requiring him to strengthen his standing both with the Kremlin and within Chechnya. Moreover, Chechnya's territorial agenda emerged simultaneously with an ongoing campaign to write off Chechnya's debt to Gazprom (see CACI Analyst April 3, 2019). One thing is clear: while Kadyrov is seeking to extinguish any form of dissent within Chechnya and even outside Chechnya's borders, he is skillfully using topics resonating across the heavily divided frontlines of Chechen society to boost his power base.
Moscow's tentative consent to Kadyrov's actions toward Chechnya's neighbors points to a recently articulated explanation by political commentator Stanislav Belkovskii. According to him, Putin has relegated regional issues in the North Caucasus to Kadyrov's "portfolio." In this likely division of responsibilities, Kadyrov has been put in charge of the North Caucasus; the Chechen leader is trusted to solve regional problems, provided some basic order is preserved and Moscow's dominance over the region remains unchallenged.
Kadyrov's power politics have long extended beyond Chechnya's borders, with politicians, activists, and organizations raising the slightest objections to his agenda being subjected to retaliation. In fact, on several recent occasions, Kadyrov's emissaries have silenced dissidents on both the regional and federal level, whereas Kadyrov's opponents have been forced to express public exculpations in order to avoid physical penalization. Thus, challenging Kadyrov has become highly dangerous, discordant opinions are suppressed and Kadyrov's path to success appears increasingly safe.
Moreover, Kadyrov has a number of clients on the regional level. For instance, the presidential envoy of the North Caucasian Federal District, influential general Anatoliy Matovnikov, previously served as the Chechen leader's chief of security service. According to Belkovskiy, this connection helped Matovnikov attain his current position and he is therefore indebted to Kadyrov. Such high-ranking contacts are another factor in the Chechen strongman's informal clout in the region. Indeed, the federal authorities' recent arrest of the Circassian "political gangsters" son and father Rauf and Raul Arashukov, coincided with a quarrel between Kadyrov's and his former friends. While evidence is inconclusive, according to some commentators the arrests were prompted by Kadyrov's "dissatisfaction" with Rauf Arashukov and attainable due to the Chechen strongman's deep personal contacts in regional law enforcement.
CONCLUSIONS: The Ingush precedent provides Dagestani civil society with an example of which actions are likely to fail in opposing Kadyrov's ambitions. Constituting the most populous republic in the North Caucasus, with a relatively active civil society, Dagestan can be expected to pose a serious challenge to Kadyrov's authority in the region. Notwithstanding the popular character of the Ingush protests, they failed to gain attention and sympathy elsewhere in Russia, due to the relatively small size of the republic and its weak connections with the rest of the Russian Federation aside from Yevkurov's government. A different scenario could be expected in the case of Dagestan, which has a powerful lobby in Moscow and historically maintains close-knit diaspora networks across Russia. Popular protests in Dagestan against Chechen territorial expansion could easily threaten the position of Dagestan's Moscow-appointed leader, Vladimir Vasilyev, who would be forced to choose between siding with the Dagestani public and supporting the Kremlin's close ally Kadyrov.
AUTHOR'S BIOS:
Emil A. Souleimanov is Associate Professor at the Institute of Political Studies, Faculty of Social Sciences, Charles University.
Huseyn Aliyev is a Lord Kelvin Adam Smith (LKAS) Research Fellow in Central and Eastern European Studies (CEES), University of Glasgow.
Image Source: public domain via Wikimedia accessed on 8.28.19