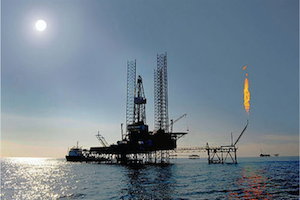 BACKGROUND: In the late 1990s, US, Israeli, Turkish and European companies shelved their plans for developing TCGP due to numerous delays in the project. After the Russia-Ukraine gas crisis, the EU lobbied for constructing TCGP: by registering the pipeline among Projects of Common Interest; financing the project's commercial engineering, feasibility and environmental studies; mandating the Commission in 2011 to negotiate a legally binding treaty with Azerbaijan and Turkmenistan; and inking the 2015 Ashgabat Declaration with Azerbaijan and Turkmenistan to draft a contract on Turkmen gas supply to Europe. However, while the declaration conferred political commitments, it contained no legally binding obligations; thus neither commercial, nor legal arrangements were achieved. These efforts were stalled due to the Caspian's unresolved status, China's increasing share in Turkmenistan's gas export and Turkmenistan's unwillingness to finance the project.
The failure of the Nabucco project, and the commissioning of the Russia-Turkey Blue Stream and Iran-Turkmenistan Dauletabad-Sarakhs-Khangiran pipelines dampened optimism for TCGP. Thus, Ashgabat postponed the idea of exporting gas to Europe (where Russia's Gazprom instead cemented its position) and focused on the Turkmenistan-Afghanistan-Pakistan-India pipeline. Yet after disagreements with Russia on gas prices and contracts, Ashgabat has sought to multiple its re-export and transit options.
Russia has been tying the construction of TCGP to the determination of the Caspian's legal status and the approval of all coastal states. However, the Convention's Article 14 authorizes the construction of undersea pipelines in the Caspian with agreement required only from those states whose sectors will accommodate the pipeline. Even before the Convention was signed, Azerbaijan and Turkmenistan asserted that only the concerned sides need to agree on the pipeline's route. In an interview to Tass, Azerbaijan's President Ilham Aliyev stated that the unsettled status of the Caspian Sea does not affect bilateral cooperation between the Caspian states.
IMPLICATIONS: While the Convention opens for the construction of TCGP, it also articulates the necessity of coordination with other coastal states regarding the environmental effects of prospective pipelines. Thus, each coastal country will examine the environmental impact of transboundary pipeline projects, which could provide an instrument for delaying TCGP's construction. From the very beginning, Russia and Iran have demanded to make the construction of TCGP contingent on final environmental authorization from the coastal countries.
Even before the Convention was signed, gradual steps were taken in favor of TCGP. In August 2017, Turkmenistan and Azerbaijan signed a Memorandum of Understanding pledging to expand energy cooperation through joint projects. On February 15, a Turkmen delegation for the first time participated in the SGC advisory council meeting in Baku, where they reportedly discussed the possibility of gas export via the SGC and the TCGP with EU representatives. On February 19, an Azerbaijani-Turkmen working group discussed cooperation on energy projects.
Ashgabat can benefit from TCGP due to its diversification needs and its vulnerable revenue portfolio associated with suspended gas exports to Iran and Russia, and its overdependence on China's gas imports. However, unlike Azerbaijan, which actively engaged in the construction and financing of SGC, Turkmenistan does not make a similar commitment to the external pipeline. Neither does it grant international oil/gas companies a Production Sharing Agreement, but merely offers a Technical Service Contract.
Once Turkmenistan decides to supply gas to Europe through Azerbaijani territory, as President Aliyev mentioned, Baku will definitely consider this with great interest. Azerbaijan can transit Turkmen gas to Europe through its infrastructure when TANAP/TAP increases its throughput capacity for extra gas from third suppliers. Baku can subsequently benefit from transit fees for gas transportation, which can even be paid in the form of gas (Georgia has a similar arrangement for Azerbaijan's gas transit). This gas can be re-sold in Turkey or Europe, complementing the Trans-Anatolian/Trans-Adriatic Pipelines' (TANAP/TAP) capacities. However, Azerbaijan expects to first pump its gas from the Shah-Deniz-II (SDII) field under long-term contracts, before receiving a large volume of Turkmen gas into SGC. Baku also contemplates bringing additional volumes from its new gas fields to augment its gas contribution for SGC. For Turkmenistan, providing a smaller volume via TCGP would not be commercially attractive.
Turkey has also sought to receive Turkmen gas via TANAP in the expansion capacity to reduce its imports from Russia and Iran. In 2014, Turkish Atagas and Turkmenistan's Turkmengaz signed a gas purchase agreement via TANAP. However, Turkey's engagement with Russia's pipeline projects (Blue Stream and Turkish Stream) has altered the economic calculus to TCGP's disadvantage.
Aside from TCGP, Turkmen gas can be delivered in the western direction under several alternative scenarios. First, Turkmen gas can be shipped as Compressed Natural Gas (CNG) or Liquefied Natural Gas (LNG) by tankers to Azerbaijan, then through SGC; or via railway to Georgia's Black Sea port and onwards via tankers to Europe (to Romania's Constanta port). This would neither pose any environmental threat to the Caspian Sea, nor trigger a maritime dispute between Azerbaijan and Turkmenistan. However, given the shipment distance, CNG/LNG delivery is not economically lucrative since construction and transportation is costly, and is technically problematic due to a lack of regasification/liquefaction terminals. This option could revive the Azerbaijan-Georgia-Romania Interconnector project, but would bypass Turkey in transit and encounter Gazprom's market.
Second, Azerbaijan could buy 3-5 bcm of gas from Malaysian Petronas (an SDII stakeholder), working in Turkmenistan's offshore fields. The undersea gas platforms of the two countries could be linked, and gas pumped from Azerbaijan's offshore platforms via underwater pipelines to the Sangachal terminal.
Third, Turkmenistan and Iran have at different times planned a gas-swap deal to deliver Turkmen gas to Turkey, where it could even be injected into TANAP. Yet these plans have not been realized due to a dispute over debts and prices, the extra expenses that the process would incur, and the sanctions towards Iran. The transit of Turkmen gas to Europe, which Tehran considers a potential market, would ultimately undermine also the latter's own export plans. The delivery of Turkmen gas via TANAP partly depends on Azerbaijan's decision to increase the throughput of the pipeline.
Fourth, Iran could receive a small volume of Turkmen gas at the border (which Turkmenistan prefers most) and deliver its gas to Azerbaijan in a swap operation. The gas could then enter SGC or be consumed in Azerbaijan. Azerbaijan could buy Turkmen gas to supplement domestic demand until new fields come onstream, as foreign customers have contracted most of its potential gas volumes. The gas, which is cheaper during summer, could be kept in Azerbaijan's gas storages and re-sold during winter at a profit when prices peak.
However, these arrangements require Iran to harmonize its relations with Turkmenistan regarding the debt dispute. Following Iranian President Hasan Rouhani's visits to both Azerbaijan and Turkmenistan in March 2018, the perspective for a swap deal may have gained momentum.
In case TCGP's realization is delayed, Gazprom could resume purchasing Turkmen gas at low prices and resell it to European countries at self-determined prices. In fact, Turkmenistan does not exclude the possibility of shipping gas via Russian pipelines to the CIS and Eastern European countries, since Ashgabat is in need of cash revenue as long as there is no concrete commitment to TCGP.
CONCLUSIONS: Along with Azerbaijan, Turkmenistan's large gas reserves are considered a promising alternative for the EU's gas imports and the viability of SGC's throughput capacity. However, bringing Turkmen gas into SGC is conditioned on TCGP's commerciality (including investment and price decisions; production/transport costs; and purchase points of gas). A lack of solid political or financial support for TCGP has aligned Turkmenistan with China's gas import. Until the concrete infrastructure is built for bringing Turkmen gas into SGC, Azerbaijani gas will remain the most certain source. Moreover, TCGP might become a less attractive option for certain European consumers in the future, since the European gas market experiences multiple changes including the development of domestic interconnectors, LNG talks, and decreasing gas prices, as well as the finalization of Russia's Turkish Stream project.
AUTHOR'S BIO:
Ilgar Gurbanov is a Research Fellow at the Center for Strategic Studies in Baku, Azerbaijan.
Image source: By: www.dragonoil.com via Wikimedia Commons accessed on 10.16.2018