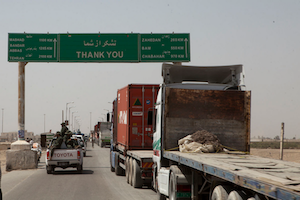 BACKGROUND: The east-west axis link between China and Iran is important for China's interests in a wider Belt and Road geoeconomic rebalancing to Central Asia and the Middle East. For Afghanistan, a range of opportunities exists for infrastructure upgrades on both the north-south and east-west axes. The construction of the China-Kyrgyzstan-Tajikistan-Afghanistan Silk Road fiber optic network is progressing with a Memorandum of Understanding signed for the construction of a Kashgar to Fayzabad fiber optic cable system via Tajikistan. Around half of the 2200km Afghanistan-Tajikistan-Kyrgyzstan-Iran-China railway project will be on Afghan territory, with technical assessments already complete.
Afghanistan's President Ashraf Ghani is relying on exports to China of industrial manufactures, marble and agricultural commodities. Ghani has touted regional trade and industry integration, saying in a meeting with the World Bank that Iran and China will be connected through Afghanistan upon completion of the Kunduz to Mazar-e-Shale railway project. President Ghani has stressed the importance of closing Afghanistan's transport loop and connecting to Iran, hoping to make Herat province a regional transport hub. Afghanistan's Ministry of Commerce and Industry has also said that two-way trade between Afghanistan and Iran is already amounts to over US$ 2 billion dollars annually.
To facilitate Afghan agricultural exports, an air corridor between Afghanistan and India is already open, shipping mostly fruit and herbs to South Asia. Beijing has criticized India for using the air corridor to bypass the China-Pakistan bilateral corridor, but Afghanistan also plans to open monthly cargo flights with Sri Lanka to promote two-way trade. However, lack of cold-chain logistics networks is hampering effective commerce. 120 tons of fruit was recently stranded at Kabul airport due to cold-chain logistics failures. Investment in cold storage warehousing is progressing, however, with a 60-ton cold store completed in Kabul and three more under construction in Parwan, Samangan and Balkh provinces, according to the China Chamber of Commerce for Foodstuffs and Native Produce.
Agricultural production in Afghanistan has a huge potential to service China's growing food import needs. Nimroz province, on the Iranian border, saw an 80 percent growth in melon production in 2017 up to 300,000 tons. Afghanistan's Ministry of Agriculture will distribute saffron bulbs to farmers to encourage cultivation of 3,000 acres, aiming for a national production of 8 tons, which represents a US$ 15 million a year industry. China's Ministry of Agriculture and Rural Affairs is also investing in 20 fish farms in Nangarhar province, surrounding Jalalabad. Afghanistan's 2017 grape production reached 100,000 tons, an increase of 15 percent, and most grapes will be exported to India through air corridor cargo flights.
IMPLICATIONS: Both India and China are hoping to tap into an underrepresented and growing agricultural sector in Afghanistan. Afghanistan's informal economy is huge, accounting for an estimated 50 percent of the formal economy. This means that central government institutions are not accounting for vast areas of productive capacity. Afghanistan's Ministry of Agriculture says that most arable land is not being used, with only 2.5 million hectares of 7.5 million cultivated. This is mostly due to a lack of irrigation systems, yet Afghanistan has water resources of 70 billion cubic meters per year. However, currently 80 percent of that flows to Iran, Pakistan and Central Asia. With investment in irrigation and transport, there is huge potential for agricultural commodity export to China and India.
For Afghanistan, this China-Iran connection intersects with the Afghanistan-Iran-India tripartite dialogue to develop trade facilitation through Iran's Chabahar port. Afghanistan enjoys preferential tariffs in the Iranian port, with trade in goods enjoying export tariff concessions of 80 percent and import tariff concessions of 75 percent. For India, the hope is to be able to connect India's Kandla port in Gujarat to Chabahar. On the Iranian side, goods destined for Afghanistan will travel by truck to the Iran-Afghanistan border town of Milak, in the same Sistan and Baluchistan province as the Chabahar port. Despite making little hard economic sense, the geoeconomic strategy is clearly to the benefit of all three nations as a counter to the China-Pakistan trade axis. Whatever the geoeconomic reasoning, the Persian Gulf is set to carry greater volumes of trade in the near future.
These trade corridors also have the potential to extend Afghanistan's trade with Central Asia. Afghan trade and industry officials have advocated expanding trade with Uzbekistan and Kazakhstan in the fields of transportation, natural gas, mining, industry, and logistics. Yet the greatest challenge facing any development strategies in Afghanistan remains the lack of reliable electricity supply. Afghanistan imports about 200,000 megawatt hours of electricity from Tajikistan per month.
For China, the game in the Persian Gulf is much wider than simply using Gwadar to access the Indian Ocean. China is building an Indian Ocean import-focused trade strategy. This network of international trade opens China to imports from East and Central Africa, and allows it a serious space for asserting itself as a trade pole in Central Asia and the Middle East. However, it also means that as an eventual net-importer it will begin to pull the gravity of international rule-setting into its orbit. A new import trade policy is emerging from Beijing, and will be more fully understood leading up to November's China International Import Expo in Beijing and Shanghai. However, India and Iran seem to be far off the pace in defining Persian Gulf regional trade dynamics, while Afghanistan can benefit from the ambiguity.
There is a tendency to analyze Afghanistan as simply a node in a wider regional conception of the economic spheres of Russia, the U.S., Europe and increasingly China. For a region essentially isolated and marginalized from modern development history, the prospect of increased maritime access to the Persian Gulf and the Indian Ocean open a new world of geoeconomic opportunities.
CONCLUSIONS: China's foreign policy is really one of multiplicities framed as bilaterals. The rhetoric and policy practice will be strictly bilateral and one-to-one, playing to China's trade negotiating strength of numbers. China eschews any notion of plurilateralism on the pattern of the Washington Consensus. However China's trade and industry policy in external geographies is multifarious, China will naturally plan firm, state, multi-state and regional industrial policy. No matter the geopolitics, Afghanistan can only benefit from inward direct investment. Whichever way its energy and transport networks are built and rebuilt, all investment is a boon. Whatever the long-term outcome, in the short-term, Afghanistan is very much on the radar of two expanding powers in India and China.
AUTHOR'S BIO: Tristan Kenderdine is research director at Future Risk ( This email address is being protected from spambots. You need JavaScript enabled to view it. ).
Image source: By: Public Domain via Wikimedia Commons accessed on 7.9. 2018