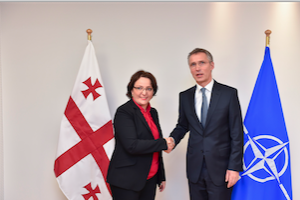 BACKGROUND: Georgia is one of the most dedicated NATO aspirant countries with strong public approval of Euro-Atlantic integration, which has in the past decade significantly boosted its defense capability. Georgia has since 2004 achieved many important milestones towards ensuring its army's compatibility with NATO forces. In April, Georgia's Minister of Defense Tinatin Khidasheli announced that the government is ready to remove the conscription system and introduce fully professional military forces starting from 2017, to make them more compatible with Trans-Atlantic standards. Reforms were also carried out in the security sector, while Tbilisi worked on improving governance and democratic institutions. Multiple assessments of Georgia's military and security reforms show that these sectors still feature several shortcomings, which can nevertheless be gradually improved. Though Georgia has maintained a democratic trajectory in its domestic reform process, areas such as media freedom still need improvement. Furthermore, the persistent conflict between Georgia's key political players – the Georgian Dream (GD) coalition and the United National Movement (UNM); the ruling coalition's political fragility; and frequent government reshuffles have likely undermined Georgia's image with NATO.
However, tense relations with Russia and the conflict over the breakaway regions of Abkhazia and South Ossetia pose a far more important obstacle for Georgia's admission to NATO than the country's internal political problems. Tbilisi and Moscow have engaged in a rapprochement process since 2012, resulting in renewed trade ties. However, diplomatic relations have not yet been restored and the prospects of reconciliation appear weak, especially in the aftermath of the conflict in Ukraine. Though Tbilisi did not join the majority of Western sanctions against Russia – except for banning exports from Crimea and Sevastopol – and has avoided overt criticism of Russian actions in Ukraine, Russia feels threatened by NATO's increased activities in Georgia. Moscow protested against establishing the NATO-Georgia Joint Training and Evaluation Center (JTEC) in 2015 and recently expressed its concern with one of the hitherto largest NATO-Georgia military drills, which took place in early May 2016. Russia's Foreign Ministry deemed the two-week Noble Partner exercises, which were jointly conducted by UK, U.S. and Georgian troops, a provocative step aimed at destabilizing the region.
IMPLICATIONS: Despite Tbilisi's efforts to woo the breakaway regions Abkhazia and South Ossetia, the possibility of restoring control over them remains elusive. On the contrary, both Sukhumi and Tskhinvali remain strongly oriented towards strengthening their ties with Russia. In the past two years, both regions have concluded treaties with the Russian Federation, deepening strategic cooperation in important spheres. South Ossetia has long sought even closer integration with Russia. In early April, South Ossetia's de facto President Leonid Tibilov announced that a constitutional referendum would be held before August 2016, which would allow him to request the region's accession to Russia. On May 26, the referendum was postponed until after presidential elections in the region in 2017. The international community deems these steps illegal and considers South Ossetia and Abkhazia to constitute parts of Georgia, while in practice Russia has consolidated its influence over them.
The presence of protracted conflicts on Georgia's territory remains a main reason why key NATO members such as Germany and France oppose Georgia's membership in NATO. In addition, several European NATO members, including France and Austria, have recently requested the EU to lift its sanctions against Russia, whereas NATO is also currently seeking to mend ties with Moscow. In April, representatives of NATO and Russia held the first meeting of the NATO-Russia Council since June 2014, when cooperation was halted due to Russia's annexation of Crimea and the war in Eastern Ukraine backed by Russian forces. Although the West has made clear that cooperation with Russia will not be restored unless Moscow respects international law, steps towards rapprochement means that NATO will be less eager to offer Georgia a firm declaration on strengthened mutual ties in Warsaw.
Even though the majority of Georgian leaders understand that acquiring a MAP is unlikely during the upcoming NATO summit, the Georgian government has since last year intensified its efforts to convince the Alliance to strengthen mutual ties. During high-profile government visits in NATO headquarters in Brussels and the U.S. over the last six months, Georgia received strong statements of support from the Alliance but no firm declarations about acquiring a MAP. In April and May, several media outlets such as New Europe based in Brussels, claimed that NATO is preparing to offer Georgia and Ukraine the newly invented status of "associated partnership" and closer cooperation in the Black Sea. The new format is deemed an alternative aiming to substitute an official candidature for NATO membership. NATO also prepares to offer Tbilisi and Kiev extended cooperation under a "28+2 format," modeled on the existing cooperation with Finland and Sweden. Due to ongoing negotiations before the Warsaw Summit, NATO officials neither confirmed nor denied this version. However, a decision on extended cooperation with NATO in the Black Sea basin seems credible since it is in line with the Alliance's current interests in the region. South-eastern NATO members such as Romania and Turkey are pushing for a strengthened NATO presence in the Black Sea, which they argue is becoming dominated by Russia. Extending Georgia's and Ukraine's participation in NATO activities in the Black Sea will further strengthen the Alliance's south-eastern flank and help keeping the balance of power in the region.
Although Georgia's level of cooperation with NATO is unmatched among the other post-Soviet republics, the stalled process of acquiring a MAP is frustrating for the country's elites and public. Khidasheli, one of the country's most pro-Western politicians, has frequently expressed her dissatisfaction with NATO's reluctance to issue a bold declaration on Georgia's future membership. In 2015, Georgia's MoD stated that Georgia will be extremely disappointed if it does not receive a MAP in Warsaw and that a MAP is the only proposal that the Georgian government will extend to its NATO partners before the summit.
While Euro-Atlantic integration still enjoys considerable support among Georgians, surveys conducted by National Democratic Institute (NDI) reveal a small but steady decrease in support for joining NATO since 2013. This is eagerly exploited by Russia, through propaganda efforts channeled by media, political parties and NGOs. In the 2016 Nations in Transit Country Report on Georgia, Freedom House experts forecast that decreasing or stagnant support for the two key political groupings – GD and UNM – might benefit non-parliamentary parties, including pro-Russian and anti-Western parties, which could substantially alter Georgia's political landscape after the October 2016 elections.
Georgian discontent with the pace of NATO integration could be exacerbated by the fact that in May, NATO signed the accession protocol with Montenegro. Montenegro has made less progress in implementing reforms than Georgia and needs to tackle important domestic issues such as poor governance and dysfunctional democratic institutions as well as a high level of corruption. Moreover, public opinion in Montenegro, unlike in Georgia, displays strong divisions on NATO membership.
CONCLUSIONS: Expectations for NATO's Warsaw summit are high not only in Georgia but also among the new NATO members in Central Europe and the Baltic States, which call for establishing permanent NATO bases in the region. However, it is unlikely that these expectations will be fulfilled in Warsaw, since NATO seeks to avoid measures that risk irritating Russia. The Alliance seemingly wants to keep Georgia devoted to NATO integration without firm declarations on admission, though participation in the MAP program neither predetermines future admission to NATO, nor imposes an obligation on NATO to defend the aspirant country if subjected to aggression from outside. Furthermore, Moscow will likely feel threatened by any form of closer cooperation between Tbilisi and NATO while it remains the main benefactor of the current stalemate concerning Georgia's admission process. Tbilisi will likely retain its Euro-Atlantic orientation in the foreseeable future, but mounting discontent could boost the popularity of pro-Russian and anti-Western political forces in the country.
AUTHOR'S BIO: Natalia Konarzewska is a graduate of University of Warsaw and a freelance expert and analyst with a focus on political and economic developments in the post-Soviet space.
Image Attribution: www.nato.int, accessed on June 23, 2016