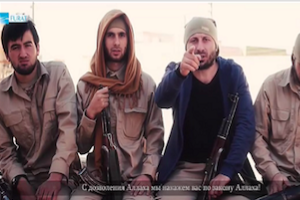 Georgian media reported that all the young men seen in video are originally from the Autonomous Republic of Adjara (ARA) in southern Georgia, bordering Turkey. One of them is the 22-year-old Khvicha Gobadze, who was studying at Batumi's Islamic school and later learnt Arabic in Egypt. According to his father, Khvicha left for Turkey about two months ago. The other three resided in Guria, another region in western Georgia, where their families had been resettled as eco-migrants from the Adjara region.
In the message, the ISIS-affiliated group pledged to respond to Georgian "infidels" for their "persecution of Muslims" in Iraq and Afghanistan, apparently referring to Georgia's participation in the U.S.-led coalition in Iraq and NATO's International Security Assistance Force (ISAF) in Afghanistan. It also slammed Muslim clerics in Adjara, dubbing them "slaves of kafirs" (non-believers) who mislead local Muslims in the region.
"The time for cutting off your heads will come very soon," said one of the speakers in the video, adding that it is wrongly believed that "the caliphate is too far from Georgia and that it won't be able to reach" the country.
While Muslims account for around 10 percent of Georgia's population, some Adjarian villages, located along the state border with Turkey, have a Muslim population of over 90 percent. Along with the Pankisi gorge, which in turn borders Russia's restive North Caucasus, it seems that Adjara is becoming a recruitment area for ISIS (see the 04/29/2015 issue of the CACI Analyst).
The day before the video was published; the State Security Service of Georgia (SSSG) arrested Davit Borchashvili, a 29-year-old man from the Pankisi gorge, who was deported to Georgia from Turkey. On November 24, Tbilisi City Court ordered pre-trial detention for Borchashvili on the suspicion of fighting for ISIS in Syria, under article 328 of the criminal code prohibiting Georgian citizens from engaging in foreign terrorist organizations and/or providing support for terrorist activities.
Meanwhile, the undated video footage has been disseminated on YouTube by an anonymous user, allegedly showing Borchashvili in the company of armed men riding in the back of a pickup truck in a convoy traveling in an unspecified area. Momentarily, a flag similar to the one used by ISIS appears in the footage, flying over another truck in the convoy.
Borchashvili admitted that he was in Syria a year ago but denied any link to ISIS. He instead claims that he has contacts with the Western-backed Free Syrian Army, fighting against both the Assad regime and ISIS. Borchashvili currently undergoes medical treatment at a Tbilisi hospital for a gunshot wound he apparently obtained several months ago. Notably, Borchashvili is a co-villager of Aiuf Borchashvili, who was arrested on June 14, 2015 on charges of recruiting fighters for ISIS in the Pankisi gorge.
On November 27, the SSSG Deputy Minister Levan Izoria said that the flow of recruits from Georgia to Syria has recently decreased significantly and that only 50 Georgian citizens are now fighting for extremist groups in Syria. He assured that SSSG holds materials on all of them and has launched criminal prosecution in cases where concrete evidence is available.
According to estimates by the U.S. State Department presented in the 2014 Country Reports on Terrorism, between 50 and 100 Georgian nationals from the Muslim-majority regions of Adjara and the Pankisi Gorge were fighting in Syria, including Tarkhan Batirashvili (aka Omar al-Shishani) who is the senior commander of the Islamic State in Iraq and the Levant (ISIS).
The report hails Georgia's full-fledged cooperation on U.S. counterterrorism activities but also expresses concern over the country's transit location, which makes it an alternative route for radical Islamists to reach the North Caucasus from Syria and Iraq and vice versa.
Last year, Georgia enhanced its counterterrorism legislation through amending the Criminal Code and other relevant pieces of legislation in order to bring them in line with UN Security Council Resolution 2178 and international best practices and make them more instrumental to criminal prosecutions against offenders. It also enhanced its document control procedures along the border with Turkey.
However, political analysts and experts assert that Georgia has failed to develop an appropriate policy on religion that could avert the process of alienating Georgian Muslims from the rest of society, and thus prevent their radicalization. They argue that most responsible state agencies are reluctant to respond to cases of discrimination against religious minorities and take a biased position favoring representatives of the majority confession. The Strategy for the Development of Religious Policy of the State of Georgia also became the subject of criticism from Georgian Watchdog groups. They argue that the document is focused on security rather than the protection minority rights.
It is suggested that the fight against radicalization and recruitment can only yield tangible results if progress at legislative level is combined with a prudent policy for religious and social integration.
Image attribution: www.agenda.ge, accessed on Dec 3, 2015