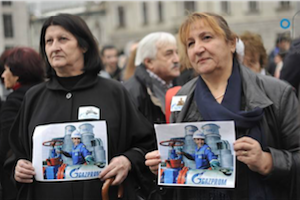 On September 25 in Brussels, Georgia's Energy Minister and deputy PM Kakha Kaladze held talks with the chairman of Russian energy giant company Gazprom, Alexei Miller. The Georgian public was informed of the meeting by a brief press release from Gazprom, saying that "the sides discussed issues of cooperation in the gas sector. Russian natural gas supplies to Georgia, as well as transit [of gas] to third countries."
Georgian opposition parties and analysts were quick to question Kaladze's endeavor and insisted on a clarification of what "Russian natural gas supplies to Georgia" may mean, given the country's priority to maintain gas supplies from Azerbaijan. The covert meeting with Miller also raised suspicions. Kaladze later stated that speculations on this issue were artificial as Georgia has always been receiving gas from Russia and will continue to do so in the future. Kaladze also confirmed information about a second meeting with Miller.
Georgia currently consumes around 2.3 billion cubic meters (bcm) of gas annually, about 90 percent of which is supplied from Azerbaijan through the South Caucasus Pipeline System (SCP) involving two parallel gas pipelines: Baku-Tbilisi-Erzurum and Karadaghi-Tbilisi. The remaining gas is obtained as a fee for gas transited through the North-South Caucasus pipeline (NSCP), transporting Russian gas to Armenia via Georgia's territory.
Georgia was heavily dependent on Russian gas before two subsequent explosions took place on the Mozdok-Tbilisi gas pipeline in the southern Russian border region of North Ossetia in 2006. The Georgian government at the time termed the incident "gas sabotage" and redirected Georgia's gas imports to instead rely heavily on gas from its strategic partner Azerbaijan. The move bolstered the partnership between Baku and Tbilisi and enhanced the motivation of both countries to implement regional energy projects circumventing Russian territory. The Southern Gas Corridor, including SCP and the planned Trans Anatolian (TANAP) and Trans Adriatic (TAP) pipelines – is one reflection of such efforts. These projects offer the EU alternative routes for gas delivery and simultaneously reduce Russia's geopolitical leverage on both Georgia and Azerbaijan.
The incumbent government's narrative, however, highlights the necessity of diversifying gas imports as relying fully on a single supplier, "no matter how friendly this country might be," is not a reasonable policy. "It is important for us that this pipeline [NSCP] is fully loaded, as in this case, we will receive additional volumes, and commercial companies will be able to import natural gas from Russia," Kaladze said. He also announced that the government holds talks on additional gas supplies not only with Russia but also with Iran. Subsequently, former Prime Minister and GD coalition founder Bidzina Ivanishvili also spoke in favor of diversifying Georgia's gas supplies.
The Azerbaijani news agency Haqqin.az anticipates the risk of a gas war between Gazprom and the State Oil Company of Azerbaijan Republic (SOCAR) for the Georgian market. Georgia's government seems willing to subject Azerbaijan's gas monopoly in Georgia to competition, despite the fact that Azerbaijan's gas price for Georgia is much lower than the price of Russian gas to Armenia, according to Haqqin.az. It also noted that former PM Bidzina Ivanishvili owns one percent of Gazprom's shares.
The head of SOCAR Energy Georgia, Mahir Mammadov, expressed readiness to compete with Gazprom for the Georgian market. However, he said the contest would not seriously affect SOCAR's stakes in Georgia, as the transmission of gas to Turkey via Georgia, as well as contracts regarding local household (retail) consumption, have been agreed on fixed and protracted terms. Thus, the room for competition is largely confined to local commercial consumption as agreements in this field, according to Mammadov, are more flexible and based on three or six month periods.
Given Georgia's stagnating economy, it is unclear why Tbilisi so urgently needs additional volumes of gas from Russia, especially since gas consumption is not expected to increase any time soon. Moreover, through the Shah Deniz II project planned to come online in 2018 and the envisaged enlargement of the SCP's capacity, 6 bcm of Azerbaijani gas will be transported via Georgia and 5 percent of this volume will be allocated for the country at preferential prices.
According to some analysts, one explanation for Tbilisi's efforts could be the prospect of restoring the Russia-Armenia railway via Abkhazia, which will certainly irritate Azerbaijan. Consequently, Tbilisi may be seeking to minimize Baku's levers against Georgia by securing alternative gas supplies from Russia and Iran.
In any case, it is clear that Russia's reemergence on Georgia's gas market will result in increased Russian economic leverage on the country. It may also signal a revision of Georgia's strategic partnership with Azerbaijan. Garibashvili's unscheduled visit to Baku suggests that this is an urgent question for both countries.
Image attribution: www.russia-insider.com, accessed on Nov 6, 2015