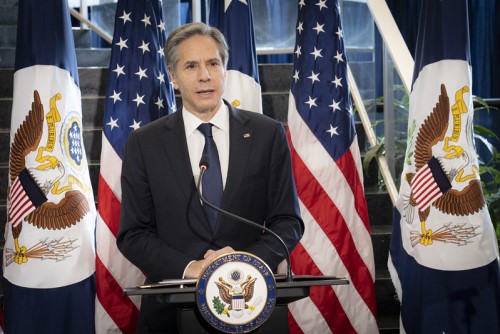 BACKGROUND: Both President Biden and his key officials understand the importance of the Caspian region with regard to U.S. national interests. In 2016, during the nuclear summit in Washington DC, then-Vice President Biden and current nominee for CIA Director Amb. Bill Burns met with Azerbaijan's President Ilham Aliyev to discuss the valuable role Azerbaijan plays in nuclear non-proliferation efforts.
Yet, over the last several days, statements from Washington and the new Biden administration have sent worrying signs to Baku — putting this strategic partnership at risk. Former Deputy National Security Advisor and newly confirmed Secretary of State Anthony Blinken provided written answers to the Senate Foreign Relations Committee expressing support for Armenia's security needs and raised the possibility of suspending waivers of section 907 of the Freedom Support Act. This legislative act, passed under the influence of the Armenian lobby in 1992 and waived after Azerbaijan's strong support to the US following September 11 attacks, places sanctions on Azerbaijan and limits U.S. aid to this strategic ally.
Additionally, pro-Armenian Senator Bob Menendez (D-NJ) and Congressman Adam Schiff (D-CA) are actively promoting an anti-Azerbaijani and anti-Turkish narrative in Congress. Both are urging the new Administration to take an active stance against these countries in the aftermath of the second Karabakh war in 2020, which resulted in the liberation of previously occupied Azerbaijani territories and defeat of Armenian military forces.
While it is understandable that such statements might be result of the confirmation process and that the full policy and vision of the Biden administration is not fully settled yet, this early rhetoric in Washington is a direct challenge to the U.S.-Azerbaijani partnership. Azerbaijan was one of the first Muslim-majority countries to render assistance to the U.S. in Afghanistan and Iraq by sending peacekeeping troops, opening air corridors and sharing intelligence. U.S. oil companies remain active in the Azerbaijani sector of the Caspian Sea and the U.S.-backed "East-West" oil and gas transport corridor was effectively implemented by Azerbaijani leadership despite pressures from the neighboring powers. More than 200 American companies are active in Azerbaijan today and the bilateral trade volume continues to increase on an annual basis.
Section 907 has been long a thorny issue in U.S.-Azerbaijani relations. Baku considers this legislative act unfair in its nature and inadequate in terms of maintaining this strategic partnership. The Armenian lobby in the U.S. promotes and supports legislation through its strong presence in Congress, despite the fact that the Executive Branch has, under every administration since 1992, opposed this bill as an infringement on its ability to formulate policy toward the South Caucasus.
IMPLICATIONS: President Trump neither prioritized the South Caucasus nor allowed the Armenian lobby to influence his policies. The Biden administration, however, is signaling that it may be more open to the demands of the Armenian diaspora. Such a move risks alienating Azerbaijan, which already noted the relative lack of relevance of the United States during the escalation of tensions in recent years as well as during the war this past autumn. Against this background, Washington's hostility would accomplish nothing except pushing Azerbaijan closer to regional powers including Russia and Iran.
Muslim-majority Azerbaijan has thus far managed to pursue Euro-Atlantic integration both politically and economically despite the decades-long occupation and pressures from neighboring nations. It actively cooperates with NATO and the EU, and contributes to European energy security. The new, $35 billion gas pipeline from Azerbaijan to Europe is the latest addition to this policy. Azerbaijan also actively cooperates with Israel to create a secure and prosperous broader Middle East.
Azerbaijan is also a unique role model for the peaceful co-existence of Jews, Christians and Muslims, showing one of the best examples in the world in terms of religious harmony, tolerance and respect. The U.S. government has appreciated the role of Azerbaijan in the global war against extremism and terrorism.
The Biden administration should carefully assess its next steps vis-à-vis Azerbaijan and develop incentives for the deepening of bilateral relations. One area for cooperation can be joint development and investment into the newly liberated areas of Azerbaijan. American companies can participate in the reconstruction of these areas both as subcontractors for various public works, as well as investors into joint ventures, plants, various industrial and agro-business enterprises.
The opening of new transport corridors on the ground (including a historic direct land and railway access to Turkey) provides U.S. businesses with improved access to Central Asian markets via Azerbaijan. New railways will be constructed in the area, connecting the railway systems of Turkey, Azerbaijan and Central Asian states, which U.S. companies can also participate in. U.S. technology and high-tech knowledge can be handy in the development of transport linkages, smart cities, green areas and eco-friendly zones.
The recently signed agreement between Azerbaijan and Turkmenistan to jointly explore and develop the "Dostluq" (Friendship) undersea field also provides opportunities for the further expansion of the "East-West" energy and transport corridor between Europe and Asia. U.S. companies can find it attractive to once again consider the possibility to invest in Trans-Caspian pipeline, which would open access to the gas reserves of Turkmenistan via Azerbaijan.
Azerbaijan and the U.S. can also strengthen cooperation in the security field. Over the past several years, Azerbaijan has served as a platform for U.S.-Russian senior-level military meetings. Azerbaijan can play a similar role vis-à-vis neighboring Iran. Up to 30 million Iranian citizens are ethnic Azerbaijanis. In the past, Azerbaijan has had a good record of cooperation with the U.S. in the field of border security and strengthening of peacekeeping troops. Some 130 km of the Iranian-Azerbaijani border as well as the full lengths of Armenian-Azerbaijani international border is liberated from the occupation and U.S. experience in border security might be helpful again.
Active U.S. diplomacy is also needed to secure a long-lasting peace in Karabakh. Official Washington serves as one of the three co-chairs of the OSCE Minsk Group. However, it is crucial that it does not follow the same path as France in 2020. Paris's biased and unbalanced position during the Karabakh war – including the French Senate's support for Nagorno-Karabakh's independence – has damaged strong economic ties with Azerbaijan and marginalized French diplomacy in the region. The U.S. should show more understanding to the needs of the warring sides and contribute to the strengthening of peace and stability in the region by enforcing the territorial integrity of states and the reconstruction of ruined communities. Only impartial mediation can bring full respect and sustainable peace.
Finally, both political and economic domestic reforms in Azerbaijan require strong American assistance, experience, and technologies. American companies are encouraged to invest in Azerbaijan, as President Aliyev indicated in his meeting with members of the American Chamber of Commerce.
CONCLUSIONS: The role of diasporas and ethnic lobbies have historically been a major shortcoming of American democracy. The world is waiting to see how the Biden administration will work to restore its position after the Trump administration. It is of utmost importance to pursue wise policies that do not further ostracize U.S partners and allies. American foreign policy can truly benefit its national interests in the South Caucasus and wider Caspian region if it applies sober, strategic thinking to its foreign policymaking process, rather than acting under the influence of any lobby.
AUTHOR'S BIO:
Fariz Ismailzade is a frequent commentator on regional affairs, based in Baku.
Image Source: United States Department of State via Flickr. Accessed 1.29.2021