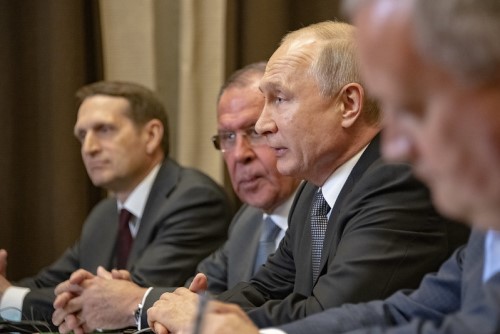 BACKGROUND: Russia has entertained close political, economic and cultural relations with both republics since their independence and has played an influential role in the Nagorno-Karabakh conflict. Both Armenia and Azerbaijan were parts of the Russian Empire and the Soviet Union. Russia is one of the mediators in the peace negotiations; it is a security guarantor of Armenia and has a strategic partnership with Azerbaijan. Russia has military bases in Armenia and is a main arms exporter to both countries. During military clashes between Armenia and Azerbaijan in recent years, the sides have agreed to ceasefires after Moscow's involvement, usually within several days. This was the case in 2016 and this year during the July clashes between Armenia and Azerbaijan. In July, Putin termed the situation very sensitive for Russia, and also discussed the developments with Turkish President Recep Tayyip Erdoğan, stressing the importance of a peaceful resolution. Indeed, the situation has become increasingly sensitive to Moscow since its relations with Baku have grown far more important than during the war in the 1990s, while Yerevan remains an ally of Russia in the Collective Security Treaty organization (CSTO).
Yet in the current war, Moscow was for long unable to achieve a lasting ceasefire. It sought to avoid direct involvement, particularly in the form of military deployments on the ground. Russia's attempts to achieve a ceasefire through negotiations between the conflicting sides in Moscow were unsuccessful and Moscow has seemed reluctant to apply overt pressure on the parties. Although relations with Azerbaijan are important to Russia, the Kremlin's disposition towards Armenia's government under Nikol Pashinyan, as well as Turkey's position in the ongoing war are arguably the main reasons why Moscow's might be adapting its policies towards the two former Soviet republics. Even before September 27, several influential Russian experts argued that Russia should avoid direct involvement to support Armenia in the conflict. For instance, on the eve of the war, Dmitry Trenin argued that although Armenia is a factor of regional balance in the South Caucasus, Russia should not militarily intervene in the conflict. In his view, Russia can and should act as a peacemaker, a mediator, but not a defender: "For cooperation … it is necessary within the limits of own interests, to also take into account the counter interests of the partner."
IMPLICATIONS: Until September 27, Moscow most likely considered its interests best served by keeping the conflict semi-frozen. However, it is now obvious to Moscow that the situation has changed and as put by Andrey Kortunov, the only way to stop the war is by giving Azerbaijan convincing guarantees that the problem of resolution will not be postponed for another thirty years. Otherwise, Azerbaijan will perceive its leadership as the loser of the war, with all subsequent political consequences … Likewise, Yerevan should be ready to make real concessions according to the formula "peace in exchange for territories", Kortunov writes. Moscow has continually provided Armenia with arms, but has rejected several appeals from Yerevan to send Russian troops or provide Armenian forces in Nagorno-Karabakh with advanced military equipment. Moscow's red line for Azerbaijan in the fighting has seemingly been Armenia's internationally recognized borders, on which Russia has reportedly set up a small military outpost.
Since the beginning of the war, Pashinyan has had several phone conversations with the Russian President and in the end of October appealed for immediate consultations in order to determine the type and amount of assistance that Russia can provide to Armenia to ensure its security. In response to Pashinyan's letter, Russia's Foreign Ministry, not Putin himself, stated that in accordance with its obligations as an ally, Russia will provide Armenia with all necessary assistance if the clashes are transferred directly to Armenia's territory. Commenting Pashinyan's appeal letter and the Russian Foreign Ministry's response, Armenia's former President Levon Ter-Petrosyan said that "Putin, with all sincerity and decency, just said that he is obligated and ready to ensure the full security of Armenia, but you should understand that in the end, I cannot solve the Karabakh issue for you." According to Jirair Libaridian, Ter-Petrosyan's former adviser, one important reason for the current situation is that Armenia has ignored what the international community, including the Minsk Group Co-Chairs, and "especially Russia have been telling us clearly and for so long regarding what they think the solution to the problem should be and [what] we should be doing. We acted [as if] they do not matter. And yet now we are appealing to them to save us, and to [do] so on our own terms."
While statements of Russian officials have emphasized that military operations are conducted within Azerbaijan's borders and hinted that Russia does not want to become directly involved in the conflict on Armenia's side, they have also called for an immediate ceasefire and a start of negotiations. Both sides in the conflict are critical of Russia's behavior. Azerbaijan mainly criticizes Moscow for supplying Armenia with arms, whereas Armenia's main reason for disappointment is Russia's reluctance to become directly involved in military operations in Nagorno-Karabakh. Alexandr Baumov notes that while Russia may have reasons to help Armenia, it has no reason to punish Azerbaijan: "Neither the Russian government, nor the public have cause to blithely deploy the country's military force against Azerbaijan."
In this regard, a range of Russian experts from liberals to prominent statists (gosudarstvenniki), have argued against direct Russian direct military intervention in internationally recognized Azerbaijani territories. For instance, Sergey Karaganov states that he strongly opposes sending Russian peacekeepers to Azerbaijani territory but that Russia should intervene if the territorial integrity of its CSTO ally comes under threat. It thus seems that a process is underway to optimize Russia's policies in the post-Soviet space and to synchronize ambitions with preconditions and realities on the ground. Moscow "reflects on what we need and what we don't need," writes Fyodor Lukyanov while Vladimir Frolov argues that the cost of Russia's dominance in the post-Soviet space is too high and can only be motivated in the most desperate scenarios when existential interests of the state are affected. In most cases, especially where there is no common border with Russia, post-Soviet domination is a luxury, not a "vehicle" to national development goals, according to Frolov.
Another issue is Turkey's tangible involvement in the South Caucasus. Although Moscow seeks to maintain a dominant position in the region, Russia can manage to coexist peacefully with Turkey in the Caucasus, similarly to its relations with China in Central Asia. Moreover, given the limited attention paid to the region by the U.S. and the EU, Russia will have to interact more with the regional powers Turkey and Iran. Dmitry Trenin suggests that the Astana format can become a platform for coordinating interests in a fairly wide geopolitical space. Moreover, President Putin did not rule out a change in the format of the OSCE Minsk Group on the Nagorno-Karabakh conflict.
Finally, on November 9, Azerbaijan and Armenia agreed on a truce with Russian mediation. They signed a joint statement on ending the war, according to which the Armenian military should leave occupied Azerbaijani territories and Azerbaijan halt its military operations. Russia will deploy about 2000 peacekeepers to the region. According to Azerbaijan's President, Turkish peacekeepers will also be deployed, but Russia has not confirmed that.
CONCLUSIONS: As President Putin has stated several times, the conflict between Armenia and Azerbaijan is indeed a very complicated issue for Moscow. Moscow has avoided both to become directly engaged in the conflict on the Armenian side and to complicate relations with Azerbaijan and NATO member Turkey. Although Moscow has continually called for a settlement and negotiations, it also seeks to retain the strategic balance in the South Caucasus. On the one hand, Moscow cannot allow Armenia to be completely defeated. On the other, it needs to avoid inflaming relations with Baku and unnecessarily antagonizing Turkey, whose relationship with Russia is already strained, in this region. This is indeed a tough mission. On the other hand, the position that Russia has taken during the war might denote the beginning of a revised Russian policy regarding relations with former Soviet republics, which is based less on historical legacies and responsibilities than on current interests.
The deployment of peacekeepers in Karabakh confirms Russia's position as a patron for Azerbaijan and Armenia for many years. If the deployment of Turkish peacekeepers in the region is confirmed, this could be interpreted as an agreement between Moscow and Ankara on "joint governance" in a number of issues in the South Caucasus, however on Moscow's terms.
AUTHOR'S BIO: Nurlan Aliyev (@anurlan) is a Warsaw based expert. From 2000 to 2017, he worked as an expert at various government, non-government, and international institutions. His research area is primarily focused on Russia's foreign and security policy, post-Soviet countries, strategic studies, and asymmetric warfare. He holds a Ph.D. in philosophy. Currently, he is completing his second Ph.D. on Russian security policy at the University of Warsaw.
Image Source: United States Department of State via Flickr accessed 11/10/2020