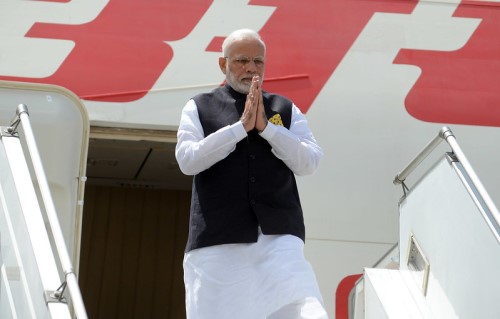 BACKGROUND: Beijing and Tehran are expected to finalize a major trade deal, which will bring US$ 400 billion worth of investments to Iran. The agreement is a part of a 25-year economic and defense partnership that will offer China a subsidized supply of Iranian oil.
In return, China plans to involve Iran in its global Belt and Road Initiative (BRI) by developing ports, rail projects and deepening security and intelligence cooperation with the country.
The development comes amid speculations that Tehran has decided to drop New Delhi from a major rail project. There are growing concerns that China may also push India out of Iran's strategic Chabahar port project, undermining New Delhi's future trading channels into Central Asia.
Both developments have been welcomed in Pakistan, since the country's economic and security interests are greatly associated with China. In Pakistan, the development is being characterized as carrying the potential for bringing Iran and Pakistan closer, something that can benefit Islamabad's security and economic interests on the Western border.
India's potential loss of the Chabahar port to China may bolster the development of Pakistan's Gwadar port, which China is constructing. If China becomes the sole investor and developer in both projects, this will drastically reduce the risk of competition and other subversion efforts.
Notably, Pakistan shares a border of over 900 kilometers with Iran. The border region forms a hub of China's BRI project under the CPEC. Iran and Pakistan's border region remains restive and militant groups, mainly ethnic Baloch groups, continue to target Chinese development projects and other economic interests in the region.
China's growing economic and defense foothold in Iran will likely contribute to reducing China's and Pakistan's security and political troubles along the Iranian border stretch. The development risks virtually isolating New Delhi and disrupting its plans to challenge Beijing's growing political and economic foothold in the region, particularly its efforts to exclude China from developing CPEC in the disputed Jammu and Kashmir territory.
IMPLICATIONS: The trade deal between Iran and China will have strategic implications for Pakistan's and India's continuous efforts to undermine each other's interests in the region.
As China plans to invest billions of dollars in Iran, ties between Pakistan and China appear set to deepen further and most of this would take place at India's expense. For a long time, Pakistan has enforced an embargo against Indian shipments when it comes to permitting access to Afghanistan and Central Asia. Therefore, "Chabahar on Iran's southern coast is a crucial piece of India's seaborne foreign policy and economic strategy." The loss of the Iranian port would jeopardize a key dimension of India's Central Asia policy.
Moreover, Iran's cooperation with China will take place under the BRI framework. Essentially, this opens an opportunity for Iran to join the CPEC and become a stakeholder in the project – in turn incentivizing Iran to guarantee security for the project along its border with Pakistan. Iran, Pakistan and China could also develop joint security and intelligence efforts to thwart potential subversion efforts.
Pakistan's policymakers would not be averse to a troubled relationship between India and China. The recent military clashes between the two powers has further motivated Beijing to counteract New Delhi's plans to extend its political influence in the region – something that Pakistan has sought to achieve for a long time. According to Phunchok Stobdan, longtime analyst and India's former ambassador to Kyrgyzstan, "The Chinese have always propped up Pakistan to stop India's access to Central Asia. If China wanted, it could allow India access to Central Asia through Xinjiang, but China is trying to contain India's outreach."
Arguably, China's investments in Pakistan's Gwadar port pushed India to follow through on its decade-long interest in Chabahar. In 2016, during a state visit to Iran, India's Prime Minister Narendra Modi committed US$ 20 billion to infrastructure projects including US$ 500 million to develop the Chabahar port. However, without the port, India would be unable to develop a direct route to Afghanistan and Central Asia.
More importantly, the deal could also eclipse India's Afghan policy. Historically, Pakistan and India's tug of war in Afghanistan has undermined the Afghan peace process. In this context, Pakistan, China and Iran have supported an Afghan peace process that also projects the Taliban as a major political player. The three countries all have good relations with the Afghan Taliban, who are seeking to return to power after the conclusion of the intra-Afghan peace process. New Delhi, however, does not have a working relationship with the group and has always opposed efforts to engage the Taliban. Recently, the Afghan Taliban accused India of playing a negative role in Afghanistan by supporting a "corrupt government" instead of the nation. An increasing role of the Taliban in Afghan politics may undermine India's political, diplomatic and security interests in the country and essentially eradicate India's foothold in Afghanistan.
Considering that China's broad economic vision aims to connect Central Asia with the European markets via Afghanistan, Pakistan and Iran, India's exclusion appears highly detrimental to New Delhi's regional security and economic interests.
CONCLUSIONS: Iran's growing dependency on China benefits Pakistan greatly as it reduces the threat posed by India's presence on the country's Western border and would weaken the Chabahar port's role as a potential competitor to Gwadar. In light of an increased interdependency between China and Iran, the latter will have to contain militant groups that actively undermine Beijing's economic interests in the region, particularly in Pakistan.
These developments are highly disadvantageous for India, politically and economically. It remains to be seen whether India considers cooperating with China's economic vision for the region and becoming more pliant to Pakistan, which remains in a position to cut off India's trading routes to Afghanistan and Central Asia.
AUTHOR'S BIO: Umair Jamal is a Ph.D. candidate at the University of Otago, New Zealand and the Diplomat Magazine's correspondent in Pakistan. His areas of research include counterterrorism and security issues in the Pak-Afghan region. He has consulted with various think tanks in Pakistan and globally and has published for a number of media outlets including Al-Jazeera, Foreign Policy, SCMP, and the Huffington Post.
Image Source: Arrival of Narendra Modi, Prime Minister of India by G20 Argentina is licensed by CC BY 2.0 / resized from original