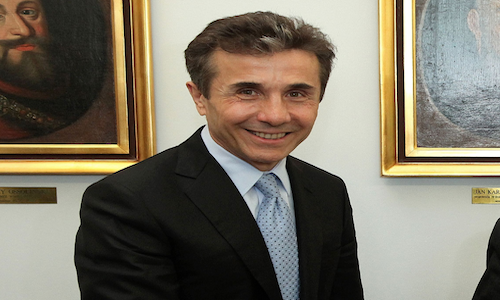 BACKGROUND: On October 28, Georgia held the first round of its last-ever presidential elections (future presidents will be chosen directly by the Georgian parliament). The event was expected to be rather quiet, as the Georgian president fulfills largely ceremonial duties. But the selection of Salome Zurabishvili, a gaffe-prone and foreign-born politician, as the primary candidate of the ruling GD party created a much closer race than anticipated. Zurabishvili narrowly topped the main opposition candidate, Grigol Vashadze of UNM, in the first round, without securing a majority. She was eventually able to triumph decisively in the November 28 runoff with 59 percent of the vote, after several scandals and accusations of vote-buying in the interim.
Despite this victory, GD is not in a strong position. The choice of Zurabishvili (who officially ran as an independent but was closely backed by GD) was emblematic of Ivanishvili's style of leadership, which has increasingly come to chafe the Georgian electorate. The multi-billionaire Ivanishvili, who served as Georgia's Prime Minister from October 2012 to November 2013 and is considered to wield enormous power behind the scenes ever since, made his official return to Georgian politics by reassuming leadership of GD in April 2018. Against the near-unanimous counsel of his advisers, who warned that Zurabishvili was a disliked figure likely to alienate voters, Ivanishvili insisted on her nomination. He became more closely linked to her as the campaign intensified following the close-run first round, even appearing on billboards without the candidate herself.
Over the past year, the popularity of Ivanishvili and his government have taken a beating. Repeated scandals, growing inequality, and environmental concerns have shaken public confidence in Ivanishvili's leadership: in a June 2018 poll conducted by the National Democratic Institute, a U.S. think tank and public opinion research group, 62 percent of the respondents said they believed the country was going in the wrong direction. Those polled indicated worsening poverty, growing corruption, and a failure of recent economic growth to provide trickle-down benefits, with only 3 percent assessing the economy as "good." Ivanishvili's vague promises to "improve the lives of Georgia's citizens" have largely rung hollow after six years of similar rhetoric.
IMPLICATIONS: The elections primarily indicated just how weak GD has become. It is a testament to the party's political ineptitude that what should have been a perfunctory event was instead transformed into a major referendum on Ivanishvili and GD, or Saakashvili and UNM. Far from successes, 2018 was a year plagued by scandals for the GD administration. One resulted from the decision to send Special Forces to raid one of the city's most popular nightclubs on a Saturday night in May, ostensibly searching for drug dealers who, it emerged, had already been arrested beforehand. The resulting protests against police conduct came to encompass large sections of Georgia's liberalized younger generation, including the LGBT community, often targeted by harassment. These protests were met by mass far-right counter protests, including groups displaying swastikas and giving the Nazi salute. Even larger in scale were the demonstrations led by a pair of grieving fathers, Malkhaz Machalikashvili and Zaza Saralidze, seeking answers regarding their slain sons. Machalikashvili's son died from injuries sustained in an ill-explained December 2017 raid by Georgian Special Forces on their home in the Pankisi Valley. Saralidze's son was stabbed to death the same month by a fellow student in an incident whose legal resolution has been marred by nepotism. The two fathers have since gathered support and have camped in front of parliament since May, demanding transparency. Despite nine months of continuous protests, the GD administration has failed to deliver any further evidence of what occurred in either event, increasing the perceptions of Ivanishvili's unaccountability.
The campaign also served as a reminder of just how much Georgian politics are defined by two figures alone, much more than by parties or institutions. Ivanishvili and Saakashvili have formed a duality of Georgian politics for the past eight years; in this time, there have been few national figures even approaching their level of influence. In some ways, this reflects what some have dubbed a "messiah complex" that characterizes the Georgian populace's approach to their leadership. Much like Saakashvili and Ivanishvili at the start of their respective rule, Georgia's first president Zviad Gamsakhurdia, who led the country through the collapse of the Soviet Union, was initially hailed as a national hero. Great hopes were also invested in his successor, former communist-era leader Eduard Shevardnadze, to halt and reverse the anarchy Georgia had descended into. Even the campaign rhetoric of the two current titans of Georgia's political landscape were focused mostly on each other rather than their own policies: GD lawmakers urged the populace to prevent the return of the "bloody Saakashvili regime," while UNM cited Ivanishvili's undoing of the achievements of their tenure. The two leading Georgian news channels, Imedi TV and Rustavi 2, were each rallied to the side of their patrons (GD for the former, UNM for the latter) to broadcast highly biased coverage for the entirety of the campaign. The primary messages from Ivanishvili and Saakashvili remains how only they and their team can deliver Georgia from stagnation.
A final observation concerns the danger an undue command of financial resources can pose to democracy. With an estimated wealth of US$ 5.65 billion, Ivanishvili's personal fortune is roughly one-third of Georgia's entire annual GDP. This ratio is far higher than anywhere else in Europe in terms of one man's financial power relative to the country as a whole, leaving him uniquely well-positioned to leverage his personal resources for political means. The OSCE preliminary report on the run-off vote cited numerous concerns regarding vote-buying and stated that the GD-backed candidate (i.e. Zurabishvili) received the "vast majority" of donations. Such an environment does not augur well for free and fair elections in Georgia.
CONCLUSIONS: The Herculean efforts required by Ivanishvili and his GD administration to deliver a victory to their candidate in last fall's presidential elections reflects the widespread public disillusionment after six years of GD rule. Numerous scandals and a failure to deliver on economic promises have alienated voters, while neither GD nor the opposition UNM have offered the electorate much beyond attacks on each other. Given the growing apathy, it would seem that Georgia's political atmosphere is ripe for a new force able to break with the increasingly discredited existing parties. However, given the vast tract of administrative and financial resources commanded by Ivanishvili in particular, this will prove a difficult task, and no obvious contenders presently exist. As it stands, 2019 will seemingly offer little different in the Georgian political landscape beyond a deepening of the present malaise.
AUTHOR'S BIOS:
Neil Hauer is an independent security analyst and journalist based in Tbilisi, Georgia. His work focuses on the Syrian conflict, particularly Russia's role, politics and minorities in the South Caucasus, and violence and politics in the North Caucasus, particularly Chechnya and Ingushetia, where he conducts regular fieldwork. He holds an MA in post-Soviet studies from Carleton University and previously served as senior intelligence analyst at The SecDev Group in Ottawa, Canada for three years.
Image Source: The Senate of the Republic of Poland via Wikimedia accessed on 3.13.2019