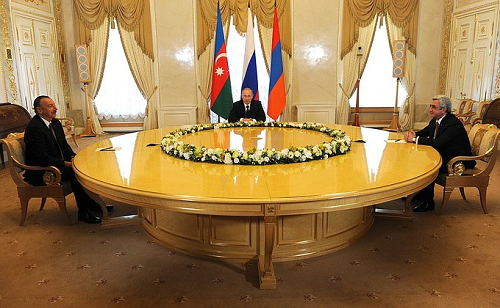 BACKGROUND: In the last year, Russia and Armenia have taken major steps to enhance the latter's military and thus deterrence potential vis-à-vis Baku. These actions include the establishment of a joint Russo-Armenian air defense for the Caucasus and joint forces to "ensure security in the Caucasus region of collective security"; ongoing modernization of Russian bases in Armenia; Armenian lobbying to increase the effectiveness of the Collective Security Treaty Organization (CSTO); a new agreement on new weapons transfers to Armenia and the development of overall military-technical cooperation; and most significantly the transfer to Armenia of the Iskander-M missile – a dual-use missile that comes in both cruise and ballistic missile variants.
To add fuel to this fire, Armenian officials claim that they received the Iskander from Russia at subsidized prices and that it is entirely under Armenian control. Whether or not this is truly the case – it is admittedly a rather inconceivable proposition that Russia would be unable to assert control of the system – this marks the first time Moscow has ever transferred an Iskander missile abroad and therefore another reckless step taken by Moscow in the military sphere. Although Moscow undoubtedly sought to upgrade Armenia's deterrence capability, the terms under which Armenia claims to have received the Iskander and President Sargsyan's stated readiness to use it have not calmed things down but infuriated Baku.
Although no response has been announced, Baku has given notice that it is contemplating its own ripostes, either by acquiring foreign missile defenses for example from Israel or by developing or acquiring its own offensive missiles to raise the ante on Armenia. Thus a new escalatory spiral and arms race appears to be taking place over Nagorno-Karabakh.
Beyond strengthening Armenia's deterrence capability and its own standing in Yerevan's eyes, Moscow has also strengthened its position in Armenia and throughout the Caucasus by deploying the Iskander along with troops and other arms systems to its base in Gyumri, Armenia, and in the Caucasus more generally. It has clearly intervened on behalf of Yerevan and Foreign Minister Lavrov subsequently announced that the Nagorno-Karabakh issue is not merely an Azerbaijani or Armenian one, meaning that Russia will weigh in on its resolution.
IMPLICATIONS: Moscow has qualitatively escalated the Nagorno-Karabakh conflict. Armenia's claim to have both unlimited control and command of the system and willingness to use it have already further heightened the tension in the Caucasus, underscoring the recklessness of transferring such systems even if legal loopholes exist for doing so. Of course, the transfer to Armenia also shows that Moscow is not a neutral arbiter between Baku and Yerevan, quite the opposite.
It seems clear that Azerbaijan has only been deterred for the moment and is considering how it can regain control of the escalation for its own advantage. Thus Moscow's overall policy of enhancing Armenian deterrence by tying Armenia to Russia's military is not likely to succeed. Furthermore, Moscow has once again demonstrated a lack of good judgment, which is a fundamental legitimating factor in its claims to dominate the former Soviet space. Moscow has therefore called that capability and the effectiveness and viability of its domination of the former Soviet territory into question as well.
These developments raise several questions. Could Moscow serve as an impartial arbiter if conflicts arise between other members of the CSTO in Central Asia? Would it transfer the Iskander to Central Asian countries for use against terrorist forces operating out of Afghanistan? Alternatively, is there a possibility that comparable weapons could be offered to the Taliban given the rumors now surfacing about Russian weapons transfers to them? Indeed, the transfer of the Iskander system to Armenia open up decidedly dangerous new vistas for the conflicts occurring around Russia's frontiers, not to mention Syria.
Beyond the Caucasus, we now must reckon with the possibility of Moscow selling versions of the Iskander missile to other partners and customers, including China and Iran. Should Iran acquire Iskander conventional or nuclear missiles, the longer-term potential outcome would be massive destabilization. The sale of nuclear capable missiles to third parties also counts not only as a step against non-proliferation but also as another sign that international norms play little or no role in Russian policy despite many statements by its officials to the contrary. If Moscow is prepared to transfer the Iskander to Armenia at subsidized prices, what will happen when China or Iran offers to buy it at full price? Given the cupidity of Russia's defense industrialists and the pressures squeezing their revenue flows, either authorized or unauthorized transfers of this and other weapons out of Russia are factors that can gravely destabilize other regions on their own. The Syrian example comes into play here; Moscow was responsible to a considerable degree for supposedly eliminating Syrian chemical weapons and yet Syria has acquired the nerve gas agent Sarin from somewhere with devastating consequences.
Moreover, beyond threatening Azerbaijan, Russia's deployments throughout the Caucasus also threaten the Middle East, including Turkey. They isolate both the Caucasus and the larger Black Sea Basin, as well as parts of the Middle East from NATO military power. By creating a combined arms anti-access and area denial capability (A2AD) here, Moscow has made unmistakably clear to NATO that it will be kept out of the Caucasus and that countries like Georgia are now militarily isolated. In addition, the network of bases in the Caucasus and the capabilities deployed there will be linked to Moscow's growing network of bases in Syria and potentially in Iran to threaten further power projection, possibly even into the Gulf.
These issues furnish ample incentive, if not justification, for U.S. and Western involvement in formulating and implementing a viable resolution of the Nagorno-Karabakh conflict. The widespread belief that this conflict will not remain frozen and that the consequences of that "unfreezing" will be catastrophic, not only for Armenia and Azerbaijan, appears to have even greater validity due to the Russo-Armenian escalation.
In other words, what happens in the Caucasus does not stay in the Caucasus. The repercussions of the Russo-Georgian war of 2008 confirm this observation and the Azerbaijani-Armenian conflict displays qualitatively better weapons and protracted ethnic hostility among the belligerents that makes surrender less likely. Moreover, the proliferation concerns raised by this escalation should give policymakers in many countries pause because, like the events in Syria, they open the door to greater escalation in other conflicts as well. Hitherto the Minsk process has been distinguished more by its inactivity than by its sense of urgency. Yet given the events of 2016 and this subsequent escalation it is hard to see any continuing justification for Western passivity.
By any account, Moscow has also disqualified itself as a mediator or valuable interlocutor and leaving the area to its tender mercies not only jeopardizes pro-Western states like Georgia and Azerbaijan, but also compromises Turkish, Middle Eastern and European security. Indeed, Russia's actions confirm that the only logical result of its increasingly desperate efforts to sustain a neo-imperial hegemony in the former Soviet space is unending war that threatens to escalate both qualitatively and territorially. Leaving the Caucasus to Moscow is thus a surefire way of ensuring the permanence of war there.
CONCLUSIONS: The Western passivity implicit in ignoring this war is unjustified given the fact that a qualitatively escalating arms race is now under way due to the introduction of advanced missile capabilities to the conflict and Armenia's boasts about being in full control of them. While it is difficult to imagine that Russia would simply relinquish command and control over these systems to a state already at war, the sale of these weapons is sufficiently disturbing as to justify strengthened foreign diplomatic involvement. The proliferation issues involved demonstrate that a new round of fighting will reverberate globally and not stay confined to the Caucasus. Given the many conflicts in and around Eurasia and the situation revealed by this escalation, on what basis can we afford to continue in the Caucasus on the basis of business as usual?
AUTHOR'S BIO: Stephen Blank is a Senior Fellow with the American Foreign Policy Council.
Image source: en.kremlin.ru, accessed on May 12, 2017