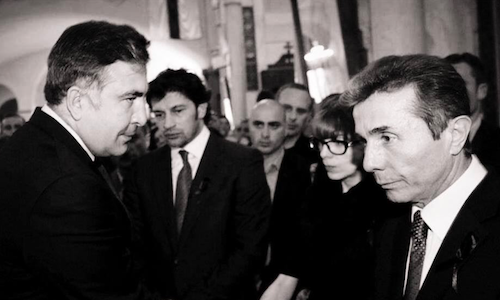 BACKGROUND: Representatives of OSCE, NATO and the EU as well as international observers noted that the elections were professionally administered and adhered to democratic standards. Nonetheless, the pre-election environment was far from peaceful – several cases of violence and political intimidation took place in the months prior to the elections, against the backdrop of a spiraling antagonism between the ruling GDDG and the oppositional United National Movement (UNM) and members of both parties and their supporters were targeted in pre-electoral disturbances. Competition became more heated in the final weeks before the elections, as GDDG and UNM politicians accused each other of creating an atmosphere of violent confrontation and destabilizing the country.
One of the most controversial incidents, which happened in the final weeks of election included the dissemination of illegally acquired recordings of private conversations, seemingly aimed to informally shape the voting result. In particular, private recordings surfaced on the Internet on September 27, featuring former President Mikheil Saakashvili encouraging leading UNM members to prepare for a violent seizure of power in case UNM loses the election.
On October 2, former Defense Minister Irakli Okruashvili, running as an independent majoritarian candidate, was attacked with a firearm while meeting with voters in Gori. Okruashvili accused a relative of GDDG's campaign chief Kakha Kaladze of using criminal groups for political purposes during the Gori assault. GDDG representatives quickly denied these accusations and rejected any politically motive for the incident.
On October 4, a car belonging to Givi Targamadze, a UNM MP and a close ally of Saakashvili was blown up in central Tbilisi. Targamadze was not harmed, but his driver and several passers-by sustained injuries. Targamadze as well as high-ranking UNM officials, including Saakashvili and Davit Bakradze, subsequently implied that Georgian authorities and the founder of Georgian Dream party, Bidzina Ivanishvili, might be responsible for the explosion.
IMPLICATIONS: Violent incidents occurred also on voting day. In its preliminary statement released after October 8, the OSCE election observer team noted that rising tension and procedural obstacles resulted in several violent clashes near the polling stations, as well as problems with the vote counting. Violent outbreaks also took place on October 30 during the second round of elections. In a clash between GDDG and UNM activists in Gori district in central Georgia, one UNM supporter was physically assaulted and several others were detained.
According to international and Georgian observers, the turbulent pre-election environment had no significant impact on voting results, but the low approval ratings for both major political forces in the country and a low turnout, which reached only 51.6 percent during the first round and 35.7 percent in the runoffs suggest that the voters are tired of the constant political confrontation, and its negative influence on the country's stability. Furthermore, the violent pre-election environment may have undermined the level of participation in the elections.
Three political parties crossed the 5 percent threshold to secure seats in the parliament. Georgian Dream-Democratic Georgia received 49 percent of the votes in the first round, which translated to 44 seats from proportional party lists and 23 seats from single-mandate constituencies. After runoff elections, GDDG was able to win in 48 out of 50 majoritarian districts. In total, the ruling party will have a constitutional majority of 115 mandates in the 150-seat parliament. The ability of one party to establish such a position in parliament sparks concerns in Georgia, due to the past negative experiences of UNM's majoritarian rule. Many fear that GDDG might not be able to resist the temptation to weaken other democratic institutions intended to balance governmental power and could revert to autocratic tactics.
Moreover, several legislative changes proposed by the ruling party are highly questionable. GDDG has proposed that the constitution should be amended to contain a definition of the marriage as "a voluntary union of a man and a woman for the purpose of starting a family" to protect important values of marriage. Such an amendment will place a constitutional ban on same-sex marriages, which will shape all normative acts in this sphere and will be difficult to liberalize since altering the constitution requires a stringent procedure and a constitutional majority. Therefore this move is criticized by the LGBT community and human rights defenders in Georgia and abroad. A second controversial proposed amendment poses that the president will be elected by parliament rather than through a direct vote, which can severely weaken presidential power against the parliamentary majority.
GDDG will also likely proceed to change the law on Georgia's occupied territories. The amendments will concern one article, according to which a person who visited the break-away regions of Abkhazia or South Ossetia is denied entrance to other parts of Georgia. GDDG representatives assure that amendments to this article are essential for maintaining commercial and private ties with the break-away regions, which is especially important for split families. However, some observers fear that this will jeopardize Georgia's security and is a sign of submissiveness towards Russia.
UNM came in a distant second, receiving 27 percent of the votes in the first round and no mandates in majoritarian run-offs. UNM pursued a victory in the elections by seeking to capture large parts of GDDG's voters, who were seemingly disappointed in the ruling party. However, the strategy yielded a weak result, especially in comparison to the previous parliamentary ballot where UNM was able to secure 40 percent of the total votes. As GDDG achieved a constitutional majority, UNM is in danger of becoming a small opposition party with no real influence on the legislative process.
After the first round, UNM leaders claimed the elections were falsified and engaged in arguments about the reasons for their party's failure. Some UNM members and supporters have placed the blame on Saakashvili, the party's leader in exile in Ukraine, who engaged intensely in the pre-electoral campaign from a distance. They criticized Saakashvili for his unconstructive statements and electoral promises, which allegedly put off many voters. Voters also gave the former president an indirect red flag when his wife, Sandra Roelofs, failed to win her majoritarian district. It is clear that UNM is in need of a new leadership with a fresh approach, lest a deep internal crisis might lead to the party's further demise.
Contrary to the warnings of many experts, pro-Russian political parties did not gain significant voter support in these elections. Alliance of Patriots, which is a six-party election bloc, barely cleared the threshold and has won only 6 seats in parliament. The far-right alliance favors deeper integration with Russia and warns against Georgia's integration with NATO and the EU. Nino Burjanadze's pro-Russian Democratic Movement-United Georgia did not make it into the legislature. Similarly, two liberal pro-Western parties – Irakli Alasania's Free Democrats and David Usupashvili's Republican Party – failed to clear the threshold. Many observers concluded that growing disappointment with the West resulted in the electoral failure of these parties, but this factor should not be overstated. Most probably, the lack of a successful strategy that could make a "third political force" attractive to the voters and their inability to form a coalition were the main reasons behind their defeat.
CONCLUSIONS: Achieving a constitutional majority in the recent parliamentary ballot will allow GDDG to realize its electoral promises without constraints. Thus, its previous tactic of constant confrontation with UNM, which GDDG has held responsible for hindering the country's development, will now be invalid. Yet several important factors could hinder GDDG's reform agenda. The faltering economy caused by a downturn in the economies of Georgia's partner countries and the worsening socio-economic conditions experienced by the majority of Georgians are among the major challenges to tackle in coming months. Secondly, the spiraling confrontation between Russia and the West over Ukraine and Syria has an indirect but serious impact on Georgia's stability. Unfortunately, due to geopolitical and economic constraints, GDDG has little room for maneuver in dealing with these problems.
AUTHOR'S BIO: Natalia Konarzewska is a graduate of University of Warsaw and a freelance expert and analyst with a focus on political and economic developments in the post-Soviet space.
Image source: Wikimedia Commons, accessed on November 25, 2016