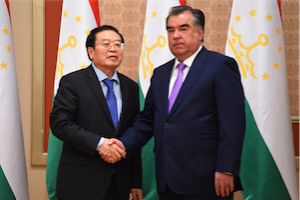 BACKGROUND: The initiative marks a major policy innovation for China, but it should not have been unexpected. China's Foreign Minister Wang Yi has already indicated that China will build "some infrastructural facilities and support abilities" abroad, i.e. foreign bases, starting in Djibouti. Likewise, China has greatly enhanced its investments in Afghanistan and the staggering amounts of money it will invest into the One Belt One Road program (OBOR) amount to hundreds of billions of dollars for infrastructure, communications, energy, transportation, etc. Given those sums and the scope of the program, it logically makes sense that China might want to protect its investment in Central Asia.
Moreover, this may represent China's answer to an earlier Russian offer of an alliance with China against terrorism and color revolutions made by Defense Minister Sergei Shoigu and his Deputy Anatoly Antonov in Beijing in November 2014. There is reason to believe that this indicated Russia's desire for an alliance in Central and East Asia. Although China then turned down the offer because it did not support alliances, China may already then have been thinking about other options.
On December 16, 2014, right after Shoigu's visit, Prime Minister Li Keqiang, speaking in Astana, proposed that that the Shanghai Cooperation Organization (SCO) should become the "guardian of Eurasia." This suggestion was obviously linked to concerns over the security of the OBOR project. In August 2014, Russia and China held their largest SCO exercises to date, where China contributed J-10 and J-11 fighters, JH-7 early warning assets and control aircrafts, and WZ-10 and WZ-19 attack helicopters.
This was an early sign that China might actively contribute to the struggle against the terrorist organization calling itself the Islamic State (ISIS) and support coalition air strikes, however, independently and apart from the U.S. coalition. This too would mark a revision of past Chinese policies and could indicate an impending major policy change towards a genuine Sino-Russian military-political alliance in Central Asia against terrorism and Islamism in all its forms. Obviously that trend, if it materializes, would have profound implications for world affairs, going far beyond Central Asia.
Russia's 2014 proposal also portended commensurate Chinese moves. Russia's 2015 defense doctrine proposes to "coordinate efforts to deal with military risks in the common space" of the SCO. It also provides for the creation of joint missile defense systems. While Moscow has pursued this with the West in the past, this could also be a warning or offer to join China in the creation of such systems. Although analysts like Dmitri Trenin deny that Moscow is seeking an alliance with China, Defense Minister Sergei Shoigu said in Beijing that Russia and China confront not only U.S. threats in the Asia-Pacific but also U.S. policies that allegedly bring about color revolutions and support for Islamic terrorism in Southeast and Central Asia. Therefore, "the issue of stepping up this cooperation [between Russia and China] has never been as relevant as it is today." Shoigu advocated enhanced Sino-Russian security cooperation (through unspecified means) both bilaterally and within the SCO. He included not only Central Asia but also East Asia.
Shoigu further stated that "In the context of an unstable international situation the strengthening of good-neighborly relations between our countries acquires particular significance. This is not only a significant factor in the states' security but also a contribution to ensuring peace throughout the Eurasian continent and beyond."
Aside from these indications of receptivity to a Chinese military posture in Central Asia, albeit under Russian leadership, developments in China also foreshadowed this new interest in a military alliance. For example, China could use its new anti-terrorism law that allows for foreign counter-terrorist operations, to intervene in Middle Eastern or Central Asian states against terrorist operations with these countries' consent. China's army has already appeared in Pakistan-occupied Kashmir.
In this same context, China's Military Strategy White Paper talks about expanding military exchanges, creating a regular mechanism for security cooperation and joint anti-terrorist activities, including continuing maritime operations like that in the Gulf of Aden. The base at Djibouti assumes new importance as a crucial facilitator of Chinese trade and naval presence in the Indian Ocean and as the basis for rapid deployment of naval power to North Africa, the Middle East, and even South Asia while protecting key trade routes to Africa, the Middle East, and Europe. There are already ample precedents, as well as material and strategic incentives, to foster a new military alliance in Central Asia under the guise of anti-terrorism.
IMPLICATIONS: Although the Russian government has officially remained calm, with spokesmen saying that this is about defending borders, journalistic commentary quickly grasped the implications of General Fang's announcement. Alexander Knyazev wrote in Nezavisimaya Gazeta that this initiative, if implemented, would undermine the whole basis of the SCO and Russia's Collective Security Treaty Organization (CSTO), which pledges to defend Central Asian states against precisely these kinds of threats. Moreover, this new organization would signify a major move forward, commensurate with Foreign Minister Wang's discussion of foreign bases to include not just naval, but also ground- and possibly air force bases and the enhancement thereby of the power projection capability that China has long formally shunned.
In this context, it is interesting that Tajikistan, with good cause, has remained silent. Although the recent large-scale Russian exercises with Tajikistan may have been a pointed reminder of Moscow's leadership ambitions and capabilities in Central Asia, according to Joshua Kucera, we cannot postulate that conclusion as definitive. But it would also be interesting know the reactions of other Central Asian states as well as Pakistan who, one suspects, cannot be too enthusiastic about the appearance of the PLA on or near their territories. Neither will India be happy about this development, especially if China's military presence in Pakistan increases.
There is reason to suspect that this initiative links up with the ongoing unilateralism with regard to overall Asian security we now see in Chinese policy, e.g. the militarization of the South China Sea in the face of mounting Asian opposition and the continuing tensions with Japan in the East China Sea. As this writer has argued elsewhere, China is currently attempting to mollify Russia by giving it more loans and investments in the energy sector and enhancing intergovernmental cooperation across many fields. But if this gambit is real, it will exacerbate the always-latent suspicions in Moscow that China is playing Russia and subordinating it to larger Chinese aims. Certainly that appears to be the case in the OBOR grants scheme where Russia will participate, but probably largely on China's terms.
China's initiative certainly bears watching. It could portend a major new development in Chinese policy and in Central Asia's overall security with profound and lasting implications for the region. It certainly bespeaks China's sense of its growing power and wealth and the Chinese government's determination to translate those capabilities into lasting strategic assets through the OBOR project and the associated expansion of naval capabilities and bases. But it may also signify a broader military policy and a renunciation of the past policy that formally rejected military involvement in Central Asia.
This initiative would also comport with the growing signs of China's military-economic-political interest in playing a larger role in the Mediterranean and Middle East. That interest certainly correlates with the campaign against Islamic terrorism and pirates in the Gulf of Aden, the joint naval exercises with Russia in the Mediterranean in 2015, and the proliferation of economic deals with Middle Eastern states in the last few years that are part of the OBOR project and China's huge energy demand. Thus it is clearly part of the larger trend of China's rising wealth and power in world affairs and the government's determination to make China's influence felt well beyond China's borders.
But it remains an open question just how effectively China can project military power into Central Asia. For all its rhetoric, the CSTO has conspicuously shunned involvement in Central Asian crises, including the recent flare-up between Uzbekistan and Kyrgyzstan. Whatever this tells us about Russian policy, it also suggests the abiding reluctance of Central Asian states to entrust vital security decisions to externally led security organizations and forces. That reluctance will almost certainly manifest itself in response to Chinese efforts to create a basis for its foreign military deployments and operations in Central Asia.
CONCLUSIONS: The Russian experience also suggests that Central Asian states will not only be as wary of inviting China to defend them as they are about Russia, it also indicates how difficult it might be for China to make this new organization actually work. The new security formation certainly registers Chinese intentions but it is by no means clear that it can be translated into an effective provider of security, or that China can or will succeed where Russia has been consistently reluctant to do more than talk big. Nevertheless, China has now thrown down a challenge to Central Asia to which interested parties must respond. And that response betokens profound changes in regional and international security whose direction cannot be ascertained at present, but which will undoubtedly be highly consequential.
AUTHOR'S BIO: Stephen Blank is a Senior Fellow with the American Foreign Policy Council.
Image Attribution: www.eurasianet.org, accessed on May 3, 2016