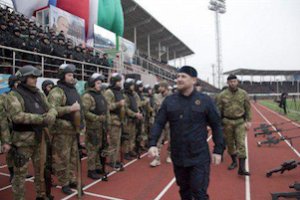 BACKGROUND: Outraged by the first demonstration in Vienna in December, Kadyrov publicly pledged to track down the relatives of the protestors, pointing to what he called a Chechen custom stipulating that "a brother answers for his brother." In a speech broadcast by Chechen TV, Kadyrov explicitly asserted that he "gave instructions to find out whether they have brothers and fathers, which clan they belong to, where they were born, and who they are." Kadyrov also pledged to use "every available resource" to make sure that the Chechnya-based relatives "sorted things out" with their defiant family members abroad: "If they don't make any decisions, we will demand that they do."
In the past, the tradition of collective responsibility or punishment – or blood feud in its ultimate form – has worked as an effective deterrent against tyranny and inter-communal warfare in a society without strong traditions of statehood and feudal stratification was largely underdeveloped. Against the background of absent or weak authorities, individual clans were responsible for defending their own members, which eventually balanced the competing clans and their aspirations. At the same time, individual clan members constantly had to take into account the dire consequences of violating the customary law. As a result, as Semyon Bronyevsky, a Russian general and ethnographer aptly put it at the beginning of the nineteenth century: "There are many small tyrants in the Caucasus, but there is no apparent autocracy." During the Tsarist and Soviet periods, the clan-based Chechens maintained their age-old tradition of blood feud in an effort to distance themselves from the authorities, which they regarded as alien and untrustworthy. Instead, Chechens usually sought to avoid what they saw as the authorities' intrusion into their highly sheltered communal matters. In the 1990s, facing the collapse of the Soviet Union and the resulting rise of anarchy in de facto independent Chechnya, the tradition of blood feud saw a revival. Yet it was not until the early 2000s that blood feud – or the related notion of collective responsibility – saw a significant transformation in Chechen society.
IMPLICATIONS: The Russian military largely used indiscriminate violence during the First Chechnya War. It refined its strategy in the Second Chechnya War, targeting villages and neighborhoods from which Russian garrisons or units were attacked. In the short run, this strategy proved effective as many Chechens sought to avoid retaliation in their home villages by targeting the Russian military in distant areas. The fact that Russian commanders generally lacked information on the identities of the insurgents – as most Chechens committed to non-collaboration with the occupying force – prevented them from deploying selective violence, the key to success in any counterinsurgency.
To reverse the situation on the ground, Chechen paramilitary forces known as kadyrovtsy were established in the early 2000s. Kadyrovtsy routinely used violence against the relatives of insurgents, particularly of prominent rebel commanders, to force them to capitulate or switch sides. On some occasions, the abducted relatives of insurgent commanders were executed one by one. Under these circumstances, many rebels chose to capitulate or join the kadyrovtsy. New recruits in the emerging paramilitary formation, whether former insurgents or ordinary Chechens, knew that disloyalty or defection to the insurgents' camp would inevitably lead to the execution of their relatives, ultimately ensuring that few defected from the kadyrovtsy. To further cement their loyalty, they were deployed in operations against the relatives of the remaining insurgents, which tied the fresh kadyrovtsy to the old ones – and to the Kadyrov family – by blood. This triggered a series of blood feuds between the kadyrovtsy's and insurgent's relatives, while the remainder of the Chechen population sought to remain neutral for the sake of survival (see the 05/31/2006 issue of the CACI Analyst).
With Chechen society polarized into two warring camps, relatives of the kadyrovtsy started reporting on suspicious activities of their co-villagers, which damaged local support for insurgent groups and their recruitment. Tens of thousands of Russian troops deployed to Chechnya ensured a disproportionate superiority of the kadyrovtsy, a formidable force of up to 7,000 armed men, vis-a-vis the rest of the Chechen population, let alone individual Chechen clans. Hence, many Chechens either discarded retaliation or postponed it for "better times," while most of Chechnya's population stayed away from the insurgency for fear of retribution against their families. Since the kadyrovtsy became the backbone of the local counterinsurgency in the mid-2000s, the number of insurgents shrank to dozens from a once-eminent force of several thousands.
Since the late 2000s, the Kadyrov regime has increasingly deployed the same practice of collective punishment against Chechen detractors that it has been unable to reach within Chechnya or in Russia. Imams of Chechen mosques are obliged by the regime to report on Chechen males of conscript age missing for more than three Friday prayers. If suspicions arise that these males have joined the local insurgency or, more recently, departed for Syria, kadyrovtsy visit their families. Unless they can provide a good reason why their sons or brothers are missing, they are usually held accountable. The practice of killing relatives has become rather rare in recent years, but kadyrovsti have in some instances burnt down the houses of relatives of persons believed to be members of local jihadist groups.
Since the early 2010s, Kadyrov has increasingly directed his attention to European Chechens. In some EU member states with large Chechen diaspora communities, Russian embassies have formed representations of Chechnya intended to monitor the activities of local Chechens. When inimical behavior is detected – in public gatherings or in social media – Chechen authorities seek to track down the Chechnya-based relatives of these "troublemakers" and hold them accountable. In some cases, they have been pressured to lure the regime critics back to Chechnya so that revenge can be exerted on them directly. This, too, has dramatically reduced the publicly expressed discontent with Kadyrov's policies; regardless of their dissatisfaction with the regime, many Chechens remain silent in order to protect themselves as well as their relatives.
CONCLUSIONS: Interviews with EU-based Chechen émigrés, many of whom left their homeland due to Kadyrov's vicious policies, reveal that the idea of retaliation is still alive among Chechens residing outside their republic. Likewise, hundreds – perhaps even thousands – of Chechens residing within Chechnya and Russia have not abandoned the aim of taking revenge on Kadyrov, his relatives, or his men. Nevertheless, they have postponed retaliation to a more suitable time to ensure that their entire families are not wiped out by kadyrovtsy as a consequence (see the 12/10/2014 Issue of the CACI Analyst). The tradition of blood feud has historically centered on the notion of reciprocity – with one male being retributively killed for a grave offense, fatal injury, or murder. Since the early 2000s, however, kadyrovtsy have often killed entire families, including women and children. Their superiority, backed by the Russian military, has violated the traditional clan equilibrium in Chechnya in that no single clan or group of clans is currently in a position to challenge Kadyrov's exceptional standing. Yet the current situation, where Kadyrov has pitched masses of avengers against him, hinges on the backing of Moscow. Should Moscow's backing – or Putin's regime – weaken or collapse, the Chechen leader and dozens of his relatives will likely face the same fate that they have imposed on their fellow countrymen. Kadyrov's awareness of this is one of the reasons why he, alarmed by the worsening socio-economic situation in Russia, has put great effort into convincing Putin of his infinite loyalty and practical usefulness, for instance by going extra miles to spook the opposition (03/18/2015 CACI Analyst), deploying Chechen "volunteers" in Donbas (06/04/2014 CACI Analyst), or planning to deploy kadyrovtsy in the Syrian war (11/09/2015 CACI Analyst).
AUTHORS' BIO: Emil Aslan Souleimanov is Associate Professor with the Department of Russian and East European Studies, Charles University in Prague, Czech Republic (https://cuni.academia.edu/EmilSouleimanov). He is the author of Individual Disengagement of Avengers, Nationalists, and Jihadists, co-authored with Huseyn Aliyev (Palgrave Macmillan, 2014), Understanding Ethnopolitical Conflict: Karabakh, Abkhazia, and South Ossetia Wars Reconsidered (Palgrave Macmillan, 2013), and An Endless War: The Russian-Chechen Conflict in Perspective (Peter Lang, 2007).
Image Attribution: www.tribun.com.ua, accessed on March 9, 2016