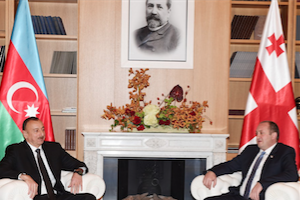 BACKGROUND: Since coming to power in 2012, the government led by Georgian Dream (GD) has sought to diversify Georgia's energy sources and supply routes. In particular, government officials suggested a resumption of large-scale gas imports from Russia, which were severed almost a decade ago. After a conflict over gas pricing in 2006, followed by a major supply breakdown, the former Georgian government undertook efforts to end its dependence on Russian gas and has since then relied on neighboring Azerbaijan for gas imports. From the outset, the GD government appeared convinced that Georgia cannot rely on a single gas provider and that healthy competition in the energy market will eventually decrease gas prices.
President Mikheil Saakashvili, whose presidential term ended in 2013, strongly opposed the idea of increasing gas flows from Russia, which he regarded as a reversal of Georgia's pro-Western foreign policy and instead suggested imports from Kazakhstan and Turkmenistan. The GD government temporarily ignored these plans; but seemingly thinks the present political and economic climate is more favorable for taking such a step. Saakashvili is gone from the post and economic cooperation between Georgia and Russia is steadily growing. More importantly, Gazprom has become more interested in resuming large-scale shipments to Georgia as it faces a crisis in its predominant export markets in the EU and Ukraine, financial problems due to plummeting natural gas prices, and a general downturn of the Russian economy.
Consequently, to ensure profitability the Russian energy giant has already announced several new large-scale projects including a major gas deal between Russia and China, the Turkish Stream, and an expansion of Nord Stream. Nevertheless, before these projects come to fruition, if they are ever realized, Gazprom needs to export surplus supply to smaller markets, which are geographically close and have existing energy infrastructure that can be accommodated to receive larger gas volumes, such as the Georgian market. The same logic applies to the recent deal between Gazprom and Azerbaijan's SOCAR, concluded in June this year. According to this agreement, Azerbaijan will receive an additional 2 billion cubic meters (bcm) of Russian gas to be stored in underground facilities on top of the 2 bcm that the Azerbaijani company AzMeCo purchases from Russia every year under an agreement from 2009.
An increase of Russian gas shipments to Georgia also seems to be a logical step following Russia's growing presence in Georgia's energy sector. In early 2015, another big player in the Russian energy market, state-owned oil producer Rosneft, acquired a 49 percent stake in Georgia's Petrocas Energy Ltd., the owner of an oil terminal in Georgia's Black Sea port of Poti as well as Gulf, the largest network of gas stations in Georgia.
IMPLICATIONS: As a result, the Georgian government recently decided to revive its plans for diversifying gas import routes and suppliers. In October, Kaladze reiterated the need to ensure healthy competition between suppliers on the Georgian natural gas market and stated that aside from Russian supply, Georgia also considers importing Iranian gas. Azerbaijan is currently the key supplier on the Georgian gas market and provides 87 percent of the country's natural gas consumption, which stood at 2.17 bcm annually in 2014.
According to a recent report from the Georgian National Statistics Service, Georgia's natural gas imports from Azerbaijan increased by 14.1 percent in January-August 2015 compared to the same period last year. In contrast, Georgia receives only about 268 million cubic meters (mcm) of Russian gas, which comprises about 12 percent of the country's yearly gas consumption. Azerbaijan has so far proven to be a reliable partner, providing gas at attractive prices. These stand at US$ 150-200 per thousand cubic meters (tcm) for different categories of delivery. Moreover, Georgia cooperates closely with Baku on regional energy infrastructure projects, most prominently the Southern Gas Corridor, which will further strengthen their partnership in the energy sphere.
This raises the question why Georgia plans to diversify its gas exports away from Azerbaijan. Kaladze explained that Georgia's increasing gas consumption is expected to reach nearly 2.5 bcm in 2015 and that additional gas volumes are required to fill the gap between growing domestic demand and imported supply. The minister informed that these additional volumes cannot currently be imported from Azerbaijan. This may reflect the reality, as SOCAR announced in October that its gas production fell by 7.7 percent in January-August 2015 – from 4.96 bcm in the same period last year to 4.58 bcm. The drop in production is attributed to financial shortages due to low oil prices and a depreciation of the Azerbaijani manat. This caused SOCAR to accelerate preparations for developing the Umid and Babek gas fields. The current drop in gas production, coupled with growing domestic demand, could result in Azerbaijan lacking the additional volumes needed to supply the Georgian market, before large-scale developments of these gas fields and Shah Deniz II become operational. These concerns prompted Azerbaijan's President Ilham Aliyev to assert, during his visit to Tbilisi in early November, that Azerbaijan has enough gas reserves to supply its neighbors and Europe for a hundred years.
Georgian government officials have asserted that increased shipments of Russian gas to Georgia can become a reality if Gazprom offers commercially viable conditions. Several factors suggest that Tbilisi might succeed in negotiating a more competitive price for Russian gas. Georgia currently pays a preferential price of US$ 110/tcm for its share of the gas that Russia transits through Georgian territory to Armenia. In addition, Gazprom has decided to cut the price that Armenia pays for its gas from US$ 189 to US$ 165/tcm, which could have an impact on the price of Russian gas offered to Tbilisi. The final price could also be affected by Gazprom's eroding position in its key markets and subsequent surplus of domestic production.
The prospect of a gas deal with Russia has received a heated response from Georgia's political opposition and some members of the intellectual elite. Opposition figures and certain media outlets point out that a potential gas deal with Russia is a threat to national security and a tool for Moscow to increase its political control over Georgia. On October 17, activists organized a rally in Tbilisi against the gas negotiations with Gazprom, frequented by politicians and supporters of the oppositional United National Movement, the former ruling party known for its pro-Western and anti-Russian sentiments.
CONCLUSIONS: The government plans to diversify Georgia's gas supply to satisfy growing domestic demand, but will likely also seek to ensure a more competitive price for its gas imports. The plummeting rate of the Georgian lari has caused SOCAR to raise the price for commercial users, starting from March 2015. Georgia prefers to retain the previous prices and prospective deals with other suppliers can serve as an incentive for SOCAR to offer a more attractive price for the promised gas volumes. In addition, the Georgian government might hope to lower the prices for individual gas users to alleviate the negative impression created by the recent electricity price hike and increase public support for the government by mitigating the economic hardship for ordinary people, especially in light of the coming parliamentary elections in 2016.
It is possible that increased Russian gas shipments to Georgia can soon become a reality. Yet fears associated with a growing Russian presence in the Georgian energy market are not baseless, given Georgia's troubled history with Gazprom. The current structure of Georgia's natural gas imports and its long-standing energy alliance with its key gas provider Azerbaijan, however, suggest that volumes purchased from Russia (or from any other direction) will in the foreseeable future only be supplementary in order to fill the existing gap in domestic consumption. It is unlikely that this move will endanger the country's energy security – even if volumes are increased, only a fraction of the natural gas volumes consumed in the country will be purchased from Gazprom and these can be replaced in case of political tensions.
AUTHOR'S BIO: Natalia Konarzewska is a graduate of University of Warsaw and a freelance expert and analyst with a focus on political and economic developments in the post-Soviet space.

Image Attribution: www.trend.az, accessed on Dec 3, 2015