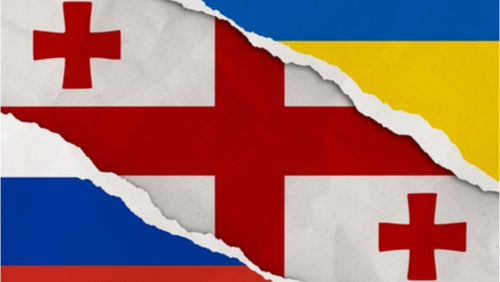 BACKGROUND: The Georgian government's ambiguous stance towards the Russian invasion of Ukraine has been surprising to many observers. Even though Georgia condemned the war and supported several decisions to denounce Moscow in international organizations such as the UN and Council of Europe, the government fell short of joining any of the sanctions introduced by the U.S., the EU, and its allies.
Georgia has its own experience with Russia. Moscow invaded the country in 2008, occupied two of its regions, and recognized them as independent states in a manner very similar to its present modus in Ukraine. Moreover, Georgia has frequently been regarded as the most pro-western country in the EU's eastern neighborhood and a strategic ally of Ukraine. The two states wanted to distance themselves from the Russian sphere of influence and join the Euro-Atlantic institutions. Therefore, many observers found it confusing that Georgia was not taking bolder steps to join Western states and societies in their coordinated responses to the Kremlin's aggression. Georgia's position has been criticized both domestically and by Ukrainian officials. "Indeed, there are times when citizens are not the Government, but better than the Government,"- Ukrainian President Volodymyr Zelenskyy tweeted in response as thousands of protesters gathered in the streets of Georgia's capital Tbilisi in support of Ukraine.
The Georgian government has explained its cautiousness by pointing to national interests. Prime Minister Irakli Gharibashvili was quite clear on the subject: "I want to state clearly and unambiguously, considering our national interests and interests of the people, Georgia does not plan to participate in the financial and economic sanctions, as this would only damage our country and populace more."
IMPLICATIONS: Georgia is indeed vulnerable in several respects. The Russian military occupies two of its regions and is located less than 50 miles from Tbilisi. Georgia, a country with 3.7 million inhabitants and an army of 37,000 active personnel, is no match for the Russian war machine. Georgia fought a five-day-long war against Russia in August 2008. Only the timely mediation of the EU saved its independence, as the Russian leadership was not ready for a wholesale confrontation with the West at the time. The bitter experience of the past dictates the Georgian government to avoid provoking Russia. Moreover, Georgia's economy is in several respects connected to that of Russia. Despite the non-existing diplomatic relations since the 2008 war, economic ties have grown during the last decade, especially after Russia lifted the embargo on Georgian products in 2013. Russia was Georgia's second-largest trade partner in terms of both export and import in 2021. Thus, the government's cautiousness is arguably a direct result of external structural constraints (military threats and economic dependence) facing the country. Therefore, Georgia's approach to the war in Ukraine is consistent with the strategy of Realpolitik, which small states pursue in light of a "capability deficit." Georgia, realists would contend, behaves as a small state should in the face of external threats and constraints. When a small state lacking credible allies is within the reach of an aggressive power with superior offensive military capabilities and unavailability of credible allies, it expectedly "chooses to bandwagon rather than balance."
Small states often face significant external constraints in their foreign policies. However, foreign policy is not only about external limitations; it is a much more complex enterprise. As one leading thinker of International Relations has argued, while external factors are key, foreign policies are ultimately "governmental products." Indeed, governments often care about the survival of their regimes as much as about the interests of their country, and in some instances, motivations relating to regime survival can outweigh considerations of the national interest. This is especially true when the regime in question is a non-consolidated democracy. Accordingly, a comprehensive understanding of Georgia's cautious Ukraine policy requires opening the "pandora's box" and taking a careful look at the domestic context.
The current ruling Georgian Dream (GD) party came to power in 2012, when the previous United National Movement (UNM) government, under which the 2008 war with Russia occurred, lost fiercely fought parliamentary elections. Since then, Georgian domestic politics have revolved around highly charged battles between the two parties. Several high-ranking officials from UNM were prosecuted under GD's rule. Many former UNM officials left Georgia for Ukraine and occupied key administrative positions after the pro-western Euromaidan in 2014. The most notable is Mikheil Saakashvili, president of Georgia 2004-2013. Saakashvili was prosecuted in absentia at home and arrested in 2021 when he returned to Georgia. Political polarization had already reached its peak one year before, during the 2020 parliamentary elections. GD then succeeded in retaining power for a third consecutive term – an achievement unprecedented by the parties ruling Georgia since the country's independence in 1991. However, Georgia's Western partners have expressed frequent criticism of the declining state of democracy in the country. UNM, also carrying its share of responsibility for the political polarization, have blamed GD of falsifying elections and usurping power. The EU has attempted to mediate between the parties but ultimately failed.
CONCLUSIONS: Georgia's Ukraine policy is a play on two chessboards – one external and one domestic. The government is concerned about the Russian threat and the prospect of a repeated full-scale invasion. The government regards de-escalation and appeasement of Russia as the only viable approach for Georgia, since the country has no international security guarantees. The Georgian government honestly wants Ukraine as a country to succeed, because it understands that the outcome of Ukraine's fight for survival has immediate consequences for Georgia's survival as well. However, and this is where domestic politics make the picture more complex, the government in Tbilisi does not fully trust their Ukrainian counterparts, keeping in mind that they have harbored many of its political opponents from Georgia during all these years. If the Ukrainian government succeeds in defending its country (and hopefully, it will), Kyiv will become a significant player in the European part of the post-soviet space, including Georgia. The current Georgian government is almost certain about which side Ukraine will take in Georgia's domestic political dispute. The current Georgian government is honest about its European aspirations. Indeed, it sent an official EU membership application to Brussels in parallel with Ukraine and Moldova. However, the Georgian government also understands that the application provides the EU with greater leverage to push Georgia towards further reforms, undermining the current dominance of the ruling party. The Georgian government thus faces a difficult balance between national survival and regime survival. At this critical juncture, sound assessment and true statesmanship, not partisan interests, is the only viable solution.
AUTHOR'S BIO: David Aprasidze and Giorgi Gvalia are Professors of Political Science and International Relations at Ilia State University, Tbilisi, Georgia.