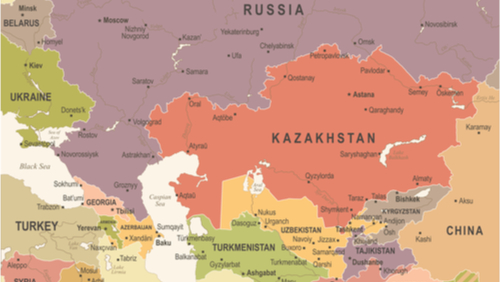 BACKGROUND: Having a lot to lose, Central Asian leaders are treading a fine line. While none of them have condemned Russia's invasion of Ukraine, nor have they endorsed Moscow's military aggression. They have either abstained or simply not voted at votes at both the UN General Assembly and the UN Human Rights Council. Within their limitations, they are taking tentative steps to increase their own agency.
Officially, Tajikistan and Turkmenistan have remained silent, while the presidents of Kazakhstan, Kyrgyzstan and Uzbekistan have all spoken by telephone with Russian President Vladimir Putin. Russian media has tried to spin those conversations as support for Russia. However, in their own statements, the governments have sought to rectify such interpretations. Uzbekistan's government declared itself "neutral". And while Kyrgyz President Sadyr Japarov in a Facebook post expressed an understanding of Russia's need "to protect the peaceful population of the territories of Donbas," he later also proclaimed a neutral position. Kyrgyzstan's Ministry of Foreign Affairs has suggested that the country could provide a platform for negotiating peace.
Kazakhstan and its President Kassym-Joomart Tokayev is in a particularly awkward spot. Although the country has a track record of being the most proactive and innovative diplomatic actor in Central Asia, it operates from a weaker position than before. Its much-cherished image as a beacon of stability in Central Asia was shattered following the nationwide unrest in January, which left 227 people dead. The deadly protests also revealed serious rifts within the Kazakh ruling elite, leading Tokayev to invite troops of the Russia-led CSTO to help stabilize the situation – and opening up for Moscow to call in on this favor. Indeed, when Putin announced the "special military operation" against Ukraine, he reminded Kazakhstan of the assistance Russia provided "when it faced tragic events and a challenge to its statehood and integrity".
Already in 2014, Putin said that "Kazakhs never had any statehood" before the collapse of the Soviet Union and advised the Kazakh people to "remain in the greater Russian world." Unlike Ukraine, Kazakhstan has done so, but this rhetoric nevertheless bears resemblance to Putin's recurrent statements that Ukraine has no historic right to statehood independent from Russia. Considering the presence of around 3.5 million ethnic Russians, almost 20 percent of Kazakhstan's population, concentrated near its vast border with Russia, it is not difficult to understand the uneasiness among the Kazakh leadership as it observes Russia acting on its "concern" for ethnic Russians abroad.
Despite this seemingly non-existent room for maneuver in the Russia-Ukraine war, Kazakhstan's Ministry of Foreign Affairs quickly stated that it would not recognize the breakaway republics of Luhansk and Donetsk after Moscow had declared them independent. Moreover, President Tokayev has stepped up his diplomatic activity, calling for dialogue, offering to play a mediating role and reaching out to both the Russian and Ukrainian leadership. There have also been unverified reports of Russia trying to involve the CSTO in the conflict. However, according to U.S. Undersecretary of State Victoria Nuland, Kazakh officials have been clear that "they are not interested in getting involved in Ukraine."
Among the public, the reaction to Russia's military attack has been muted. The exception thus far is an anti-war protest in Almaty, which drew around 3,000 people on March 6. Part of the explanation for this lies in the information sphere, which remains unbalanced, especially among those men and women still relying on television and traditional print media for news and information. These sources continue to be dominated by Russian suppliers. In addition, the Russia-originated messaging app Telegram – a main source of invasion disinformation – dominates among social media users. Given the limited access to information and opinions directly from the West, the Russian narrative has a strong grip on the minds of many people in Central Asia.
IMPLICATIONS: The war in Ukraine affects the core objectives that the Central Asian states have sought to advance over the past thirty years: to maintain and strengthen their sovereignty and statehood. With varying methods and with varying tools at their disposal, they have all sought to build economic, political and security relations with multiple partners without creating adversaries in international politics. Current developments only emphasize the necessity of having a diversity of external options.
Besides their security concerns, the most pressing issue confronting the Central Asian states is the Western sanctions imposed on Russia, which will have a trickle-down effect on the region. With their economies already battered by the covid-19 pandemic, the exclusion of Russia from the international economy is likely to multiply the economic hardships in these countries. Some adverse effects are already in plain sight. For example, in spite of the U.S. exempting the Chevron-led Caspian Pipeline Consortium from its sanctions, Kazakhstan is finding it difficult to sell its oil exported through pipelines across Russia. Furthermore, Kazakhstan's national currency, the tenge, quickly lost value as the Russian ruble plummeted, pressuring the National Bank to increase the benchmark interest rate and inject money from its currency reserves into the domestic market in an effort to support the currency and maintain price stability. Nonetheless, within a week, the tenge had fallen by 14 percent in value against the dollar. Kyrgyzstan similarly saw its currency fall in sync with the ruble.
For the Central Asian countries, Russia also remains a significant trade partner for various goods and services. However, even more significant is the region's supply of seasonal labor force to the Russian market. The shortages of domestic labor opportunities in the region mean that many Central Asians have come to depend on the availability of jobs in Russia. According to official Russian figures, in 2021 there were more than 4.5 million labor migrants from Uzbekistan registered in Russia, about 2.4 million from Tajikistan and 900,000 from Kyrgyzstan. The importance of this financial lifeline for the region cannot be overstated. According to World Bank calculations, remittances from work abroad – of which Russia is the primary source – in 2020 accounted for 31 percent of Kyrgyzstan's GDP and 27 percent of Tajikistan's. The remittances' share in the much more populous and economically stronger Uzbekistan stands at 10 percent of GDP.
Thus, as the poorest countries in Central Asia, Kyrgyzstan and Tajikistan are poised to feel the worst economic pain. In Kyrgyzstan, remittance flows are comparable to the country's exports of goods and services, while in Tajikistan remittances significantly exceed the country's exports. In an initial assessment of the effects of declining economic activity in Russia, the World Bank projects remittance flows in 2022 to contract by 33 percent in Kyrgyzstan. For Tajikistan and Uzbekistan, remittances are estimated to fall by more than 20 percent. For governments under constant budgetary constraints and limited tax intake, the remittance economy has provided these countries with an alternative social security net.
Given the inability of the Central Asian labor markets to absorb these workers, a prolonged, severe decline in the Russian economy could, more rapidly than expected, push this workforce towards other job markets, such as the Gulf countries, Turkey and Europe. In the meantime, however, a growing number of frustrated and unemployed young people might have destabilizing effects in the region. These young societies are going through rapid changes; overall, more than 70 percent of the region's population is below 40 years old. The growing mismatch between their life expectations and present realities have led to recent unrest in both Kyrgyzstan and Kazakhstan. Social instability would also be unwelcomed news in Turkmenistan and Tajikistan since both countries are on the verge of staging dynastic successions.
CONCLUSIONS: While prospects look grim for Central Asia, the combination of a Russia that has rapidly arisen as a rogue state and the unpredictable fallout from the war in Ukraine might open up new development paths. It is clear that Russia is committing its armed forces to the war in Ukraine, leaving Central Asia much less of a priority. This contrasts with the situation following the Taliban takeover of Afghanistan, when Russia rushed to fill the vacuum emerging after the U.S. troop withdrawal, and conducted several joint military exercises with Central Asian forces.
Since the Taliban as well as militant groups in northern Afghanistan remain a concern for the Central Asian governments, a demand may arise for new security arrangements. A larger Chinese role in security matters might seem plausible, but Beijing has thus far been hesitant to leave too many marks on the ground and has avoided challenging Russia's symbolic leadership role in Central Asia. Similarly, a larger role for Turkey is possible, following on its expanded influence in the South Caucasus. If Russia no longer is perceived as a guarantor of security in the region but as a major security threat, Central Asian leaders will be pressed to diversify their external relations. A number of new, or renewed, initiatives from the region might therefore eventually develop to diversify their political, economic and military relations in ways that strengthen their national interests.
AUTHOR'S BIO: Johan Engvall, Ph.D., is a deputy research director at the Swedish Defence Research Agency (FOI), and a non-resident senior fellow with the Central-Asia Caucasus Institute & Silk Road Studies Program Joint Center. The views expressed here are his own.