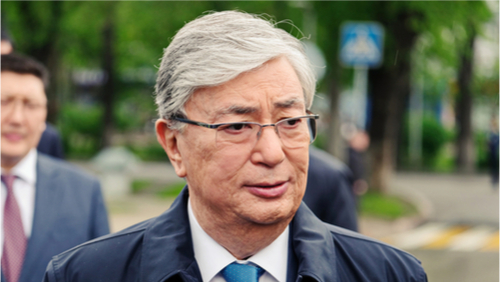 BACKGROUND: The unprecedented mass violence in January 2022 exposed deep problems within Kazakhstan. Peaceful protests quickly morphed into horrific looting, carnage, and death. Such violence may be common in Kyrgyzstan, where political elites often employ armed street gangs against each other, and Tajikistan, where only a civil war resolved a post-Soviet contest for power, but not in Kazakhstan. Until now, the country's popular protests have been limited in size and duration. The recent bloodshed is a clear sign that the previous means of addressing socioeconomic challenges—limited concessions combined with limited repression—is no longer adequate.
Having survived a serious threat to his authority, President Kassym-Jomart Tokayev now has an opportunity to leverage recent events to accelerate his reforms, which aim to decrease the power of the presidency, make the legislature stronger, and enhance civic participation in the political sphere. The constitution charges the president with setting the main contours of foreign and domestic policy, serving as commander-in-chief, appointing and dismissing senior officials, vetoing legislation enacted by the parliament, and coordinating public bodies. On March 16, in a joint address to both houses of parliament, President Tokayev proposed limiting the president's powers to impede decisions by regional governors, remove district and village heads, or place relatives in senior public positions. A next step would be to curb the president's right to dismiss or appoint regional governors—and reduce governors' influence over national elections.
In his March 16 speech, Tokayev proposed making it easier to register political parties by reducing the number of required signatures to 5,000, encouraging independent candidates by mandating that 30 percent of the Majlis (lower house) are elected through single-mandate seats, and decreasing the number of upper-house Senators the president can appoint from 15 to 10. His reforms would also reduce the Senate's powers to reject legislation approved by the Majlis. The parliament's responsibility is to represent the people, transmit their concerns to the government, and keep citizens informed about legislative actions. Further reforms could also bring more female and younger people into more senior posts to accelerate the transition from the post-independence generation and bring more civil organizations into the political sphere. Transferring more power to the parliament would also augment political accountability and constituents' ability to have a say regarding government decisions.
President Tokayev has indicated he would like to see more coalition governments as in Germany, but, for various reasons, Kazakhstan's political parties have been weak and divided, depriving voters of credible alternatives. Building stronger democratic institutions requires powerful challengers to current officeholders and policies. Stronger media freedoms would also invigorate the anti-corruption campaign and expose other problems before they become explosive. They would also make commercial opportunities more transparent to domestic and foreign investors and provide a more credible local alternative to Russian and Chinese propaganda. Strengthening the rule of law would help avert the instances of torture and wrongful detention seen in January. Expanding opportunities for multi-party pluralism would encourage dissatisfaction to manifest itself in the ballot box rather than in the streets.
IMPLICATIONS: The global COVID crisis, Russia's war in Ukraine, and the decline in Western influence have amplified recent setbacks. Not only did COVID curtail workers' safety and jobs, but the disease disrupted Kazakhstan's major foreign supply chains and decreased the value of its commodity exports. The country remains overly dependent on the export of oil, gas, and other natural resources. Though world oil and gas prices have recovered, the process has accelerated inflation, including in the property sector, leading to rising rents that many people are struggling to pay. The cost of COVID relief directly contributed to the January decision to curtail subsidies of liquefied gas prices, which triggered the initial protests in Zhanaozen.
Accelerated economic reforms could help the government attract foreign direct investment outside its massive oil and gas sectors. The additional oil and gas export revenue due to recent world price surges provides an opportunity for Kazakh authorities to further modernize the national energy industry and transition away from hydrocarbons by, for instance, providing more support for small- and medium-sized businesses in post-petroleum industries. Though Kazakhstan has made progress in expanding its cryptocurrency sector, which has brought jobs, government revenue, and some diversification, the drain on national electricity supplies has been substantial. A more promising initiative has been Tokayev's call for oligarchs to sell their foreign assets and reinvest in the national economy and in the new social-support trust fund to mitigate the country's excessive income, wealth, and social inequalities.
In his March 16 address, Tokayev alluded to the "unprecedented … financial and economic difficulties against the backdrop of the worsening geopolitical situation." As in 2014, the Kremlin's aggression in Ukraine has sucked its partner economies into the vortex. Kazakhstan is particularly vulnerable due to its membership in the Moscow-led Eurasian Economic Union (EEU). The war has depreciated the value of Kazakhstan's currency, the tenge, generated enormous capital flight, and disrupted regional transportation networks. The bans on certain Russian exports (illegal under EEU rules) have amplified regional supply shocks already strained by COVID. The longer Moscow's war of aggression continues, the greater the costs to Kazakhstan and other countries. Present challeges to realize long-term socioeconomic gains include having to use rubles for payment of customs fees in trade with Russia.
Despite Kazakhstan's economic and security ties with Russia, Tokayev has taken a more balanced approach toward the Russia-Ukraine war than the other members of the Collective Security Treaty Organization (CSTO). This Russian-led regional security alliance provided the "peacekeeping forces" that secured some strategic sites in January. The government has been highlighting its humanitarian assistance to Ukrainians, allowing some public displays of support for Ukraine as well as Russia, and permitting national media commentary to offer a more sympathetic approach to Ukraine's plight than found in Russia, China, Kyrgyzstan, and other countries tied to Moscow. Despite Russian government protests, the government refuses to recognize the Moscow-crafted puppet regimes in Donbas, the so-called Luhansk and Donetsk People's Republics. Tokayev is also the only Central Asian leader to have had a public telephone call with Ukrainian President Volodymyr Zelenskyy. Kazakhstan's future ability to resist the frequent calls in the Russian Duma to protect ethnic Russians and their language rights in "historical Russian lands" would certainly be stronger if Ukraine thwarts Russian irredentist claims.
CONCLUSIONS: The U.S. and its European allies have not pursued a vigorous diplomatic profile in Central Asia (or the South Caucasus) for many years. Attention to the region has been inconsistent, episodic, and Afghan-focused. The NATO withdrawal from Afghanistan has seemingly made things worse and the U.S. government has yet to have a high-level engagement with Tokayev this year. A more proactive approach from the U.S. and its allies could promote greater cooperation among the Central Asian governments, independent of Moscow and Beijing, such as through reinvigorating the C5+1 framework with more attention and other resources. Though piling Western sanctions on Russia for its aggression in Ukraine is understandable, the sanctions cause collateral damage to the Central Asian economies, and the issue of minimizing this damage requires attention from the executing agencies. Having disengaged from Afghanistan, the Pentagon can more easily cooperate with the State Department and other civilian agencies active in the region. These include the vital broadcasting agencies that help dilute the impact of Russian and Chinese media, which give a distorted picture of the war in Ukraine and elsewhere. Other agencies can provide targeted support for Kazakhstan's political and economic reforms, which would help build stronger ties between Kazakhstan and the U.S.
AUTHOR'S BIO: Dr. Richard Weitz is a Senior Fellow and Director of the Center for Political-Military Analysis at the Hudson Institute.