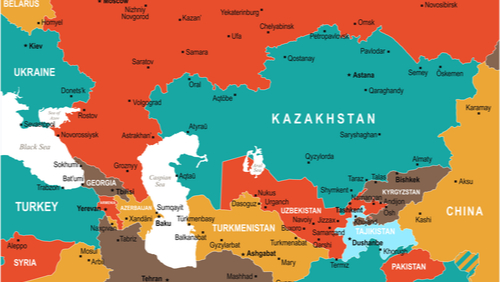 BACKGROUND: The U.S.-Russian talks predictably led nowhere. Meanwhile, and despite ongoing discussions with Central Asian governments, even if bases were granted, the U.S. military now admits that it would still be difficult to carry out such counter-terrorism strikes in Afghanistan and distinguish between terrorists and ordinary Afghans. In other words, this discussion about potential U.S. bases in Central Asia, allegedly for counter-terrorist operations, represents another example of Washington's quixotic and insufficiently comprehending policies in Central Asia.
Indeed, Washington did obtain bases in Central Asia in the early 2000s, which it eventually lost to a combination of ham-handed diplomacy and concerted Sino-Russian pressure. Those losses were part of a process that in effect registered a certain disengagement from Central Asia by Washington, which was a bipartisan policy under Presidents Obama and Trump. As a result, Russia has come to be seen and see itself as the natural protector of Central Asia while China has replaced Moscow as the leading external economic-financial player in Central Asia and has also begun to build a network of bases in the region. Thus, when the chips were down in Afghanistan and defeat began to stare the NATO forces led by Washington in the face, spelling the imminent collapse of the NATO force and the Afghan government, the U.S. did not have sufficient diplomatic clout in Central Asia to offer these states anything tangible against the public and private Sino-Russian pressure and Taliban threats to them if they granted Washington bases.
Indeed, the idea that Washington could now obtain bases in Central Asia reflects the continuing failure to come to terms with regional realities there. Given the strong and enduring Sino-Russian interests in Central Asia, it should have been clear to policymakers as it is to experts, that Moscow and Beijing would block any efforts to generate a long-lasting U.S. military presence there. Moreover, the U.S. request for bases comes after years of neglect of Central Asia. U.S. policymakers prioritized the war in Afghanistan to the exclusion of a robust political-diplomatic-economic presence in Central Asia. This was one of the many major strategic failures of the American war in Afghanistan. It also betrays a fundamental lack of understanding of Central Asia's international relations. Absent any real presence on the ground, Washington had nothing to counter the well-established Sino-Russian repertory of inducements and pressures that those governments did bring to the table once the idea of U.S. bases was floated. Indeed, the idea that such offers could and can now be made by Washington without corresponding "side payments" or investments in Central Asia betrays a fundamental unwillingness or inability to reckon with Central Asian strategic realities.
IMPLICATIONS: It remains the case that, despite some signs of a U.S.-Central Asian dialogue, there is no sign of high-level interest in Central Asia or of the necessity for a well-conceived policy and strategy here. Moreover, it strikes an observer as amazing that Washington actually thought Vladimir Putin would host the U.S. military on a Russian base in Central Asia. While Moscow might well have assisted a humanitarian evacuation, it is inconceivable that Putin would have allowed U.S. forces on its base, or that if it did, Moscow would not exploit Washington's discomfiture for all that it is worth. Thus, the effort to obtain clarifications of Putin's remarks at the summit was another example of tilting at windmills.
The analysis of this fiasco is important, because it should point the way for Washington to learn how to devise and execute a program of action for Central Asia that has a real chance of success and that actually will give it the standing to be able to encourage Central Asian governments to defy Moscow and/or Beijing on critical issues with impunity. That policy must be tied to clear thinking about Central Asia, something that has been absent in Washington for far too long. Washington and European security organizations like the EU and NATO need to take serious account of Central Asia now and for the future. It is already apparent that the Taliban will be unlikely to bring about stability, let alone progress in Afghanistan or prevent terrorist attacks on their neighbors. Relations with Tajikistan are already bad and worsening. It also is unlikely that Pakistan will refrain from using Afghanistan as a terrorist base against India. Worse still, it is equally unlikely that the Taliban will prove able, under conditions of domestic ethnic and social resistance – that are already manifesting themselves – in conditions of a collapsing economy, to control the many foreign terrorist groups aligned with it from conducting attacks against their enemies.
Moreover, if a foreign power, e.g. the U.S., wants bases in Central Asia it will have to request them in the context of greatly expanded offers of investment and political support for Central Asian initiatives so that it can build credibility with those states. Only on that basis can the U.S. or any other similarly situated state prove its "bona fides" to Central Asian states, who must contend with not only the threat of domestic terrorism instigated by Afghan-based fighters, but also with the ensuing severe Russo-Chinese pressure that would be generated in the wake of an announcement of support for U.S. bases. Furthermore, if it is actually the case that the advanced weaponry that could then be deployed at these bases, remains unable, as is now being admitted, to conduct effective counter-terrorist missions; requesting bases merely endangers Central Asian states without offering them any countervailing benefits to justify the ensuing risk. Consequently, any serious request for U.S. bases must come with some sort of security guarantee, at which the U.S. Congress would almost certainly look askance.
CONCLUSIONS: It is by no means too late for Washington to come to terms with contemporary Central Asia in all its diversity. However, to begin the process of reconceptualization and then implementation of this policy with a request for bases shows an ongoing lack of learning. The U.S. must re-establish its credibility over time in Central Asia and that cannot mean involvement of Central Asian states in another war in Afghanistan or at home when the current situation is so fluid. Like Don Quixote, U.S. thinking about Central Asia seems to be the product of second-hand bad information that has failed to take account of the actual realities there. Instead of focusing on Afghanistan, which is lost, we would do better by trying to understand the truly complex strategic realities and trends that comprise contemporary Central Asia and help those states enlarge their sphere of discretionary action rather than begin by directly provoking Moscow and China to enhance their pressures on those states.
It is a well-known maxim that sound policy is based upon a deep appreciation of existing strategic trends, not on a desperate lurching towards Central Asia after a decade or more of neglect in the middle of a hurricane. That kind of action too is a form of tilting at windmills. It is hardly surprising that the initiative for bases failed before the collapse of Afghanistan and that the current dialogue will most likely prove to be a failure as well. If Washington wants to play an important role there, as it should, then it has to be able to offer Central Asian governments something more than the failed policies of the past. Sadly, that is not yet the case.
Stephen Blank is a Senior Fellow with the Foreign Policy Research Institute, www.fpri.org.