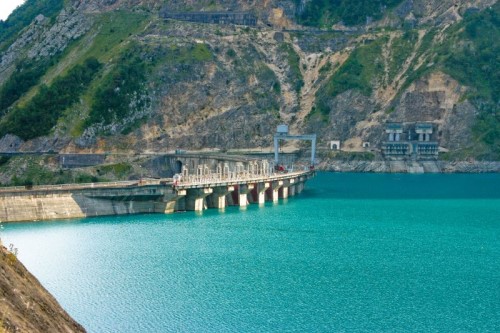 BACKGROUND: For Georgian leaders, using water to produce electricity represents the past, present, and future of power generation. Because of its lack of fossil fuel resources, Georgia has relied on hydropower since the 1920s. Yet the country's overwhelming dependence on hydropower to meet its electrical needs fails to deliver either sufficient energy diversity or sustainability. Still, this government-led approach to power production persists because Georgia lacks both a long-term electrical strategy and the capacity needed to craft one.
Georgian electrical policy is shaped by two scarring experiences in the country's recent history. The first were the chronic blackouts of the 1990s, when many Georgians recount having only four hours of electricity a day in Tbilisi. The second came in the years after the 2003 Rose Revolution, when Gazprom repeatedly threatened to end Georgia's access to imported Russian natural gas. Taken together, these events imbued Georgian electrical policy with a fervent, unshakeable imperative: electrical power must be reliable, plentiful, and domestically generated.
As the country opened up after 2003 under Mikheil Saakashvili, Georgia sought to expand its homegrown power generation capacity in order to drive economic growth, cut ties with Russia, and export power to growing neighbors like Turkey. Stalled or mothballed Soviet-era hydropower plant (HPP) projects were resuscitated and readied for financing. Georgia's transmission operator, the state-owned monopoly GSE, raised huge sums from international development donors to refurbish and expand the country's electrical network, including the eventual construction of new east-west power interconnections that linked Turkey into the Georgian grid (see map).
Georgia is a small country, and attracting foreign direct investment in its power sector is difficult without the prospect of export markets to ensure long-term demand growth. When Turkey's economy began to deflate over the last decade, Georgia lost both its most promising export market and one of its best rationales for power sector investment. In response, the government increasingly turned to long-term, fixed-price power contracts for new power plants – Power Purchase Agreements, or PPAs – to provide the stable revenue needed to secure attractive financing from development finance institutions. As of 2019, the vast bulk of Georgia's 4166 megawatts (MW) of installed power generation is hydroelectric: 3220 MW, or roughly 77 percent.
The knotty problem of the Enguri Dam and power station is illustrative of the challenges that Georgia faces. Functioning as the backbone of the Georgian grid, the remote 1300 MW facility is aging rapidly and in need of major capital improvements; but the dam's power plant lies over the border in the Russian-held Abkhazia region. A 1990s-era agreement with Georgia supplies the Abkhaz with free electrical power, in exchange for Georgian access to the facility. With the ability to draw seemingly limitless free power from Enguri, the Abkhaz and their Russian minders see little near-term need to remedy the situation. Georgia's planned deregulation of its electrical system will nonetheless retain Enguri as a state-owned power plant, arguably undermining the overall objective of a liberalized power market.
IMPLICATIONS: For a country fixated on energy independence, a renewed commitment to hydroplants seemed obvious to many Georgian leaders and international donors. In turn, state subsidies for hydropower have helped to crowd out feasible alternatives like wind and solar power. Georgia has now found itself with substantial year-over-year growth in electrical demand and no coordinated strategy with which to meet it.
The areas of concern include, first, the lack of a long-term energy strategy to guide electrical planning. After a series of alarms raised by the IMF, the World Bank, and the Georgian Ministry of Finance, the Georgian Economy Ministry is now attempting to reverse-engineer a prudent, fiscally sound approach to financing power projects. However, a de facto moratorium on new HPP projects and a pledge to enact more stringent environmental and social safeguards will not make Georgia's electrical planning any more coherent.
Second, Georgia lacks in-country technical capacity and accurate data. Not only does Georgia rely on international financial institutions for much of its electrical system financing, it also relies on those institutions to provide much of the technical heft needed to guide its policies and investments. In some areas, hydrological studies date back to the Soviet era and have not been substantially updated since, while more recent analyses are non-public and proprietary.
Third, some existing hydroplants have turbines and powerhouse equipment that have not been replaced or updated in more than 50 years. Georgia lacks a policy mechanism to incentivize retrofits of its older power plants and is reluctant to impose mandates on private property-holders. As such, Georgia's estimates of both its current power generation and future projected demand fail to account for the gains that greater efficiency of production could yield.
Fourth, non-hydropower renewable energy is dismissed. Data released by the (former) Georgian Energy Ministry and others suggest that Georgia's commercial wind capacity is greater than 1000 MW. Wind power could help address Georgia's wintertime power shortfalls, and alleviate east-west strains on Georgia's power grid. Yet Georgia has only one small wind project at present.
Many state entities believe that wind power is either too expensive or too technically complex to integrate into Georgia's grid. Wind power does present real grid integration challenges, but they are nowhere near as knotty as skeptics suggest. Because Georgian energy policies prize growth and reliability above all else, there has been no political or economic imperative to diversify the sources of Georgia's renewable power to include wind power.
Fifth, Enguri remains in limbo. Enguri dam and power station is the only remaining major wholly state owned hydroplant in Georgia, and it has long been denied a generation tariff (payment for power) that ensures anything resembling a fair rate-of-return. The artificially "cheap" cost of Enguri's power subsidizes the rest of the Georgian power system. Political reconciliation with Abkhazia and eventual metering of and payment for their power use is years away at best, while planned upriver power plants (intended to displace Enguri) are stalled by public protest, technical setbacks, and cost overruns.
Sixth, energy security does not equal energy independence. Georgian leaders are fixated on achieving electrical independence from their neighbors. Due to growing power demand, 2018 was the first year that Georgia was forced to import power during its summer months, when high water levels usually produce surplus HPP power.
As a small country, Georgia is deeply reliant on its neighbors. Achieving true, year-round energy independence may prove impossible, and attempting it may be so expensive as to outweigh its entire "security" value. Given future demand uncertainty, it is often wiser to rely on imports instead of overbuilding new power generation that could later prove uneconomical.
CONCLUSIONS: The faltering status quo rewards many parties in modern Georgia, but it does not serve the national interest. Hydropower plants will remain the backbone of Georgia's electrical system for decades to come, and in that, Georgia has little choice. Water is free; using it to generate power is not. Large-scale hydropower is only "cheap" when one discounts ecological impacts, the social disruption created by displacement, inevitable cost overruns, limited functionality during low-water periods, and the substantial cost of breaching and removing HPP installations once their useful life expires. For Georgia, it is not a question of being anti-hydro or pro-hydro, but rather one of when and where hydropower makes the most sense. At present, Georgia lacks the capacity to make such an assessment.
A more diverse electrical ecosystem in Georgia will make the country's grid less prone to weakness, as well as making it more sustainable and less expensive. Breaking old, bad habits in this sector will be unpleasant at times, but Georgia has endured far more dramatic deprivations in its last three decades. Georgia has already done the thankless spadework of rebuilding its electrical system after near-collapse in the 1990s. All that remains is to match the country's electrical system with the modern, Western-facing future to which Georgia aspires.
Source: Cross-border transfer capacities between power systems of Georgia and its neighboring countries as for 2029 ["Ten Year Network Development Plan of Georgia 2019-2029," Georgian State Electrosystem (GSE), April 25, 2019]
AUTHOR'S BIO:
Jesse Young is a climate change policy lead at Oxfam America, a global anti-poverty non-profit, where he focuses on global multilateral engagement on climate issues. He previously served as a senior advisor in the office of the Special Envoy for Climate Change at the U.S. State Department. Prior to that, he worked as a senior policy advisor to U.S. Senator Chris Murphy (CT), where he focused on environment, energy, and transportation issues. He holds a master's degree in global policy from the Johns Hopkins University's School of Advanced International Studies (SAIS). Jesse Young can be reached at This email address is being protected from spambots. You need JavaScript enabled to view it.
Image Source: Enguri Dam 004 by Donovan Driver is licensed by CC BY-SA 2.0 / resized from original