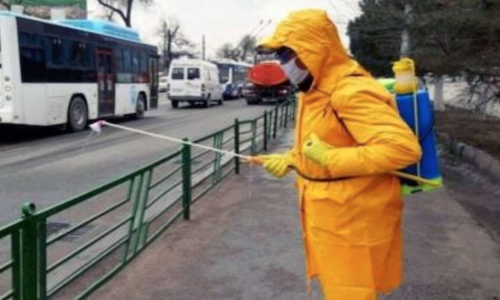 BACKGROUND: It is obvious that the World will never be the same due to the COVID-19 global outbreak. Human communication, social norms and habits are transforming. More digitalization and less physical interactions are becoming a daily routine in education, medical treatment, entertainment, and business. Global politics and the global economy will also experience drastic changes. Not surprisingly, Central Asian states have also become a part of these global shifts. Let us consider a few sectors affected by the coronavirus.
First, COVID-19 hit the medical care systems of Central Asian republics and became a stress test for them. According to the Global Health Security Index (GHSI) score, 73 percent of the world's population lives in countries that scored below 50 on a scale between 0 (absolutely not prepared) and 100 (well prepared). The report found that no country was truly prepared for pandemic (scoring 100) – all lacked fundamental health care capacities vital for epidemic and pandemic response. None of the Central Asian republics scored above 50, although their degree of preparedness based on the GHSI score differed.
Second, the World Bank's Europe and Central Asia Economic Updates suggest various negative scenarios for the region, including a major recession in 2020, with growth contracting to between -4.4 and -2.8 percent. Before the global pandemic, among the Central Asian republics, Uzbekistan was expected to have the highest and most dynamic economic growth rate in the region, projected to 5.7 percent in 2020 and 6.0 percent in 2021. However, these numbers are now revised to 1.6-1.8 percent. EBRD's economic forecast for Uzbekistan's GDP growth in 2020 is about 1.5 percent with a perspective of growth up to 6.5 percent in 2021.
Although it was clear that the pandemic would dramatically hit the economy, Central Asian governments took measures against the COVID-19 outbreak based on the resources available and their understanding of immediately required actions. The most common measure recommended by the WHO was quarantine.
IMPLICATIONS: Quarantine measures were clearly necessary in order to control the spread of the virus and to allow local medical care systems to adapt to the situation more effectively. The measures taken by Central Asian governments were not unique, yet distinctive depending on the time and resources available for combating the pandemic. For the most part, Central Asian governments could rely on fiscal rather than monetary instruments to support local businesses and to "keep the lights on" for enterprises and branches of their economies.
While the health crisis revealed the weak points of the health care systems, the economic crisis highlighted problems in the national economies and social care. Unavailability of savings, employment in the informal sectors of the economy, and weak or absent social security nets for a large share of the population, are but a few problems that became evident due to the crisis.
The crisis has given rise to a number of challenges for the Central Asian republics, indicated by the different responses by Central Asian governments to the COVID-19 outbreak. First, while it was clear that strict quarantine rules should be rapidly introduced, not all Central Asian governments decided to implement them. Balancing between saving lives and maintaining some economic activities became a serious challenge that not all Central Asian republics were able to confront. One reason for this is the scarcity of financial resources for some governments with a high dependency on foreign currency inflow (and/or monetary remittances from labor migrants) and budget deficits, which complicates external borrowing. In these circumstances, some Central Asian republics requested financial support and credits from International Financial Institutions like the World Bank, IMF, ADB and EBRD.
Second, the World Bank predicts a 28 percent decline of monetary remittances to the region, which would make it more difficult for many households to sustain financial stability in times of crisis. A large share of poor households in Central Asia, which varies from 15 to 30 percent between countries, fully depend on money sent from family members working in Russia or Kazakhstan. Due to the oil price decline and currency depreciation in Russia and Kazakhstan, the amount of monetary remittances has fallen. Thus, the number of people living below the poverty line will likely increase.
Third, the Central Asian republics have large informal economies. Thus, many people employed in informal sectors do not pay taxes and cannot fully benefit from government crisis support, remaining in the "grey zone" and technically unable to receive financial benefits. In combination with inadequate methods for defining and assessing poverty, as well as delivering financial support; governments cannot effectively support the populations.
A possible way to tackle this problem, recommended by economists, is to distribute a certain amount of cash to everyone. This will have a positive economic impact on those in the poverty trap even if rich people also receive money, due to the redistribution effect. Distributing cash could have the additional positive implication of helping to restart the economy, since it will enable people without savings to start spending money. However, this measure will not work if individuals decide to save instead of spending and consuming. Hence, this crisis is not a classic Keynesian type of economic crisis – it presents problems relating to both demand and supply, leaving all governments in a more difficult situation. This is especially true for the governments of developing countries, including the Central Asian republics.
While experiencing the challenges mentioned above, Central Asian governments have carefully started to lift quarantine measures and allowing economies to recover and people to return to work.
Despite the challenges, the effects of the health and economic crises have not only been negative. They have also helped strengthen regional cooperation in Central Asia. For instance, it is broadly recognized that due to Uzbekistan's leadership in Central Asia, combating COVID -19 became a regional task. Mutual friendship and cooperation among the republics as well as the ability and need to collaborate against the global pandemic became a true success story for the whole region. Humanitarian assistance from Uzbekistan to Afghanistan, Kyrgyzstan and Tajikistan, under the leadership of the Uzbek political establishment, showed Uzbekistan's persistence to be the driver of cooperation in the region. Kazakh, Kyrgyz, Tajik and Turkmen governments have also demonstrated a political will and understanding of the benefits of cooperation. These positive signs of regional teamwork raise hope for a more rapid integration in Central Asia.
Moreover, the Corona crisis has illustrated the utility of digital tools for remote collaboration. For Central Asia, this might become a push factor for faster digitalization of economies, investments in science, improvements in the speed and quality of the internet, and the movement towards closer digital connectivity. The crisis has also underlined the need to prioritize investments in science and technology, which should receive more systematic financial support in order to better prepare governments and societies for similar crises in the future.
CONCLUSIONS: The global COVID-19 pandemic has revealed several problems in Central Asia's medical, social, economic, and digital development. The crisis also indicated how these problems could be approached more efficiently. The responses of different governments have demonstrated that measures against the COVID-19 outbreak and its consequences have not always been timely enough. It has certainly not been easy to make the right decisions rapidly since financial resources were scarce and medical care systems were mostly unprepared for the pandemic. However, it has become obvious that fast and strict quarantine measures are helpful in controlling the spread of the infection and allow medical care systems to save lives. Had COVID-19 not been taken seriously, it could have led to an exponential growth of confirmed infection cases and put the medical care systems under unmanageable pressure.
The Corona crisis has also helped the Central Asian republics to realize more clearly the benefits of regional cooperation. Hopefully, this will encourage a more intensive strategy for digitalization and supporting science and technology for Central Asia's development.
AUTHOR'S BIO:
Dr. Bakhrom Radjabov holds a PhD in Social Sciences and is an Alumni of the Rumsfeld Fellowship at the Central Asia-Caucasus Institute.