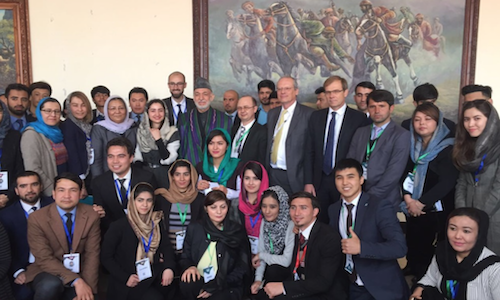 BACKGROUND: During the past decade a large cohort of young students have emerged in Afghanistan, as the government in Kabul and many international agencies have devoted great attention towards formulating and supporting national educational policies. This has entailed not only the reopening of many government-funded universities and various educational institutions, but also allowed for private and public initiatives and the opening of dozens of private Higher Education Institutions (HEI) and Vocational Education and Training (VET) colleges and schools. The capital Kabul alone hosts more than a dozen universities and VET colleges, and is home to some 100,000–120,000 students (2018, est.), up from about 4,000 in 2001. In addition, about 17,000 Afghan students (2016, UNESCO est.) are studying at various universities in neighboring countries, including Central Asian countries such as Kazakhstan and Kyrgyzstan.
During the past few years, the government of Afghanistan has also formulated broader youth policies not only aimed at promoting hard skills and better technical education among young people, but also developing soft skills preparing the new generation for conflict prevention and conflict resolution, peaceful economic development and reconciliation.
One of the civil society platforms is the Model UN movement in Afghanistan. Like in many countries around the world, this is a student-led decentralized movement, which brings together young people from different backgrounds to replicate the work of diplomats, government and UN officials in addressing the most pressing issues and challenges at the national, regional and global levels. In addition to organizing conferences, Model UN activists usually offer various forms of training in the field of diplomatic and community negotiations, conflict mitigation and public debating. According to estimates by Moneer Kodhani, president of the Kabul-based Pamir Model UN organization, the Model UN involves anywhere between 1,500 and 2,000 young people annually in various Model UN activities around Kabul City and in Kabul province. For example, the Pamir Model UN has been organizing conferences not only with partners in Afghanistan, but also with the regional Model UN New Silk Way (Kazakhstan), and has attracted current President Ashraf Ghani and former President Hamid Kharzai among the speakers.
IMPLICATIONS: The past decade has provided relative stability for the new generation of Afghan citizens (about 63 percent of Afghans are under 25 years of age, 2018 UNFPA est.) to receive a better education, including acquiring skills and competences for developing the national economy. The emergence and rapid growth of the new educated and technocratic youth in Afghanistan (the number of students in HEI doubles every 5–7 years), albeit still small at the moment, will have a significant and positive long-term impact on building a peaceful society. It would also help move forward the reconciliation process if the energy and knowledge of this young generation can be directed towards national reconciliation and building a sustainable future. In this context, the diplomatic, negotiation, conflict resolution and conflict mitigation skills offered by the Model UN movement and other similar programs are crucial for building stability in Afghanistan.
First, the wider participation of young people from Afghanistan in the national and regional Model UN movement would help them gain better knowledge about the democratic policy process in their home country and in neighboring countries and to learn important skills, while directly connecting them to young people along the Silk Road countries of Central and South Asia.
Second, the Model UN and similar programs create important platforms for peaceful communication, debate and exchange of new ideas, as there are practically no other opportunities for Afghan youth to become involved in open, non-biased and non-partisan exchanges about the international relations of Afghanistan and policies of the major international players.
Third, the Model UN is an important platform to demonstrate workable alternatives to radicalization and political confrontation, allowing young people to engage not only with each other, but also with many civil society nongovernmental organizations and communities.
Fourth, open debate and networking among young, educated activists brings together this cohort of tomorrow's leaders, who will become major internal stakeholders capable of building effective governance, economic stability and prosperity in Afghanistan.
CONCLUSIONS: The country needs to develop trustworthy and widely accepted discussion platforms where urban youth, students and educated young professionals debate different views on the current and future development of their country, and search for compromises and mutually beneficial solutions to the current problems. Educated youth also need to find their place in the reconciliation process, civil society dialogue and peace building. Unfortunately there are few established and respected platforms in Afghanistan for youth, and especially for student youth, to get involved in civil society issues and learn civil society skills.
The work of the government with the Civil Society Working Committee, which is the main umbrella of civil society organizations in Afghanistan, and all major stakeholders, illustrates the need for better coordination in achieving greater involvement of youth and their organizations in the policy process.
In this context, the Model UN movement has become an important civil society platform for engaging youth and youth organizations, where young professionals debate different views on the current and future development of their country – in the process creating a place for the young generation in national reconciliation and peace building.
AUTHOR'S BIOS:
Rafis Abazov, PhD, is a visiting professor at Al Farabi Kazakh National University and a director of Ban Ki-moon Institute for Sustainable Development. He is author of The Formation of Post-Soviet International Politics in Kazakhstan, Kyrgyzstan and Uzbekistan (1999), The Culture and Customs of the Central Asian Republics (2007), The Stories of the Great Steppe (2013) and some others. He has been an executive manager for the Global Hub of the United Nations Academic Impact (UNAI) on Sustainability in Kazakhstan since 2014 and participated at the International Model UN New Silk Way conference in Afghanistan.
Image Source: Rafis Abazov (personal) accessed on 4.3.2019