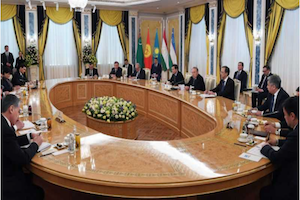 BACKGROUND: The five states of Central Asia – Kazakhstan, Kyrgyzstan, Tajikistan, Turkmenistan and Uzbekistan – launched their regional integration process in the late 1980s and embarked on the institutionalization of this process after the collapse of the USSR. The creation in December 1991 of the Central Asian Commonwealth (CAC) was a response to the sudden trilateral decision of the then presidents of Russia, Ukraine and Belarus to liquidate the USSR and create in its place the Commonwealth of Independent States (CIS). The five newly independent states of Central Asia then sent a strong message to the world that they restored the historical community with their brethren in neighboring nations. Although they were ill prepared, the fact of gaining independence both presented a requirement and an incentive to unite.
The regional integration process in Central Asia has proceeded in several stages, from CAC to the Central Asian Economic Community (in 1994), to the Central Asian Cooperation Organization – CACO (in 2001). The overall developments indicated the progressive evolution of the regional integration structure with all its natural back-and-forward trends. Political unification to some extent replicating the EU model was on the horizon.
Surprisingly, in 2004 a non-Central Asian state – the Russian Federation – applied for membership in CACO. Russia's membership obviously distorted this regional structure as such, since its very creation and functioning was stipulated by the ultimate goal of asserting a common Central Asian identity and common actorness as a single entity in the international system.
In 2005, CACO merged with the then Eurasian Economic Community (EAEC) and ceased to exist. This froze the five-lateral regional format of interactions in Central Asia, removed an important platform for interstate dialogue and thus exacerbated regional problems.
Although the regional structure ceased to exist, the region itself did not and continued to function according to its internal logic. Meanwhile, Central Asia's entire post-Soviet history has confirmed that whether regional integration progresses or reverses in this part of the world, depends largely on the key country of the region – Uzbekistan. March 2018 saw the turning of a new page of Central Asia's post-Soviet history.
IMPLICATIONS: Not surprisingly, the new impetus for revitalizing the regional format of cooperation in Central Asia was due to the new regional policy proclaimed by Uzbekistan's new President Shavkat Mirziyoev. After his election, he visited all neighboring countries including Tajikistan, with which Uzbekistan's relations have until recently been the most problematic. These visits produced numerous essential agreements, hence allowing Mirziyoev to stimulate a friendly environment in Central Asia.
The consultative meeting in March was itself preceded by two preparatory steps: Mirziyoev's speech at the UN General Assembly in September last year and his initiative to arrange this meeting in Samarkand at the November 2017 international conference "Central Asia: single past, common future. Cooperation for the sake of sustainable development and mutual prosperity." The five-lateral consultative meeting in Astana was symbolic rather than practical: the leaders discussed issues like political, trade-economic and humanitarian cooperation, joint efforts in fighting terrorism, extremism and illicit drugs and arms trafficking, strengthening security and stability in Central Asia as well as the rational use of region's water resources. Notably, the leaders emphasized that Central Asia is not only a geographical and geopolitical but also a single cultural-civilizational space.
This modest event caused immediate reactions from Russian media and analytical circles. The quintessential point of a number of publications in Russia sounded like a broken record: that the meeting took place without Russia's attendance and allegedly is a sign of Central Asia distancing itself from Russia, and that Central Asia thereby risks falling into the U.S. sphere of influence.
These assertions revealed once again the persistence of an old-fashioned great game vision of the post-Soviet space in general and Central Asia in particular. It is becoming obvious that the U.S. and EU on the one side and Russia and China on the other have contrasting views of and attitudes towards Central Asian regionalism. The former recognize the region's value and support its unification as an area free of great power domination. The latter usually take the opposite view. The American С5+1 format and Europe's Central Asia Strategy are illustrative of their attitudes. Neither Russia, nor China treat Central Asia as a region in their policies.
At the same time, the overall turbulence in world affairs and the ongoing antagonism between the U.S. and Russia over various key international issues, including the sanctions imposed upon Russia; incentivizes Moscow to regard any "unusual" motions in the post-Soviet space through the prism of its global confrontation with Washington. It is paradoxical and even troublesome that while Central Asia is departing from a decade-long deadlock and finding a new shape, old geopolitics seem to be returning.
Central Asian countries cautiously termed their meeting consultative, aware of the possible geopolitical implications of their new undertaking and having learnt from their previous complicated experience, which carried a heavy geopolitical burden. How they will proceed further in their new endeavor will depend largely on two conditions: a) that Russia gives up its geopolitical preoccupation with Central Asia's independent development; b) that Central Asian countries themselves prove capable of asserting their common interests and common will without linking these to the "inevitability" of great power domination. Ultimately, the existential question for Central Asians is whether they can realize their regional integration on their own or continue to rely on a great power for leadership and "protection".
The March consultative meeting provided a somewhat new context that allows us to evaluate it differently than past summits. First, the meeting was not "traditionally" four-lateral but five-lateral, including neutral Turkmenistan; and was thereby genuinely region-wide. Second, the countries concerned are removing the stumbling blocks of regional cooperation – managing water resources, delimiting borders, visa regimes, and (re)constructing railways among others – and no longer require mediation by an "impartial" international agent. Third, Uzbekistan – the central country of the region – did its best to stir and inspire centripetal forces and to eliminate problems in its communications with neighbors. Thus, the regional states are overcoming frictions, tensions and mistrust and replacing these with what is termed "strategic partnership."
The emerging new situation in Central Asia could potentially deny external geopolitical rivals the opportunity to capitalize on local contradictions and conflicts. Instead, this situation requires Central Asian countries to build on the not-yet-forgotten experience of cooperation in the 1990s. For Kazakhstan, Kyrgyzstan, Tajikistan, Turkmenistan and Uzbekistan, there is much to do inside the region together.
Extra-regional powers could help these countries fulfill this vision instead of pursuing their own geopolitical goals in the region in competition with each other. Yet unfortunately, the global confrontation between Washington and Moscow cannot but project itself into other areas of the world including Central Asia. This is probably a key reason why the first consultative meeting was limited to a discussion of the current state of affairs. Although the meeting did not produce a breakthrough towards stronger integration, at least it demonstrated the leaders' commitment to Central Asian regionalism. The next such meeting will take place next year in Tashkent. Hopefully, the leaders of Central Asia will then be ready to take resolute steps towards a common cooperation structure.
CONCLUSIONS: Central Asian states have never aspired to play off a geopolitical card of their own vis-à-vis great powers, nor have they desired to take sides; their foreign policies have never been "pro-" or "anti-." Yet by virtue of its location and geographical characteristics, the region itself throughout past quarter of a century has remained an epicenter of geopolitical turbulence. Under these conditions, Uzbekistan has managed to re-initiate the regional cooperation process. Now, all five countries of the region should manage to follow up without geopolitical inclinations.
For Central Asians, the best way to play the great game is to avoid it and concentrate on intra-regional affairs in order to continue and complete the integration process they once jointly initiated.
AUTHOR'S BIO: Dr. Farkhod Tolipov holds a PhD in Political Science and is Director of the Research Institution "Knowledge Caravan", Tashkent, Uzbekistan.
Image source: By mfa.gov.kz accessed on 4.10. 2018