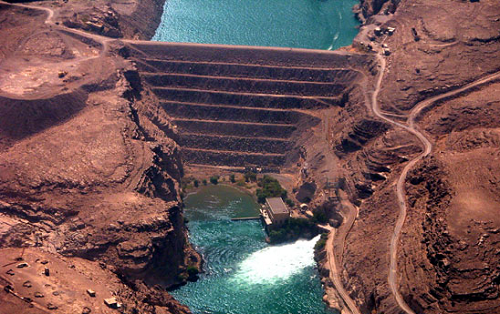 BACKGROUND: Afghanistan's relations with Iran are under strain. Differences on the sharing of the waters of the Helmand and Harirud rivers are escalating tensions. While Afghanistan's damming of these rivers has drawn Iran's ire as this is expected to reduce water flow to Iran, Kabul is upset with Iran's attempts to derail hydro-power and irrigation projects being constructed on the Helmand and Harirud rivers.
The 1,300-kilometer-long Helmand River is Afghanistan's longest. It originates around 40 kilometers to the west of Kabul in the Hindu Kush Mountains and winds its way through southwest Afghanistan. It then forms the Afghan-Iranian border for 55 kilometers before emptying itself into the Sistan marshes and the Lake Hamoun in Iran's Sistan-Baluchistan province. The Helmand River is the only river on which Afghanistan has entered into a formal agreement with a neighbor. In 1973, Afghanistan and Iran signed an agreement, which requires Kabul to release 850 million cubic meters of water annually from the Helmand River basin to Iran. However, the agreement was neither ratified nor implemented due to political turmoil in the two countries.
Decades of civil war has left Afghanistan's irrigation and hydro-power infrastructure in a shambles, and agriculture and industry have suffered consequently. According to the Ministry of Agriculture, Irrigation and Livestock, of Afghanistan's 7.9 million hectares of arable land, only 3.6 million hectares are being utilized at present. Afghanistan imports 80 percent of its electricity from its neighbors. To bring more land under cultivation and to provide a fillip to power generation, President Ashraf Ghani has proposed building 21 small and medium size dams on Afghanistan's rivers.
Already, the Helmand river basin has several dams such as the Kajaki, Grishk and Kamal Khan Dams across the Helmand River and the Dahla Dam across its tributary, the Arghandab. Plans are now underway to expand the Kamal Khan Dam, which is located in Afghanistan's Chahar Borjak district of Nimroz province. Construction of this dam began in 1996 but was halted due to the civil war. It was only in 2011 that the project took off; with Phase II of the project completed in 2015. Recently, Afghanistan's Minister of Water and Energy Ali Ahmad Osmani announced that Phase III of the Kamal Khan Dam is underway. Upon completion, the dam is expected to generate 10 megawatts of electricity and irrigate 100,000 hectares of agricultural land.
IMPLICATIONS: While Afghans look to the Kamal Khan Dam's completion with hope, Iranians view this with despair. In October 2015, Iran's Foreign Minister Mohammad Javad Zarif observed that the Kamal Khan Dam would "severely" restrict the Helmand River's flow into Iran's Sistan-Baluchistan province.
Iran is an arid country. The World Resources Institute ranks it as the 24th most water-stressed country in the world. Severe droughts and mismanagement of water have rendered thousands of hectares of farmland uncultivable and contributed to desertification of swathes of land in Iran. Afghanistan's damming of rivers is reducing water flow to Iran too. For instance, Iran, which used to receive 30 percent of the River Harirud's waters, is getting just 13 percent after the completion of the Salma Dam in Afghanistan's Herat province.
There is concern in Iran that completion of the Kamal Khan Dam will deepen its water woes. The Hamouns, which are wetlands in Iran's Sistan-Baluchistan province that are fed by the River Helmand, would be badly hit. The wetlands' biodiversity, which has suffered damage in recent decades, would be in peril if the Helmand's water flow to Iran reduces. During the 1998-2001 drought in the region, Taliban authorities in Afghanistan cut off the Helmand's flow to Iran, destroying the Hamouns' eco-system. The availability of fish dropped and undermined the local water-related economy. Sandstorms buried around 124 villages, triggering a mass outmigration.
Sistan-Baluchistan is Iran's poorest, and also most restive, province. It is the only Sunni majority province in a country that is overwhelmingly Shia. The province has been in the grip of a powerful insurgency for over a decade. By contributing to unemployment, a water crisis here would fuel anger against the state and therefore also the insurgency.
In order to pressure the Afghan government to halt the building of dams, Iran is said to be encouraging Taliban fighters to sabotage these projects. In 2011 a captured Taliban commander is reported to have told Afghan police that he received US$ 50,000 to sabotage the Kamal Khan Dam and other infrastructure projects bordering Iran.
Afghanistan maintains that it is not denying Iran its share of the water. Rather, having not enforced its rights as an upper riparian country for decades, it is only now beginning to claim its share of the water by building dams.
Both Afghanistan and Iran regard their own dam construction projects positively and as the best solution to their water problems. In addition, Iran has pursued large-scale drilling of wells for water. Hydrological experts point out that these measures are only compounding their water woes. Instead, they could reduce their water consumption by shifting to growing crops that consume less water. Additionally, Iran needs to put in place measures to restrict domestic use of water, which at present is 70 percent higher than the global average.
Sharing the waters of trans-boundary rivers is a regional issue and it is time that Afghanistan and its neighbors address their conflict over water sharing through talks. However, Afghanistan is said to be reluctant to engage in talks with Iran or Pakistan on the matter. It fears that its weak bargaining position at the negotiation table will be exploited by its more powerful neighbors. A lack of hydrological data and technical expertise is to blame for Afghanistan's hesitation to pursue dialogue. But this is a weakness that can be overcome through data collection and capacity building.
As for Iran, its use of the Taliban fighters to pressure Kabul is a recipe for disaster. Not only is this unlikely to halt Afghanistan's building of dams – it could at best delay projects, not shut them down – but backing the Taliban could also boomerang back on Iran.
CONCLUSIONS: Enhancing its ability to harness its rivers for hydropower and irrigation is a critical element of Afghanistan's economic development. However, the construction and expansion of dams on trans-boundary rivers carries with it the risk of angering lower riparian neighbors. Afghanistan will therefore have to be more transparent in its dam building activity. It needs to engage the lower riparian countries and keep them informed of its projects. Involving them in these projects would be one way to allay their apprehensions.
Kabul and Teheran need to enter into talks on water sharing. The 1973 Helmand agreement provides them with a useful template on which to build. A revision of that treaty may be necessary as water levels in the Helmand have dropped and population size has grown in both countries. Putting off this task is not in the interest of either country as bilateral water conflicts have the potential to turn violent.
AUTHOR'S BIO: Dr. Sudha Ramachandran is an independent researcher / journalist based in India. She writes on South Asian political and security issues. Her articles have appeared in Asia Times Online, The Diplomat, China Brief, etc. She can be contacted at This email address is being protected from spambots. You need JavaScript enabled to view it. .
Image source: wikimedia.org, accessed on May 2, 2017