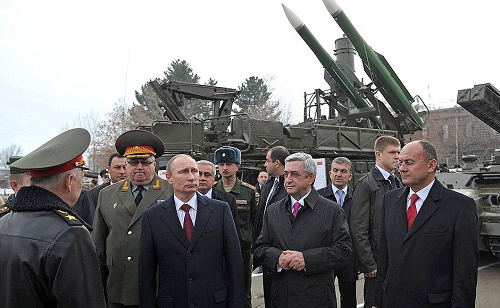 BACKGROUND: The MJTF agreement, signed by Armenian Defense Minister Vigen Sarkisyan and his Russian counterpart Sergey Shoygu, stipulates the initiation of a joint military unit including troops from the Russian 102nd military base in Gyumri and the 4th Corps of the Armenian army. Two weeks earlier, Russian President Vladimir Putin had approved the instruction to sign an agreement that would "react adequately on military aggression as well as security challenges." The details of the agreement lay the foundation for a common defense and security space that will not only involve military cooperation, but border patrols and custom services as well.
Armenia's and Russia's presidents will jointly appoint the head of MJTF. In the case of war or external aggression, the entire leadership of MJTF will be transferred to Russia's Southern Military District Command, based in Rostov-on-Don in southern Russia.
The April 2016 military clashes in Karabakh gave rise to a certain optimism among the Azerbaijani public regarding the abilities of its army to regain lost territories. The impact on the Armenian side was negative, given Russia's continual arms sales to Azerbaijan. The unification of Armenia's and Russia's anti-air systems and the establishment of MJTF can be understood as measures to increase Yerevan's security in the face of a possible larger confrontation with Azerbaijan in the future. Nevertheless, Russian military analysts claimed that the agreement was not directed against third parties, but simply serves to coordinate Moscow's and Yerevan's defense preparations. The main aim of the agreement is to provide early warning in the case of an attack against Armenia or Russia, which have already accepted mutual defense obligations through Collective Security Treaty Organization (CSTO) agreements.
IMPLICATIONS: Baku has not reacted to the recent agreement, in order not to irritate Moscow. Azerbaijan's political establishment perceives these actions as part of a Russian attempt to strengthen its position in the South Caucasus and do not see them as directed against Azerbaijan, although Yerevan uses every opportunity to stress the security implications of the agreement. Although initial rumors posited that the Iskander system would be under Russian control at the Gyumri base, Armenian President Serzh Sarkisyan later confirmed that Yerevan has purchased Iskander-M short-range ballistic missiles system to balance Azerbaijan.
However, the new agreements and the recent delivery of the Iskander system to Armenia will not significantly change the military balance in the region. If Azerbaijan started military actions to return Karabakh, they would hardly spill over to Armenian territory and would therefore not trigger the Russian obligation to come to Armenia's aid. Moreover, the Russian military establishment has been careful to point out that the military agreement serves to protect the territory of Armenia but not Karabakh.
The absence of harsh statements or criticism from Baku is also due to the purpose that the agreement serves in Armenia's domestic politics. After the April war in Karabakh, Moscow came under heavy criticism from the Armenian public for its supply of vital arms to Azerbaijan. The heavy losses sustained by Armenian forces were mainly due to the superiority of Azerbaijani weapons supplied by the Russian military complex. Thus, the establishment of MJTF is also considered a confirmation that Russia will honor its agreement to defend Armenia from possible aggression.
Yerevan has continuously expressed its dissatisfaction with the activities of CSTO, which includes Armenia, Belarus, Kazakhstan, Kyrgyzstan, Russia and Tajikistan. The signatories of this treaty cannot join other military alliances and aggression against one country is considered as aggression against all. Yerevan has constantly criticized other members of the organization for their failure to support Armenia in its conflict with Azerbaijan. Moreover, Baku's military cooperation with CSTO members has irritated Yerevan. Even after the April clashes in Karabakh, Yerevan was not able to get the other CSTO members to condemn Azerbaijan and the Armenian establishment understands that other CSTO members will hardly provide military support in case of a new military confrontation.
Russia remains the only force that can guarantee Armenian security. Thus, an additional military treaty with Russia serves to pacify the Armenian public, which was shaken by recent developments. Some analysts in Azerbaijan have even argued that Armenia's military subordination to Russia could have a positive effect since Yerevan would not be able to take important decisions independently. Thus, if Baku agrees with Moscow on vital issues concerning Karabakh, the Armenian side would have little choice but to accept it.
Notably, the signing of the agreement coincided with Azerbaijani Defense Minister Zakir Hasanov's visit to Moscow to attend the 71st session of the CIS Defense Ministers' Council (DMC). During the visit, Hasanov met with Russian Defense Minister Shoygu. The sides discussed the Russian initiative to establish a Joint Task Force of the two countries' navies in the Caspian Sea. Baku remains cautious towards this kind of initiatives from Moscow, even though the task force would function as a coordinating entity for confronting terrorism and hostile activities.
However, the MJTF agreement still did worry Baku. According to Baku-based analyst Elkhan Shahinoglu, Moscow has signaled to Baku that new military actions in Karabakh should be confined within Azerbaijan's borders, and that Russia does not want Azerbaijan to gain military superiority over Armenia. In other words, Azerbaijan would not be able to prevent the supply of weapons or soldiers from Armenia to Karabakh; neither can Baku retaliate for the frequent Armenian shelling of Azerbaijani villages in Nakhchivan or the western part of Azerbaijan. Baku also believes that the agreement may pose yet another obstacle to the resolution of the Karabakh conflict, since Armenia may use the additional guarantees and modern weaponry it has obtained from Moscow in order to strengthen its position and torpedo the negotiation process. Moreover, the creation of a joint task force with Armenia negatively affects the perception of Russia in Azerbaijan and casts doubts on Russia's ability to function as an unbiased mediator in the Karabakh conflict.
Despite Moscow's assurances that the Russian-Armenian agreement is not directed against third parties, the Kremlin recently provided mixed messages by indicating that it could get involved if Baku decides to start a military operation against separatists in Karabakh. In mid-January 2017, Russian Foreign Minister Sergei Lavrov was asked during a press conference in Moscow what Russia's position would be in the event of an Azerbaijani counter-terrorist operation in the occupied territories – whether Moscow would close its close eyes or interfere in Azerbaijan's internal affairs. Lavrov responded that such an operation would not only be an issue of Azerbaijan's internal affairs regarding the Nagorno-Karabakh conflict. The statement sparked an outrage in Azerbaijan, and an avalanche of criticism towards the Russian leadership.
The new treaty has worried Georgia as well. Moscow has begun to establish similar joint task forces across the Caucasus, including joint groups with Abkhazia and South Ossetia. The presence of Russian Iskanders in Armenia, as well as the emergence of joint Russian-Abkhaz, Russian-Ossetian and Russian-Armenian forces around Georgia, is naturally of concern to Tbilisi, given its recent experience of Russian military aggression and its aspirations to join NATO.
CONCLUSIONS: The Russian decision to establish joint forces with Armenia and supply the country with Iskanders have taken hostility and tensions in the region to another level, and has raised concerns in Baku that ballistic missiles could be used against Azerbaijan's critical infrastructure. Baku has already begun to explore opportunities to buy armaments from Pakistan and other countries. Moscow's recent actions contribute to the increased militarization of the region. The creation of Russian-Armenian joint forces is intended to integrate the Armenian military deeper into the Russian military machine, which could be a step towards revitalizing the Transcaucasian military district that existed during Soviet times, which may include Azerbaijan and Georgia as well.
Moscow can be expected to continue strengthening its position in the Caucasus. With complete disengagement of the U.S., the EU's internal problems as well as Moscow's success in Syria, Moscow is encouraged to take even bolder actions in order to bring the region under its heel. Baku is slowly loosing leverage in dealing with Russia, since no major power remains sufficiently engaged in the region to counterbalance Russia's growing influence.
AUTHOR'S BIO: Dr. Anar Valiyev is a Fulbright Visiting Scholar at Johns Hopkins University.
Image source: kremlin.ru accessed on March 7, 2017