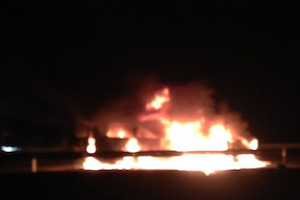 BACKGROUND: In mid-December 2014, following an insurgent assault on downtown Grozny several days earlier that was unprecedented in recent years (see the 12/10/2014 Issue of the CACI Analyst), the office of the Joint Mobile Group (JMG) in Grozny was set ablaze and the members of this organization held by armed men in camouflage for several hours. Following the Grozny attacks in early December, the head of JMG, the renowned activist Igor Kalyapin, publicly criticized Chechnya's strongman Ramzan Kadyrov. According to Kalyapin, houses belonging to the insurgents' families were illegally destroyed after the Chechen leader's call for the punishment of the relatives of suspected jihadists. Kadyrov later expressed suspicion that the attack was self-incited by Kalyapin and his colleagues in order to discredit the Chechens. A few days later, during a press conference in Moscow in which Kalyapin participated alongside a number of other human rights activists, two men thrusted into the building and pelted him with eggs.
After these incidents, the Committee to Prevent Torture (CPT), a reputed human rights group committed to bringing to justice Russian police and officials for torture of prisoners, moved its archives to neighboring Ingushetia. Yet these new premises were also raided by armed men in March 2016, while their remaining office in Chechnya was broken into. The same evening, on the Chechen-Ingush administrative border, masked men entered a minibus in which CPT toured six journalists and two human rights activists. The goal of the tour was to introduce the journalists to local people who had been subjected to torture or whose relatives had been kidnapped (and often disappeared without trace) by kadyrovtsy, Chechnya's paramilitary-styled armed groups, often described as Kadyrov's personal army. The passengers, including one journalist from Sweden and another from Norway, were beaten up brutally and the bus set on fire, and the passengers were warned to never again cross Chechnya's borders. Five of the passengers were hospitalized, while the attack on Swedish and Norwegian nationals added an international dimension to the incident.
Meanwhile, Kalyapin was thrown out of his hotel in Grozny by the hotel staff and forced to leave Chechnya, and his planned press conference on the bus attack was thwarted. Kalyapin was physically attacked by a group of around a dozen masked youths in front of the hotel, some of which threw eggs, flour, and chemicals at him. The attackers screamed that people lambasting Chechnya's national leader Kadyrov were not welcome in the republic.
IMPLICATIONS: A decade and a half ago, Chechen authorities backed by Moscow generally used more sophisticated means for pushing human rights defenders and journalists out of the republic. Notable exceptions include the assassinations of Anna Politkovskaya in 2006, a journalist with liberal Novaya Gazeta, and Natalya Estemirova in 2009, a human rights defender with Memorial, a reputed organization devoted to protecting human rights in Russia. Both of these women were considered Kadyrov's personal enemies.
In the 2000s, a variety of technical and judicial obstacles were created to hinder the work of human rights organizations and NGOs in Chechnya. A common explanation offered by Grozny was that since the situation in the North Caucasus republic was stabilizing, the presence of these organizations was no longer needed. Moscow – usually in tandem with Chechen authorities – also referred to security reasons relating to terrorist and insurgent attacks as a rationale for complicating the work of human rights defenders in Chechnya. In one specific case, human rights defenders were accused of explicit support for the insurgents and expelled from the country.
In late 2002, only weeks after the seizure of the Dubrovka theater in downtown Moscow by a Chechen terrorist commando, Russian authorities refused to renew the mandate of the OSCE Assistance Group in Chechnya, and the mission's workers were forced to leave the republic. In late 2004, the mission of the Czech humanitarian organization People in Need was shut down in Chechnya after Chechen authorities allegedly found printing equipment in the organization's possession, on which Chechen insurgents and terrorists printed fake identity documents. People in Need activists were also accused of supplying insurgents with weapons and ammunition, allegedly found during a special operation in the organization's Grozny apartment. Individual members of Memorial have often been subjected to intimidation, with Russian and Chechen authorities hindering them from carrying out their work. Consequently, following the murder of Estemirova and increasingly insolent pressure on the organization, Memorial ultimately suspended its activities in 2009, while prior to this, it had only been able to monitor around half of Chechnya's territory due to severe restrictions imposed on its work.
Russian authorities have also deflected the concerns voiced by international human rights organizations or intergovernmental institutions, often drawing on first-hand reports from human rights organizations operating in Chechnya. For instance, the Parliamentary Assembly of the Council of Europe (PACE) made repeated appeals in the 2000s, expressing discontent over ongoing cases of human rights violations in Chechnya and calling for the Russian authorities to take urgent measures. Moscow retaliated by accusing the Council of Europe of "calling into question the political process in the North Caucasus" and "providing moral support to terrorists."
Following Russia's imposition of the "foreign agent" law in 2012, the remaining international human rights organizations were effectively banned from entering Chechnya. Today, JMB and CPT are the only remaining human rights organizations in Chechnya, and their access is very limited. Following the recent concentrated attacks, their presence in the North Caucasian republic is also seriously endangered.
CONCLUSIONS: Since the early 2000s, thousands of Chechen civilians have been killed or disappeared as a result of indiscriminate violence, whether in the form of Russian artillery and aerial bombardment, zachistkas performed by kadyrovtsy units against relatives of suspected insurgents, or for expressing discontent with Kadyrov's autocratic rule. The overwhelming part of the local population that has experienced – directly or through their relatives – extrajudicial executions, torture, or "forced disappearances," has remained silent and refrained from applying to republican or federal courts in order to avoid retaliatory violence at the hands of the pro-Moscow Chechen authorities. Even those who, against all odds, were courageous enough to appeal to Chechen or Russian courts, have been unsuccessful despite presenting serious evidence in their favor. The human rights defenders still operating in Chechnya and their ties to the federal justice system and media, albeit very fragmented, have been the last resort and source of hope for hundreds of Chechens desperate to achieve justice or trace their kidnapped relatives. To a limited degree, they have served to contain the legendary impunity of Chechen authorities.
Even more importantly, these human rights organizations have gathered evidence that international human rights organizations and courts have used extensively to file cases against Russia. In fact, given that independent Chechen, federal, or international journalists are prevented from covering the controversial topic of human rights violations in Chechnya, and the indifference of federal and republican courts towards cases involving human rights violations, JMB and CPT have been the single sources of primary data from Chechnya. And although Russian lawmakers have pushed forward a novel legal framework that would make the rulings of international human rights courts, for instance the European Court of Human Rights, legally invalid in Russia, Chechen authorities seem eager to annihilate the remnants of these organizations in Chechnya. By preventing the recording of first-hand data in Chechnya, or by dismissing information from human rights defenders as biased due to their "conflict" with local authorities, Russian and Chechen authorities can challenge the reliability of evidence on human rights violations – or refer to a lack thereof. The Chechen strongman's personal animosity towards human rights activists may also play an important role in his recent efforts to expel those who "systematically slander Chechens," as he once remarked with reference to human rights activists. And the recent Russia-wide and legally based crackdown on human rights organizations and NGOs has enabled Kadyrov to openly attack these organizations as such, not only persons he considers his enemies.
AUTHORS' BIO: Emil Aslan Souleimanov is Associate Professor with the Department of Russian and East European Studies, Charles University in Prague, Czech Republic (https://cuni.academia.edu/EmilSouleimanov). He is the author of Individual Disengagement of Avengers, Nationalists, and Jihadists, co-authored with Huseyn Aliyev (Palgrave Macmillan, 2014), Understanding Ethnopolitical Conflict: Karabakh, Abkhazia, and South Ossetia Wars Reconsidered (Palgrave Macmillan, 2013), and An Endless War: The Russian-Chechen Conflict in Perspective (Peter Lang, 2007).
Image Attribution: www.guim.co.uk, accessed on July 21, 2016