Russian Strategy towards the Caucasus and Central Asia: A Dominant Power on Defense?
By: Ariel Cohen, Ph.D.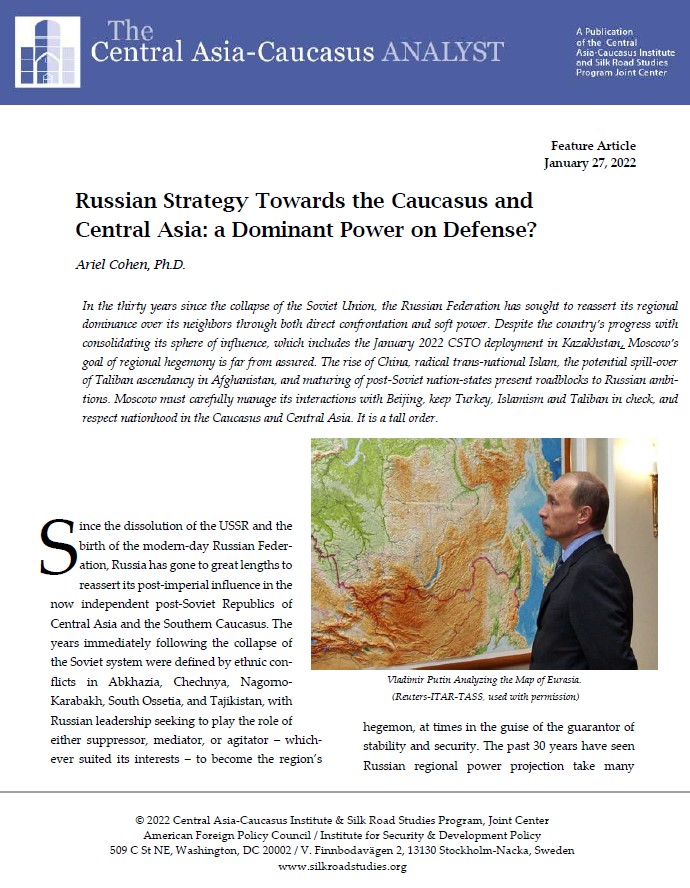 In the thirty years since the collapse of the Soviet Union, the Russian Federation has sought to reassert its regional dominance over its neighbors through both direct confrontation and soft power. Despite the country's progress with consolidating its sphere of influence, which includes the January 2022 CSTO deployment in Kazakhstan, Moscow's goal of regional hegemony is far from assured. The rise of China, radical trans-national Islam, the potential spill-over of Taliban ascendancy in Afghanistan, and maturing of post-Soviet nation-states present roadblocks to Russian ambitions. Moscow must carefully manage its interactions with Beijing, keep Turkey, Islamism and Taliban in check, and respect nationhood in the Caucasus and Central Asia. It is a tall order.
Since the dissolution of the USSR and the birth of the modern-day Russian Federation, Russia has gone to great lengths to reassert its post-imperial influence in the now independent post-Soviet Republics of Central Asia and the Southern Caucasus. The years immediately following the collapse of the Soviet system were defined by ethnic conflicts in Abkhazia, Chechnya, Nagorno-Karabakh, South Ossetia, and Tajikistan, with Russian leadership seeking to play the role of either suppressor, mediator, or agitator – whichever suited its interests – to become the region's hegemon, at times in the guise of the guarantor of stability and security.