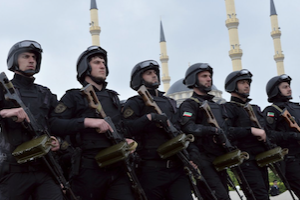 BACKGROUND: "The terrorists don't know what a real war is, because they have only been subjected to airstrikes. They don't have experience of real military action," said Kadyrov in an interview to a Russian news agency earlier this month. "If our request is granted, it will be a celebration for us," he said. "But it's a decision for the commander-in-chief to take." According to Kadyrov, if Moscow would allow Chechen elite units, spetsnaz, to participate in the Syrian Civil War, the terrorist organization calling itself the Islamic State (ISIS) would be eradicated in a matter of weeks. Kadyrov himself would be happy to enter the battlefield in the first ranks of Chechen units if Putin orders him to do so.
Chechnya's strongman made similar statements during the peak of Russia's engagement in the Ukraine crisis. However, in line with Moscow's novel hybrid war strategy, Russian and Chechen authorities have never explicitly acknowledged the deployment of Chechen troops in Ukraine. In a 2014 interview, Kadyrov claimed that no "Chechen servicemen" or "military convoys of Chechnya" had taken part in the conflict and that the Chechens who did travel to Ukraine did so as volunteers. News reports emerged of young Chechens being forced to "voluntarily" join pro-Russian units operating in Donbas, while Kadyrov himself boasted that should the kadyrovtsy have been deployed in the Ukraine fighting, they would have long reached Kyiv.
However, according to local observers, kadyrovtsy were spotted in Feodosia, an Eastern Crimean city, in March and April of 2014. Chechen units, most likely paramilitaries, also took part in the fighting in the Donbas area (see the 06/04/2014 Issue of the CACI Analyst). Hinting to Moscow's hybrid war strategy, Kadyrov has on numerous occasions portrayed himself – and his personal army forming the kadyrovtsy – as the Russia's special force ready to be deployed wherever and whenever necessary for the sake of "defending Russia, its stability and borders and to fulfill a military task of any complexity." According to Kadyrov, Chechen units are determined to perform tasks for the Supreme Commander "which can be solved only by volunteers" and not by "the regular army, air force, navy or nuclear forces."
IMPLICATIONS: Against this backdrop, Kadyrov's recent statements relating to the Syria Civil War are not surprising. What is new, however, is that Kadyrov now explicitly speaks of Chechen spetsnaz units, elite forces responsible for his personal security, being deployed to Syria. And he is unprecedentedly vocal about their deployment. There could be several reasons for this.
First, Kadyrov may want to regain Putin's trust after the assassination of Boris Nemtsov, a key Russian opposition leader, in February. According to some commentators, Kadyrov did not consult the Kremlin about the planned assassination, which in induced the Russian president to distance himself from his Chechen protégé. Sources in Chechnya claim that this was a deep personal frustration for Kadyrov, who has considered Putin as his stepfather. Russian intelligence, particularly the FSB, has also grown increasingly unfriendly toward the Chechen leader.
The divide between Kadyrov and Russian siloviki is said to have deepened following the December 2014 attack by Chechen jihadists on Grozny, which killed more than a dozen Chechen policemen. To federal siloviki, this incident signaled Kadyrov's incapacity – despite his numerous victorious declarations – to deal a final blow to the local insurgents (see the 12/10/2014 Issue of the CACI Analyst). Also, Kadyrov's bold statements following the April 19 incident in Grozny, when a group of Stavropol policemen shot dead a Chechen suspect, also fueled the distrust of federal siloviki toward the Chechen leader who is considered increasingly uncontrollable. Then, Kadyrov stated that "the times, like in the [early] 2000s, are gone. Someone wanted to fabricate a result – they took a [random] Chechen and killed him … This is not going to happen again! … I'm officially telling you: if without my knowledge [someone] appears on your territory, no matter from Moscow or Stavropol, just shoot on sight. They've got to take us seriously."
Kadyrov's recent statements could thus aim to rehabilitate himself in the eyes of the Kremlin and the federal siloviki. After all, as some pro-regime Russian observers have asserted, if Kadyrov is ready to risk his neck and the lives of his troops for Russia, as he has frequently announced, now is the best time for the Chechen leader to demonstrate his loyalty, love for Russia, and courage in practice.
Second, some Chechnya-based observers have in off-record talks pointed to Kadyrov's concerns over the prospect of Chechen jihadists returning to the North Caucasus. Having lost his father in an assassination and being the leader of an extended clan, Kadyrov pays immense attention to personal security and is said to fear retribution at the hands of insurgents. Hundreds of latent avengers exist in Chechnya – individuals who are willing to exact revenge on Kadyrov, his family or his closest associates, but who have postponed their revenge until better times. If only dozens of them manage to make it back to Chechnya, they could reignite the insurgency that has been seriously debilitated in recent years.
The December 2014 attack on Grozny by local jihadists has indeed compromised Kadyrov in the eyes of the top federal siloviki. Should such situations recur, Kadyrov could lose much of his thoroughly cultivated image of a gifted military commander and "warrior leader" not only in Moscow, but also within the republic. This, in turn, could damage Kadyrov's standing also in Putin's eyes. In the past, Kadyrov has on various occasions highlighted the need to kill jihadists in Syria before they make it to Chechnya. He has even spoken of the need to form Chechen battalions that can be deployed in Syria specifically to localize and kill locally operating Chechens and other North Caucasian jihadists.
CONCLUSIONS: Several military commentators have expressed doubts over the Russian air force's capacity to deal a decisive blow to the Syrian insurgents, whether secular or jihadists. To acquire control over the territory, especially key infrastructure and transport hubs, Russia will at some point also need to deploy ground forces. Over the years, Syrian President Al-Assad's army has proved incapable of eradicating the insurgents and has for some time been on the defense. It has been largely dependent on support from Moscow and Teheran and pro-Iranian armed groups such as Hezbollah. Having deployed its military to Syria, Moscow will find it increasingly difficult to withdraw from the war. If or when necessary, it will have to increase its support for the al-Assad regime to ensure its survival. A failure to do so would be regarded by many Russians as a matter of national humiliation – and as Putin's personal fiasco.
Thus, Moscow will likely consider the option of deploying ground forces to Syria. While Russia's public opinion has been vehemently against deploying ground forces in a distant Middle Eastern country, the deployment of Chechen units may be regarded as a suitable alternative. Casualties among the Chechens would not outrage Russia's public opinion, while Russian authorities could distance themselves from direct responsibility for atrocities carried out in Syria by Chechen units. And last but not least, given Moscow's dearth of elite military forces, the deployment of thousands of experienced Chechen troops would be a welcome asset for Russian strategists.
After all, while Moscow's military engagement in Ukraine has diverted thousands of elite forces previously deployed in the North Caucasus to Donbas, Moscow's most recent engagement in the Middle East has drained these same forces from Donbas, which is now experiencing a sharp decline in violence, to Syria.
AUTHORS' BIO: Emil Aslan Souleimanov is Associate Professor with the Department of Russian and East European Studies, Charles University in Prague, Czech Republic. He is the author of Individual Disengagement of Avengers, Nationalists, and Jihadists, co-authored with Huseyn Aliyev (Palgrave Macmillan, 2014), Understanding Ethnopolitical Conflict: Karabakh, Abkhazia, and South Ossetia Wars Reconsidered (Palgrave Macmillan, 2013), and An Endless War: The Russian-Chechen Conflict in Perspective (Peter Lang, 2007).
Image Attribution: www.businessinsider.com, accessed on Nov 9, 2015