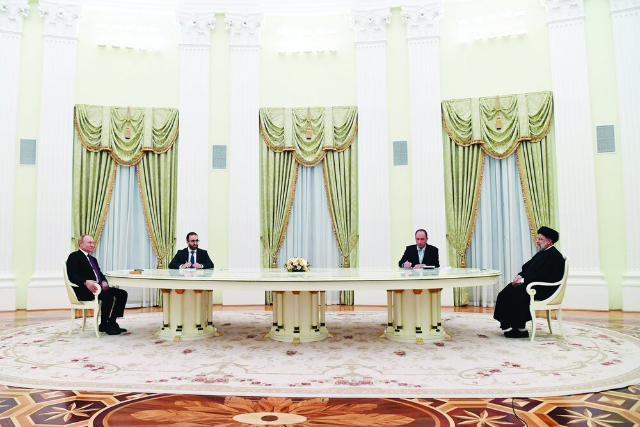 BACKGROUND: Unlike Syria, Iran did not recognize Russia's annexation of the Crimean Peninsula in March 2014. Notably, Evgeny Fedorov, who represents the United Russia party in the State Duma, wrote a letter to the Iranian parliament in November 2016, urging Iran to become the seventh country to recognize the annexation of Crimea. Syria responded in the affirmative only a week after Russia announced Crimea's annexation, however, the Iranian parliament did not respond to the letter, effectively demonstrating that it respects Ukraine's territorial integrity and opposes changes to its borders. Despite its close relations with Russia, Iran also has not recognized the independence of Abkhazia and South Ossetia from Georgia. However, when the UN General Assembly passed a non-binding resolution declaring Crimea's Moscow-backed referendum on seceding from Ukraine invalid, with 100 votes in favor, 11 against and 58 abstentions in the 193-nation assembly, the Iranian representative was absent. Iran thus refrained from either publicly agreeing to or opposing Russia's annexation of Crimea.
Between the annexation of Crimea in 2014 and the start of the current war in Ukraine in 2022, Iran-Russia relations developed significantly, including close military and intelligence cooperation between the two countries in Syria, numerous meetings between Iranian and Russian leaders and senior officials, and the signing of a preferential trade agreement between Iran and the Eurasian Economic Union. Russia also agreed to back Iran's full membership in the SCO and paved the way for a 20-year cooperation agreement between Iran and Russia. Under these circumstances, it has become difficult for Iran to take a balanced approach to Russia and Ukraine. On the one hand, Iran did not recognize the independence of the Donetsk and Luhansk regions in February 2022, while Iran's close ally Syria took a different approach. At the 11th Middle East Conference of the Valdai discussion club in Moscow on February 22, 2022, Syrian Foreign Minister Faisal Mekdad proclaimed that Syria supported the decision by Russian President Vladimir Putin to recognize independence of the Donetsk and Lugansk people's republics and called it a historic milestone.
On the other hand, Iran has not explicitly condemned Russia's military attack on Ukraine and has declared the Western world, especially NATO and the U.S., to be the root cause of the Ukraine crisis. Tehran has also stressed that it does not agree with the war and hopes that it will be resolved through dialogue. Iran abstained from voting on a UN General Assembly resolution condemning Russia's invasion of Ukraine and urging the immediate withdrawal of troops in an emergency session of the UN General Assembly on March 2, 2022. As put by Hamidreza Azizi, visiting fellow at the German Institute for International and Security Affairs, "generally speaking, Iran never condemns Russia's foreign aggressions, but at the same time, never recognizes the territories Moscow brings under control either."
IMPLICATIONS: In order to understand the complexities and considerations of Iran's position toward the war in Ukraine, three points should be considered. First, Iran, like Russia, strongly opposes the expansion of NATO's borders to the east and the deployment of NATO and U.S. forces and military bases in Eastern Europe, the Caucasus and other areas around Iran. Tehran views this as a direct threat to Iran's national security. For this reason, Iran has considered NATO and the U.S. to be the main factor in provoking Russia and intensifying the crisis and the war. In this regard, Iran blames U.S.-led NATO provocations for the Ukraine crisis and in a statement posted on Twitter; Iranian Foreign Minister Hossein Amir-Abdollahian said the crisis was "rooted in the NATO provocations." Moreover, Iranian government spokesperson Ali Bahadori Jahromi tweeted that "security concerns about the growing and provocative expansion of NATO eastward are understandable to all independent countries that are opposed to US hegemony." Iran's position on the war in Ukraine is thus very similar to that of Russia.
Second, an important issue is the impact of the war on Iran's nuclear talks in Vienna, which is in the final and critical stages. Tehran seeks to insulate the issue of Iran's nuclear program from tensions between Russia and the West over Ukraine. Russia's envoy to the Iran nuclear talks, Mikhail Ulyanov, stated that the Ukraine crisis had nothing to do with talks to revive the 2015 Iran nuclear deal (JCPOA). Likewise, U.S. Secretary of State Antony Blinken stated that the conflict with Russia would not affect negotiations with Iran.
In practice, however, Russia's approach has shown that this is not the case, and the Ukraine war indeed has affected Iran's nuclear talks. Russia's Foreign Minister Sergei Lavrov stated that "We want an answer … we need a guarantee that these sanctions [imposed on Russia after its attack on Ukraine] will not in any way touch the regime of trade-economic and investment relations which is laid down in the Joint Comprehensive Plan of Action." Russia's new stance was widely criticized by the U.S., UK, France and Germany who are all involved in the nuclear talks with Iran. Under these circumstances, Iran seeks to prevent the interruption of the nuclear talks and final agreements through diplomatic consultations with Moscow. While Russia does not appear interested in undermining the JCPOA as a whole, dragging out the talks could serve Russia's interests by providing it with leverage over the West, whereas the U.S. and its partners in Vienna are motivated to move quickly to finalize a deal with Iran.
Third, Russia's attack on Ukraine has also created opportunities as well as challenges for Iran in terms of economy and trade. Rising prices of cereals, especially wheat and oilseeds, and the reduced exports of these products from Ukraine are affecting Iranian consumers. However, the rise in global oil prices as an effect of the war creates opportunities for Iran, which will be able to increase its exports if the nuclear talks are concluded and U.S. sanctions are lifted. Iran is expected to increase its daily exports by approximately one million barrels if sanctions are lifted. Indeed, Iran currently have large quantities of oil awaiting export. Therefore, an agreement in Vienna and the lifting of sanctions could help stabilize the oil market and offer Europe alternatives to Russian hydrocarbons. The West would welcome this development while Russia opposes it. However, Iran will realistically not be able to replace Russian gas exports to Europe in the short term. If U.S. sanctions against Iran are lifted and Iran's gas export capacity is expanded, Iran could meet part of Europe's need for imported gas, but getting these preconditions in place will take time.
CONCLUSIONS: Iran's official news agency IRNA stated that Iran's stance toward Russia and the Ukraine crisis is "Neither War, Nor Dominance" and according to Foreign Minister Abdollahian, the Islamic Republic is closely monitoring developments in Ukraine with "serious concern." However, in practice the close relations between Iran and the Russian Federation, in parallel with Tehran's efforts to maintain relations with Ukraine, have complicated Iran's approach to Russia's invasion of Ukraine. The war in Ukraine is simultaneously in Iran's favor in terms of rising oil and gas prices, and to its detriment in terms of the negative effects on the nuclear talks.
AUTHOR'S BIO: Dr. Vali Kaleji is an expert on Central Asia and Caucasian Studies based in Tehran, Iran.